The road to retirement savings is a complicated journey, and breaking down its complexities for consumers is an inherently difficult and nuanced proposition. For marketers—and the people to whom they sell their products—it's very different from promoting things like vacations, running shoes, video games, or any other type of entertainment product. And Ovi Vitas knows the full range of marketing muscle required for each—because he's done them all.
Now executive vice president and chief marketing officer at AmeriLife, a national leader in developing, marketing, and distributing life and health insurance, annuities, and retirement planning solutions, Vitas occupies a position in which data-driven marketing and creative executive converge to effectively tackle and break through those complexities.
"We're one of the biggest companies that few consumers have heard of," he says. "AmeriLife's brand operates in service to the companies it owns and supports. Our marketing ecosystem is built to serve independent and singularly branded organizations, of which AmeriLife now owns more than seventy nationwide."
That means that each AmeriLife-owned company has its own identity, so Vitas's job is not solely focused on a single-identity consumer brand, but rather on a set of marketing services to support those companies and the over three hundred thousand contracted agents and advisors in AmeriLife's network.
The result? A suite of centralized marketing solutions built around four core centers of excellence: direct-to-consumer platform, performance marketing, brand and creative services, and marketing program development.
This industry-leading suite of capabilities is exemplified best by the menu of services available to anyone in the AmeriLife network, tailored to their unique marketing needs and based on where they are in their own unique marketing lifecycle.
Taking the Direct Approach
While much of Vitas's attention is on delivering value-based marketing solutions to the companies AmeriLife owns, he's also responsible for having set up an entirely new direct-to consumer business that's been critical to AmeriLife's holistic, consumer-first business approach. This business stood up in just sixteen months and was built on the backbone of an entirely new marketing technology stack, sales team, and marketing services, and delivered results significantly above plan in its first year in market.
Vitas was chosen to lead the direct-to-consumer business unit based on similar successful programs he led with other large blue-chip brands. Before spending almost six years at Marriott Vacations Worldwide as EVP and chief brand and digital officer, Vitas held other leadership positions at Reebok, Warner Brothers, EA SPORTS, NBCUniversal, and Time Warner, during which he led traditional marketing initiatives. Vitas thinks the switch to the insurance and financial space has been the magical stuff marketing is made of.
"This is marketing at its best," he says. "It's rare to work for a company this diverse, and where all facets of marketing are in play. B2B, B2B2C, B2C—you name it, we do it."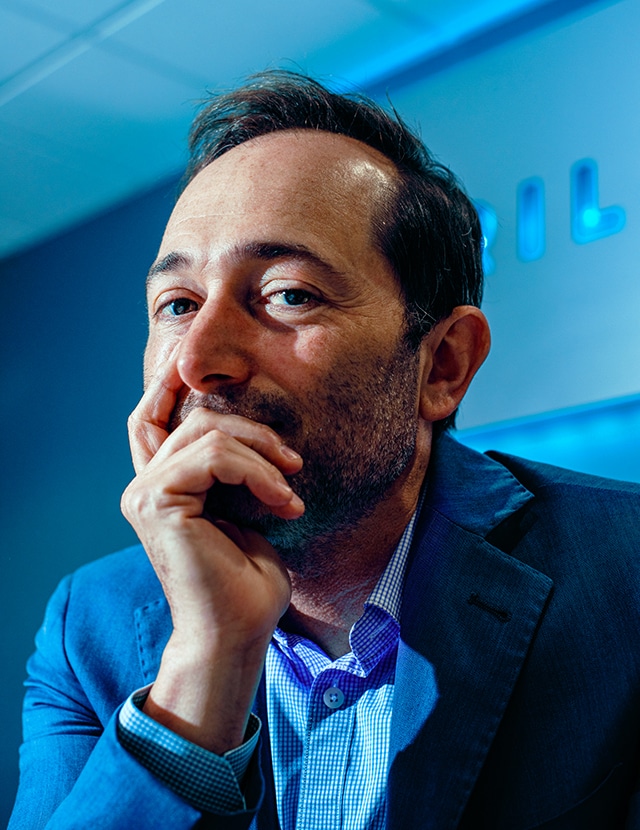 Delivering Marketing Excellence
Another example of AmeriLife's marketing centers of excellence is the creation of its one-stop marketing shop for any agent, advisor, or their upline/parent business that needs marketing support. This internal unit is part agency, part consultancy, and part production studio. Vitas describes it as a "SEAL team six marketing unit" whose services range from campaign management and sales support to podcasts, radio shows, media buying, and more. His team works directly with its clients across all levels of their businesses to craft bespoke marketing solutions to service their specific goals and objectives.
"These solutions sit at the center of business marketing expertise," he attests. "Our goal is to create an ecosystem that is flexible enough to service the unique marketing needs of our clients, coupled with our team's deep industry knowledge and with proven results of campaigns and programs that work."
A digital native himself, Vitas views the marketing space as the epicenter of data, human psychology, and creative messaging. He credits this unique point of view to various moments throughout his career. Upon receiving his MBA from Cornell University, Vitas led partnerships and programs for EA SPORTS, building global partnerships with top-tier brands like Gillette, Microsoft, and even cutting a licensing deal that introduced the EA SPORTS brand into entirely new markets, including a line of stores at international airports.
This experience in gaming helped hone his skills in mixing data with art, driving revenue through developing new revenue streams based on in-game data sources, together with smart, creative marketing for iconic brands like Lord of the Rings, DC Comics, and Dungeon & Dragons.
"Data is the engine that helps us better understand our customers," he explains. "And by better understanding our customers, we can better service them when, where, and how they prefer."
While data is a cornerstone of his marketing approach, Vitas leverages his experience in qualitative research as well. "There is no better data than human feedback," he says. "Learning about your perception and brand from customers' perspectives is one of the most important things any company can do. Some of the best ideas are born from customers and the field. Their input and feedback are critical to the overall business."
Born to a Spanish-speaking household, Vitas has always been an active member of the Hispanic community. At AmeriLife, one of his teams is building out a resource center for Grupo Latinoamericano de Seguros, an AmeriLife-owned leading bilingual field marketing agency and insurance company with offices in Florida and Puerto Rico.
Considering the impact of health and financial security for people of all ethnic or racial backgrounds, it's easy to see how this is an exciting business after all. The importance that data-driven marketing combined with culturally sound and relevant creative also plays an important role in helping make personal health and financial information accessible to all. Historically, the industry has been slow to change, but progress is being made. Vitas and his team are at the forefront of changing perception of the insurance and financial services industries.
By delivering a more dynamic and innovative marketing approach, marketers can help to introduce an entirely new generation of consumers, their agents, and their advisors to the incredible benefits companies like AmeriLife provide.