NextGen Collective: Meet the Team at Angeles Investors
The finance industry is infamous for its closed doors, its gender and racial disparities, and its elitist mindset. For too long, the individuals who find success as venture capitalists and angel investors have been white men, particularly those who have connections within the industry.
Angeles Investors is changing that reality. Its mission is to support Hispanic and Latinx entrepreneurs all across the country by helping them secure capital, make critical connections, and obtain important resources. In just a year, the organization has invested in several impactful start-ups, including Canela Media, Encantos, and pValue Inc.
The team helping Angeles Investors to realize its mission is just as passionate as the organization's founders are about the work they do each day. We spoke to them about their respective career journeys, their contributions to Angeles Investors, and the meaning that their work holds for them.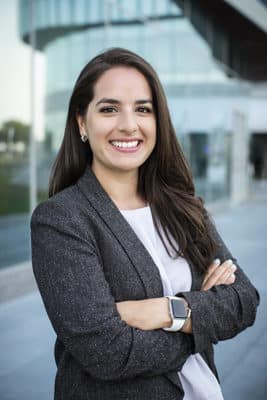 Growing up in Guatemala, my parents instilled in me a sense of responsibility and paying it forward. I was always meant to help others through my own privilege and work. This pushed me to pursue a career in social impact at the University of Virginia, where I had the opportunity to work with communities both in India and Guatemala—that set me on a path to look for a business solution to societal problems.
Working as a consultant at Accenture, I realized that the Latinx community in the US has very different lived experiences. I started getting involved in the inclusion and diversity recruiting efforts at Accenture and loved that I could put into practice my "paying it forward" value. Volunteering with the recruiting team opened my eyes to the impact mentorship and support can have in our communities, particularly in industries where certain groups are typically underrepresented. I have been able to continue this work while I pursue my MBA at the Kellogg School of management, where I serve as copresident of the Hispanic Management Association.
Given all this, it was a no-brainer for me to join Angeles Investors and continue supporting the Latinx community. As an operations specialist, I help with various operations projects to make sure our organization is running smoothly. Some of the most exciting projects I've led include our first-ever webinar, held in collaboration with the Angel Capital Association; our first-ever virtual Pitch Night; and our first-ever SPV (special purpose vehicle) investment.
I am very excited about being able to contribute to an industry that has historically lacked Latinx representation—and changing that for future generations. Angeles Investors allows me to merge my passion for the Latinx community with my interest in entrepreneurship. It's the best of both worlds.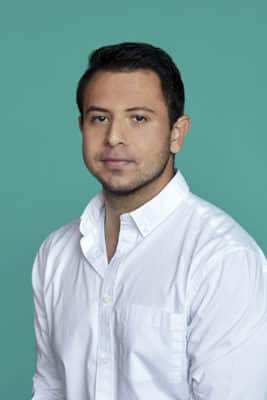 Growing up in Chicago's South Side, entrepreneurship was all around me. Like my parents, many people in my community were Mexican immigrants, and many started their own small businesses. At the Swap-O-Rama, across from what used to be the infamous Chicago Union Stockyards, people sold everything imaginable—from refurbished kitchen appliances and soccer jerseys to Mexican herbs and spices. From my first bicycle to my first soccer ball, the Swap (known locally as la garra) was where my family would go to find great bargains every weekend.
Several years later, I went to college in New York City. After getting into SEO (Sponsors for Educational Opportunity), I was able to secure investment banking internships with multiple Wall Street firms. The work was interesting, but also frustrating. It wasn't so much the long hours as it was seeing billions of dollars being raised on a daily basis to finance public and private projects—and knowing that no money would reach communities like those where I came from. That's when I realized I wanted to exercise my knowledge to help redirect capital to Hispanic and Latinx communities and entrepreneurs.
Today, I work at the Illinois State Treasurer's Office, which allows me to practice institutional investing and also help lead important work around equity, diversity, and inclusion in finance. After work hours, I help lead Angeles Investors, where I have been involved since day zero. There, I grow and manage relationships, meet founders who are raising or will raise capital, lead due diligence, and thread together our operations with our vision to find, fund, and grow the most promising Hispanic and Latinx ventures.
I want Hispanic and Latinx people to share in the wealth creation that results from our incredible entrepreneurs, and I want to live in a world where more women, people of color, and underrepresented groups are leading key parts of the economy.
I had a somewhat traditional first-generation upbringing that instilled the passion and values that have driven me toward Angeles Investors. My family is originally from Mexico, but I spent most of my childhood in Oglesby, Illinois (near Starved Rock State Park). From there, I was fortunate enough to attend the University of Notre Dame, where I double majored in finance and economics. I graduated in 2018 and transitioned to Mesirow Financial: specifically, the Direct Real Estate team that focuses on multifamily investments.
I joined Angeles at the idea phase thanks to David Olivencia, but mainly at the recommendation of a friend and mutual connection of ours. I'm responsible for managing strategy, implementation, and execution throughout the quarter, as well as expanding our brand and relationships with community partners and sponsors.
I have always cared about two things: investing, and empowering the Latino community. Angeles gives me the opportunity to blend the two in a meaningful way.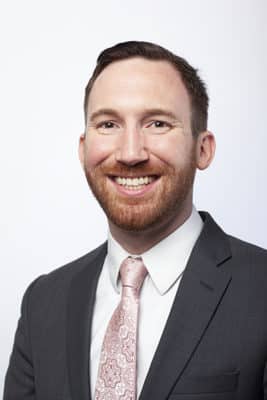 I first learned the story of NASA's Apollo 13 mission while reading Failure Is Not an Option, the autobiography of that mission's flight director, Gene Kranz. I was inspired by the steady-handed leadership and intense technical acumen exhibited by Kranz and the NASA team.
Pursuing my love of all things that fly, I earned my bachelor's in aerospace engineering from the University of Notre Dame and later joined Boeing, where I delved into the many technical facets that power complex products and began my own leadership journey. In 2017, I earned my master's degree in engineering from Columbia University, and to generate impact at levels similar to Gene Kranz, I extended myself into the realm of business by enrolling at the University of Chicago Booth School of Business for my MBA. It was in this program that I began exploring my interests in economics, finance, and strategy as they related to innovation and entrepreneurial ventures.
In early 2020, I was fortunate to receive the opportunity to join Angeles Investors, where I have had the chance to deploy my technical knowledge, business acumen, and human leadership with a remarkable team of peers (and friends). I am responsible for our deal flow funnel—this entails managing the process by which we source, screen, select, and fund the very best start-ups. Our organization is successful when we bring together great business investors with great start-ups, and I am proud to play a part in bringing exciting investment opportunities to our membership. Angeles Investors demonstrates that when dedicated business leaders come together to find, fund, and grow great start-ups, we can foster better access to the benefits of capitalism while still earning an above-market return for our investors.
My favorite observation from Director Kranz is "High-risk leadership beckons many, but few accept the call." I am proud to stand beside the Angeles team and continually answer the call.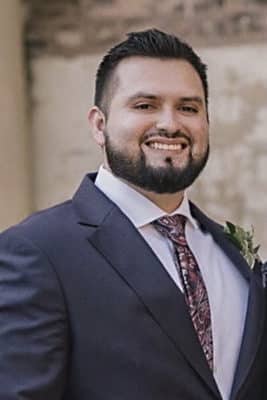 Miguel Jacob, Operations Specialist
Growing up in a traditional Mexican family, going to college was a pipe dream. The unconditional support I received from my family as well as my hard work and determination got me to where I am today. I graduated with a BS in mechanical engineering and pursued my dreams further to receive an MBA from the University of Chicago Booth School of Business. While at Booth, I noticed the overwhelming lack of minority representation in business schools, and the lack of funding for minority- and women-owned start-ups. My degree from Booth has opened up several opportunities to connect with organizations, and my goal is to use this platform to be a leader for my community and to support others in following their dreams.
My main responsibility at Angeles is to support portfolio company reporting: the quarterly reports provide insight for investors into the financial health and growth of the start-up. In addition, I support the sourcing and screening of companies for Pitch Nights and perform due diligence to assist in investment decision-making.
As a Latino professional, my passion is to help the Latinx community. Latinos have one of the highest rates of entrepreneurship of all ethnic groups but oftentimes face obstacles. Angeles was founded to fund and grow the entrepreneurial spirit of the Latino community and provide the resources currently lacking in the investment community.
I am where I am today because of inspiring female leaders and members of the minority community who lifted each other up. As a contract product engineer with John Deere, I had the opportunity to work with many talented individuals, including Hillary Leach, a program manager who graduated from the Stephen M. Ross School of Business in Michigan. I was always amazed at her ability to influence progress not through functional area expertise but through understanding the real issues at hand and facilitating resolutions. I realized I wanted to perform at her level, and the seed of an idea was planted that I should pursue an MBA of my own.
Fast-forward a couple years: I was with Siemens Energy Inc., watching its innovation showcase. Siemens had a segment on its venture arm and explained how partnering and/or acquiring ventures could drive its innovation and growth. I decided to get involved in the new venture ecosystem and obtain my degree.
While pursuing my MBA dream, I came across the Consortium for Graduate Study in Management, a minority-focused organization composed of leaders passionate about getting people like me to and through business school as well as into the ranks of management. It was because of the Consortium that I was accepted into the Indiana University Kelley School of Business, and also because of the organization that I found my first professional mentor: Marlene Lopez Ibarra, a rising Latina leader within 3M, where I am now a strategist in the strategy and marketing development program (the company's top leadership funnel).
At Angeles Investors, I lead portfolio company support, support marketing strategy and implementation, participate in the deal flow funnel, and lead due diligence reports. I am proud and thankful for the opportunity to facilitate the great impact that Angeles is having on the Latinx community. As a Puerto Rican native and spouse of a Brazilian immigrant, with two children born in the US, I can say with certainty that Angeles' mission is helping to create the type of future I want to see for my spouse, children, and community.
My family emigrated from Mexico to the US in search of better opportunities and pursuing the American Dream. As a child, I always found opportunities to create a business to support my family financially. My main business started because my classmates really liked my Disney drawings—they would pay to use those drawings to write letters to their friends, and soon the demand became so high that I expanded my business to sell markers, color gel pens, fruity erasers, and lighting key chains.
My parents were also entrepreneurs, but witnessing the struggles my family went through due to the lack of employment opportunities, lack of knowledge about how to navigate the American education system, and lack of financial support necessary for higher education inspired me to pursue a career in finance. While working full-time, I graduated with a bachelor's in business administration from National Louis University in 2015 and soon joined Marquette Associates. There, I dived into institutional clients' investment portfolios and learned about all kinds of assets. By analyzing portfolios, I was able to see what investment strategies achieved higher returns—and that is when I discovered the private equity and venture capital sectors.
I am currently the head of memberships at Angeles Investors: my role is to grow and maintain the membership of the organization by developing programs and processes specific to member needs, initiatives, and policies. One of the initiatives we recently launched was our CHARLA series, an angel investing educational tool for our current and prospective members where we feature leaders in the venture capital space.
What I love about my role is that it goes beyond recruiting and maintaining members—it's about giving our members all the necessary tools to make the best investment decision for themselves. We minorities often miss out on opportunities like angel investing because we are not educated or do not know that groups like Angeles Investors exist. As an entrepreneur myself, working with an organization that provides access to capital through our members and access to unique and impactful investments through our deal flow is a dream come true.
---
Related Link
https://hispanicexecutive.com/angeles-investors/