Diana M. Martinez has always been bold. "For better or worse, I'm naturally a bit fearless," she says. It's this fearlessness that led Martinez to pursue an in-house role directly out of law school instead of a traditional law firm position. The same sense of daring propelled her just one year later into her current role as corporate counsel at the Chicago-based online lending start-up CreditNinja, where she's embracing her ability to exercise discretion and effect change.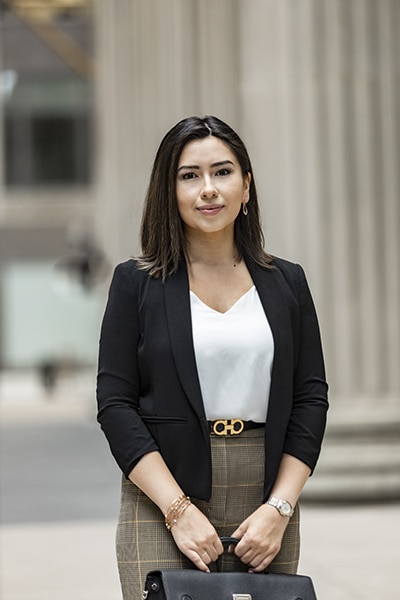 "I love my role. If I have an idea about how to improve a process, I can act on it," Martinez explains. "And that's the benefit of being part of a smaller legal team at a start-up company."
There's a clear passion underlying Martinez's approach to her work. Perhaps surprisingly, that passion is for business, not law. Martinez was originally planning to pursue an MBA until an undergraduate internship at a business services law firm opened her eyes to the many avenues available to lawyers, including specializing in business. The internship also opened her eyes to the glaring lack of Hispanic representation—especially Latina representation—in law. But the statistics didn't scare her.
Committed to law and driven by her love of business, Martinez focused her coursework on corporate law during her time at the Loyola University Chicago School of Law. This coursework cemented her interest in working in-house, as did her experience as an in-house legal extern at WEC Energy Group (NYSE: WEC) in 2016.
In-house legal internships are rare, and her experience at WEC gave Martinez a leg up when searching for in-house positions after law school. Although most companies don't offer in-house opportunities to recent graduates, Martinez joined the legal team of roughly one hundred attorneys at Discover Financial Services (NYSE: DFS) in 2017. She spent a year in the transactional group, reviewing and negotiating procurement and vendor agreements.
Her role at Discover equipped Martinez with sufficient expertise to make the jump to CreditNinja in 2018, reporting directly to the general counsel. Despite the fact that she was still at a relatively early stage in her career, the insight that she had acquired into the operations of an established company in the financial services industry gave Martinez a valuable perspective on how to help set up CreditNinja's legal and compliance functions.
"I'm a big believer in 'You can only become what you see.' I take the fact that I don't get intimidated as motivation to make headway for those who do."
"The only thing differentiating me from my counterparts at other companies or firms is the fact that I haven't been doing this for twenty or thirty years; otherwise, we all possess the same fundamental legal analysis skills, and I feel comfortable collaborating with them as industry peers. I get creative with ways to gain industry knowledge quickly, and I feel perfectly competent in my ability to give internal advice at CreditNinja," Martinez says.
Indeed, Martinez has helped institute both a vendor management program and a consumer complaints management procedure since arriving at CreditNinja. In addition, she reviews and negotiates third-party contracts, oversees licensing and regulatory examinations, helps advise various departments, and manages outside counsel for the company as needed.
As Martinez sees it, one of her greatest achievements is the role she played in a recent partnership the company established with a federally insured bank, known within the industry as a highly valuable "bank-fintech partnership," which permitted CreditNinja to arrange loans on the bank's behalf. Martinez was part of the core team responsible for elevating CreditNinja's standards across the board as necessitated by the partnership.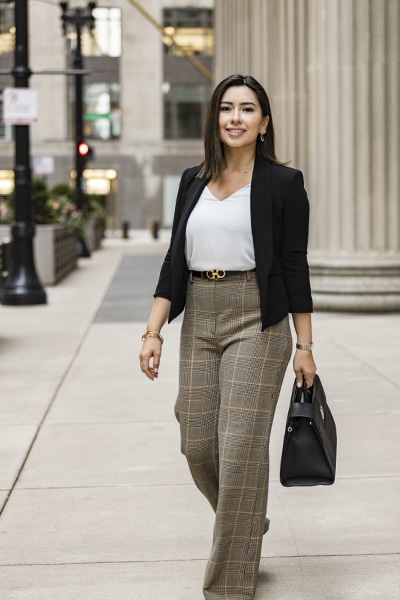 Martinez also serves as the face of CreditNinja in the Online Lenders Alliance (OLA), a leading industry trade association that works to promote a responsible marketplace for the online consumer financial services sector. She represents the company at OLA conferences and attends congressional meetings with the association when member support is needed. Notably, Martinez has begun to participate as a panelist at OLA conferences alongside seasoned industry professionals. It's a unique opportunity for Martinez to gain exposure to the industry at large.
"I don't know where else I'd be able to do this," she says. "My company's founders and management team are so supportive of me getting out there and becoming a thought leader."
Martinez intends to continue learning what she can from OLA's broader initiatives moving forward. At CreditNinja itself, her future goals include ensuring that the legal department grows and evolves in parallel to the business. She is especially determined to take a greater hand in the department's hiring processes by continuing to offer legal internships to law students. "As someone who went in-house straight out of law school, I'm all for giving young lawyers a chance," she explains. "I'm looking forward to bringing more diversity to legal in-house work."
Through ongoing volunteer work with local high schools, universities, and law schools, Martinez also hopes to increase awareness of the possibilities inherent in a career as corporate counsel. Many young people, she notes, including those in Hispanic communities and those without direct legal industry connections, can benefit from seeing and hearing from a corporate attorney with whom they can identify culturally. She's ready to set an example for those individuals and use her daring for the greater good.
"I'm a big believer in 'You can only become what you see,'" Martinez says. "I take the fact that I don't get intimidated as motivation to make headway for those who do. My hope is to make the path less daunting for others."
---
A Community of Counsel
When not occupied by in-house duties, Diana M. Martinez finds time to connect with legal professionals through the Association of Corporate Counsel and the Chicago Bar Association. She serves as cochair for the latter's Young Lawyers Section In-House Counsel Committee, and her event programming for the committee targets existing corporate lawyers as well as newcomers considering in-house practice. "I love the fact that it gives me a chance to network and be a resource to others," Martinez says.