Rudy Rodríguez knows he has a job that many would envy—a position with the unique ability to make children smile every day. He serves as executive vice president, chief legal and human resources officer, and corporate secretary for CEC Entertainment, the Texas-based company that operates a total of 555 Chuck E. Cheese and Peter Piper Pizza restaurants in the United States and Canada, and oversees 186 franchised restaurants in an additional 15 foreign countries. "It's a very special place," Rodríguez says. "Every part of the organization has a part in thousands of children around the world having their best day, every day."
He's been with the company for five years, adding the CHRO role in 2018 after joining as general counsel and corporate secretary. Today, he spends less time doing legal work in order to focus on human resources. "I have taken on the responsibilities of providing human resources services to the field and to the corporate support centers of both brands," he explains. "The compensation and benefits area is within my supervision and required an intense period of learning and study. It's been exciting and an invigoration of my career."
This year began at CEC Entertainment with the January appointment of new CEO David McKillips, who has twenty-five years of experience in the family entertainment, media, and theme park industries. "This is the first time I've been through something like this as a member of an executive team, so that was an interesting transition," Rodríguez says, adding that the first sixty days went "very smoothly."
By mid-February, however, the company had to pivot to address the crisis brought on by the COVID-19 pandemic, which within months devastated the American economy, and in particular, the restaurant and family entertainment industry. McKillips assigned Rodríguez to lead the company's task force assembled to coordinate the company's response. In March, he says the issue "required my full attention . . . , to the exclusion of almost everything else. That has also been new to me, dealing with intense crisis response activity from the perspective of an executive leader."
The company was ultimately forced to file for bankruptcy protection in June, but Rodríguez has not allowed that to blur his vision of its bright future. Not only does he remain dedicated to the safety of every employee and guest at every restaurant, he also believes that by early 2021 the company will emerge from bankruptcy with a renewed will and strengthened commitment to its mission.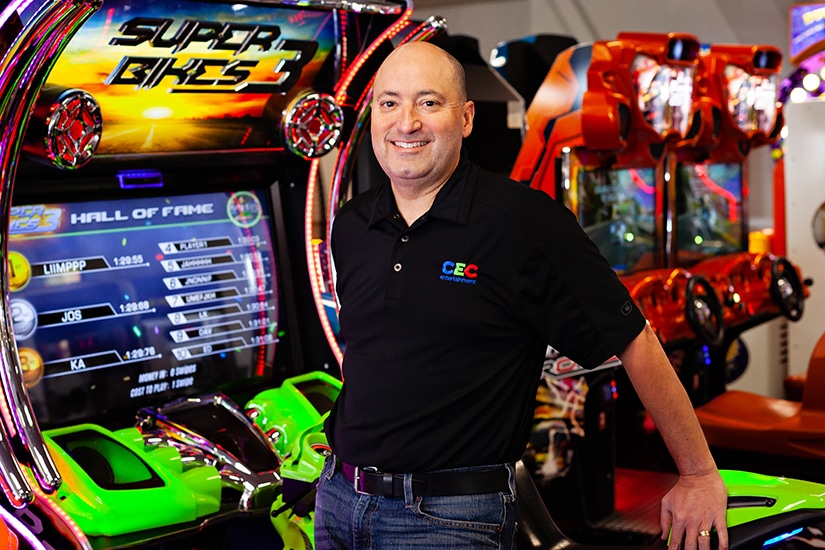 Rodríguez, who was general counsel of American Eagle Airlines on September 11, 2001, says that this crisis has been more challenging and unsettling, due to the catastrophic impacts on a much wider range of industries and the inability of policymakers and scientists to swiftly and decisively bring it to conclusion. "It's like nothing we've ever seen before," he says, "and we can only hope that our economy will recover quickly when a vaccine becomes available."
While working through these critical issues is the challenge of a lifetime for Rodríguez, when the company is on normal footing, he says, "I want this to be as fun a place to work as the people we tell think it is whenever we tell them we work for Chuck E. Cheese," he explains.
"The image of the children thanking their parents for taking them to Chuck E. Cheese gives me a lot of job satisfaction and pleasure in what I do."
CEC Entertainment has distributed employment engagement surveys for the last four years, and while they've seen improvements in employee engagement, Rodríguez says they want to see more. "We have a dedicated committee working on things as obvious as improving our benefits offerings and costs to getting more involved in the community and charitable outreach," Rodríguez explains. "We're being more flexible in work hours, the dress code, and we're giving managers more flexibility with their teams."
Last year, the company implemented a scholarship program for the first time and is expanding the avenues for employment giving in 2020.
"I lead regular town hall meetings here at the support center, which are always a lot of fun," he says. "We share information but also have opportunities for things like talent shows, pajama parties, and ways to act a little bit goofy. We end every one with the opportunity for our people to describe some of the best things that have happened to them recently at home, outside of the company. We all share in each other's victories."
One of Rodríguez's goals at CEC Entertainment has been to diversify and expand the customer base, which means improving the appeal for parents. "Over my five years here, we have worked on improving the food options—the variety and flavor, as well as ensuring the restaurants are as clean and inviting as can be," he says. "Over the last couple of years, we have engaged in a company-wide remodeling project that has resulted in the remodel of nearly a hundred restaurants, with plans for more this year. The new restaurants have a look and feel different than those that parents visited as children."
Rodríguez says that in many ways, it's all about the kids. "The image of children thanking their parents at bedtime for taking them to Chuck E. Cheese gives me a lot of satisfaction and pleasure in what I do," Rodríguez says. "I have shared that vision with the people I work with, and there's a great deal of warmth that we have about what we do every day. We help bring smiles to kids and offer an opportunity for families to bond and be closer together."
With McKillips now at the helm as CEO, Rodríguez says the company is looking to capitalize on the brand recognition of the Chuck E. Cheese character and his friends, doing more licensing and branching out to areas of entertainment outside the walls of the restaurant.
"We're also looking to expand internationally through additional franchising, which we've done a lot more of in the last couple of years. But over the next five to ten years, our plans are mind-boggling—there are amazing opportunities in that area," Rodríguez says.
---
Related Links
Fender's Instruments Make Musicians "Fly"—Sal Montes Makes Sure of It