If you had told Diana Abril years ago that one day she would be starting her own law firm and adding special education law to her areas of practice, she wouldn't have believed you.
After graduating from Nova Southeastern University's Shepard Broad College of Law in 2004 and earning a civil law degree from the Universitat de Barcelona in 2005, Abril joined Am Law 200 firm Carlton Fields as a corporate associate. Three years later, at the age of thirty, she accepted the general counsel position at eLandia, a public global technology and telecommunications company. And in 2012, she was offered the general counsel role at Whitney International University System (now Ilumno), which provides virtual and other state-of-the-art services to higher education institutions throughout Latin America.
"I love corporate law," Abril says. "From helping entrepreneurs and companies make their vision a reality by incorporating, drafting their business contracts, negotiating deals, and navigating mergers and acquisitions, it's extremely mentally engaging." Indeed, in 2013, she added to her skill set by earning a certificate in Intensive Negotiations for Lawyers and Executives from Harvard Law School's Negotiation Institute.
A native Colombian—her family moved to the United States when she was ten years old—Abril also developed an expertise for navigating deals in Latin America, which she did extensively at Carlton Fields and for the eleven-plus years she was with eLandia and Ilumno. While at eLandia, she focused on public company work. Of her work at Ilumno, Abril says, "That was exciting work. We were on the cutting-edge of the online learning movement."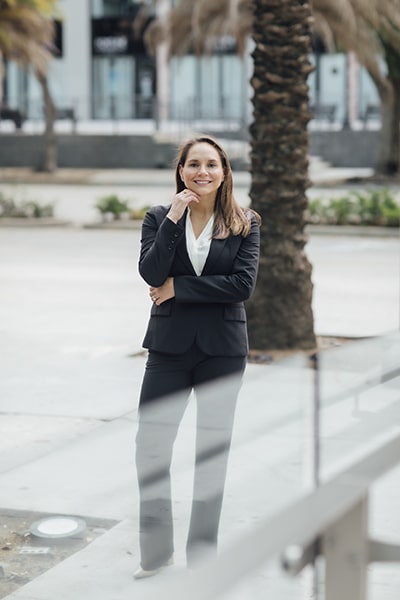 When Ilumno decided to reorganize and focus more of its operations in Colombia, Abril saw it as an opportunity to become her own boss. "I wanted to take my career into my own hands," she confirms. So, in February 2020, she launched Abril Law PLLC, which focuses on both domestic and international corporate law, outside general counsel services, and special education law and advocacy.
Offering outside general counsel services means she'll be providing small and medium-sized businesses, start-ups, and even nonprofits with the legal expertise required to handle business-related transactions—without adding to their overhead. "Lots of companies can't or don't want to support the costs of having an in-house attorney, and large law firms' fees can be prohibitive. As a solo practitioner, I can offer clients flexible, alternative billing structures. It's a really good option, particularly in this era of cost-consciousness," Abril says.
Though Abril has been practicing corporate law for fifteen years, special education law is a new arena for her. Since the birth of her now four-year-old autistic son, she has discovered firsthand the challenges parents with disabled children face, particularly when it comes to educational opportunities.
As a special education attorney, Abril will not only help parents navigate the myriad laws and regulations protecting children with disabilities at schools but also help them to understand their rights and develop strategic plans for their child's education.
"When a child has a disability and qualifies for special education services, the parents are entitled to develop an Individual Education Plan (IEP), along with the school, if they are in the public school system," Abril explains. "The plan outlines their educational goals, any additional services they might require—like speech, occupational, or physical therapy—and any special accommodations they may need. The process is intimidating and can be overwhelming, especially the first time going through it."
If disputes arise between parents and the school, Abril will represent the child and parents. She'll also spend time educating people and dispelling myths. "Some people think disabled children necessarily require a separate education," she notes. "However, what is ideal is to have children with disabilities included with their typical peers as much as possible, with all the appropriate supports.
"In fact," Abril continues, "research shows that children with disabilities have much better outcomes when integrated with non-disabled children."
"They told me if they could do it and be successful, I can do it just the same. That kind of encouragement from my colleagues has been priceless."
In addition to taking on this new practice area, starting her own firm has presented Abril with all sorts of new challenges. "There has been a steep learning curve," she admits. "Going off on your own and founding your own business means you have to do it all, from administrative work like setting up bank accounts, billing and accounting systems, practice management software, and getting insurance to creating your business plan and making strategic and marketing decisions. It's given me a new perspective."
According to Abril, talking to other attorneys and business contacts who have launched their own firms and businesses has really helped her navigate the various challenges that have come her way. "In addition to providing great advice, the most valuable thing they have done is to provide unwavering support through the process," she says. "They told me if they could do it and be successful, I can do it just the same. That kind of encouragement from my colleagues has been priceless."
---
Related Links
Diana Abril molds her love for travel and law to craft her dream career