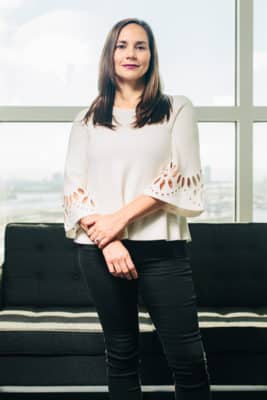 ILUMNO, a Miami-based company, says it's "transforming how the world learns," and it's hard to argue otherwise. With a presence in eight Latin American countries, at sixteen prestigious higher education institutions, the company currently serves almost 250,000 students, a number that has doubled in the past four years.
ILUMNO is an organization dedicated to supporting higher education institutions making the transformation to the digital economy. And what it does is motivated by a strong vision to expand access to quality higher education to positively impact lives and improve societies.
Before the online education boom of the 1990s, there wasn't much change in education or the education business when compared with other industries. But, during the digital age, change has been rapid fire, and to continue to succeed in this space, all sectors must adapt to change.   
"The future of education is digital, and we prepare institutions for that transformation," says Diana Abril, general counsel for ILUMNO. "We believe we are leading the change in our industry, and, as a leader, that means we also have to continuously reinvent ourselves."
Through the ILUMNO Cube, ILUMNO is creating the first cloud-based solution for higher education.
The organization has been working with a number of historical alliance partners for nearly a decade, providing them with technology, processes, and best practices that enable student population growth while improving academic quality, optimizing resources, and promoting internationalization.
Making its alliance business the main focus was a "pivot in strategy," Abril says. This pivot, however, required some major reshuffling. The company underwent a rebranding of sorts and also an internal and legal restructuring to get the business more broadly prepared for international expansion. 
"We have been able to see the positive effect of ILUMNO on the universities and to prove, one institution at a time, that our model works," Abril says. "Given that, we decided to make the switch and position the company for rapid expansion in this field. It's been a big project and a huge undertaking."
Abril's role in this undertaking is not to be overstated. She has been responsible for supporting the business side on all legal aspects of this pivot and leading the efforts of the internal and external teams on the entire legal restructuring. This was a major project for the business for most of the latter half of last year.
It seems ILUMNO is—and has been—headed in the right direction. Even a cursory glance at recent industry headlines will tell you all you need to know about the future of education. "Younger Students Increasingly Drawn to Online Learning." "Why Online Education Has Gained Revolutionary Momentum."
The move toward online education is being called a "paradigm shift," though technically online learning has been offered for more than two decades now. The difference is that new learning technology is emerging more quickly than ever before, and the organizational structures that online learning has operated under are beginning to take new shape. All this is enabling literally millions of students to pursue degrees wholly online and millions more to take online courses for credit.
In Latin America where ILUMNO operates, there is a big opportunity to support higher education institutions that are looking to making the transformation to the digital economy. The challenge is that education is a heavily regulated industry, and many of the countries where ILUMNO operates are just making the changes necessary to adapt to online education.
"Regulations affect our alliance partners, and they affect how we operate in each country," Abril says. "Keeping abreast of all of the new regulatory changes is a challenge, but I'm very proud of the fact that many of our alliance partners are at the forefront of these changes and in many countries have some of the greatest number of students in the online sector while delivering education with outstanding student outcomes."
She also cites the ILUMNO Foundation as a particular point of pride. Created with the goal of supporting students with great academic potential who have limited access to higher education opportunities, the foundation was originally set out to raise funds to support this effort.
As it developed, it became clear that what was also desperately needed were education programs for high school students, to help them be prepared for university. Being able to pay for university is one thing, but being academically prepared to manage university is another.   
As a result, the ILUMNO Foundation is providing free online courses that prepare high school students for their next level of education. Abril says this has been an idea they've "kicked around" for a long time, and now it's coming to fruition. These remedial courses help develop the competencies of promising students from low-income communities. For many of these students, university preparation and a scholarship that enables them to pay for their education is life changing.
Abril says that in part, the foundation is about social responsibility. All the universities in ILUMNO's network have a focus on social responsibility, meaning they all have programs to help their communities and to help students in need.
"Creating a foundation that helps the mission of our alliance universities, one that aligns with their goals and the responsibilities they've embraced, obviously made sense," Abril says. "But, we also see it as our social responsibility to help these students achieve their personal and professional goals."  
---
MBAF is pleased to recognize the accomplishments of ILUMNO's general counsel, Diana Abril. Diana is a key executive in ILUMNO's efforts to evolve and expand higher education institutions through technology and innovation, and we are proud to be part of that effort. MBAF's Risk Advisory practice creates value for emerging growth, mid-cap, and Fortune 500 companies.
---
Baker McKenzie helps clients overcome the challenges of competing in the global economy. We solve complex legal problems across borders and practice areas. Our unique culture, developed over 65 years, enables our 13,000 people to understand local markets and navigate multiple jurisdictions, working together as trusted colleagues and friends to instill confidence in our clients. www.bakermckenzie.com