Carina E. Sánchez felt the call to serve her city before she was even ten years old. Growing up in Chicago's Pilsen neighborhood, she started noticing people on TV that looked like her parents, her friends, and herself. "It was the 1980s and I was watching the deportation of Mexicans from the United States, and I remember asking my mother what was happening," Sánchez recalls. "She explained that they didn't have the right papers to be in the country, and I remember asking her who got to make that choice. She told me it was the government who made that decision. I quickly became conscious that people in government make decisions that impact every aspect of our lives, sometimes in a detrimental manner."
Sánchez knew she wanted to help give voice to those who had to fight hard to be heard. "To me, being born in this country was a privilege. I wanted to be at the decision-making table to help people that look like me so they weren't discriminated against," she says. "I want people to understand that people like my parents came here to build something and make a better life for their family and their community."
The daughter of Mexican immigrants and current executive director of the Public Building Commission of Chicago (PBC) has spent nearly twenty years working to both give a voice to those without a champion and to help rebuild a diverse and equitable Chicago in an image more reflective of its residents.
Bonafides
Sánchez took her first real step toward achieving her goal of championing underrepresented voices in the early 2000s. While working for the Illinois House of Representatives, Sánchez was able to help Illinois become an early adopter of in-state college tuition policies for undocumented students.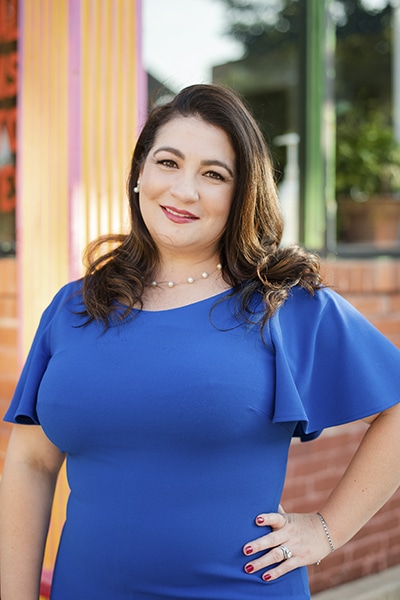 "This was legislation that just started as an idea, but I had the opportunity to organize hearings across the state," Sánchez recalls. "I remember having these young people come forward who just wanted to be recognized and receive an education. That whole process had a major impact on me and, throughout my career, everything I've done has ventured to improve the lives of people."
Thus far, Sánchez's career has touched a wide breadth of Chicago residents. When Illinois Comptroller Susana Mendoza became Chicago's City Clerk in 2011, she asked Sánchez to help revamp the office and establish more trust in the position, which had been the center of corruption for far too long. "The most visited office in Chicago had an inefficient city sticker sales program dating back 105 years that caused long lines and headaches, on top of the embarrassment of previous clerks going to jail," Sánchez says with a sad laugh. "It was an office in desperate need of reform and accountability, an office that needed to provide better customer service at a lower cost to taxpayers."
Sánchez was instrumental to the overhaul of the antiquated sticker system and the department's hiring of more bilingual staff to aid its residents—not just in Spanish but also in Polish, Mandarin, and other languages with strong roots in Chicago. As a result of the changes she spearheaded, Sánchez was promoted from chief of staff to deputy city clerk, the first Latina to ever hold the position.
The Best Is Yet to Come
Sánchez has served as the executive director of the PBC for more than three years now but, as she notes, Chicago has yet to see the impact of one the most significant projects she has worked on as a city servant.
During her tenure at the PBC, Sánchez has initiated sweeping contracting changes aimed at giving underrepresented community voices some much-needed amplification. "We have re-procured a number of our services," Sánchez explains. "For example, prior to my tenure, we had a system in place that didn't recognize or provide ample opportunities to smaller minority- and women-owned general contractors. Hence, a tiered system was established for job order contracting based on the size and dollar amount of work to be performed so smaller companies can have an opportunity to learn and grow on smaller projects.
"The benefit of providing those opportunities pays dividends in the future," Sánchez continues. "As the smaller firms grow, they can provide valuable tools and educational opportunities to their subcontractors. As a public developer, we have a responsibility to increase capacity and provide opportunities to growing firms."
"To me, being born in this country was a privilege. I wanted to be at the decision-making table to help people that look like me so they weren't discriminated against."
Her partners affirm the importance of her mission to give a platform to underrepresented voices in the Chicago business community. "Carina strengthens the bonds between Latina architects and Chicago's Latino community," says Patricia Saldaña Natke, owner of the architecture firm UrbanWorks Ltd. "Under her leadership, UrbanWorks was selected as the design lead for CPS's new John Hancock High School—a vibrant community anchor which will serve and inspire the 93 percent Hispanic student body."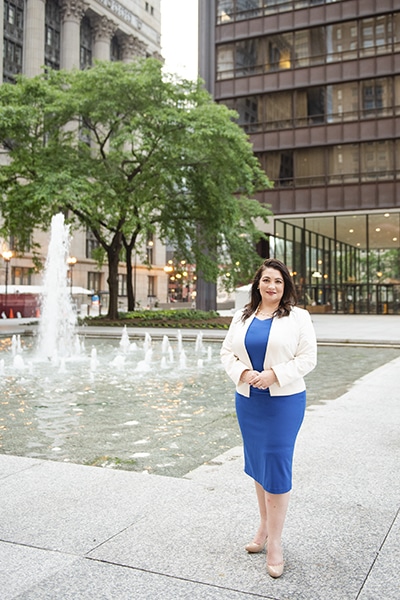 Sánchez has also tasked her staff with helping contractors find minority- or women-owned businesses to partner with. "A lot of agencies have minority and/or women business [M/WBE] participation goals. Those goals are aspirational," Sánchez says. "We go further; our goals become actuals. We host pre-bid conferences to connect contractors with MBE/WBE firms that they can partner with and use to help their companies grow.
"We also have a strong compliance team," she adds, "which works with our partners and tracks benchmarks to ensure they are hitting our contracting requirements and ensures we do our part to help them however we can."
The Architecture of a Community
Sánchez is also proud of her effort to pre-qualify a pool of Architects of Record (AOR) for various projects. In working with her team, and after an in-depth evaluative process, close to twenty minority- and/or women-owned AOR firms were pre-qualified to perform work on PBC Projects. "This was the first time an all MBE/WBE slate of AOR's was approved by the PBC Board," the executive director notes. "Our strength lies in our diversity, and it's fundamental to my commitment to my community."
Her efforts have not gone unnoticed by the Chicago community. "With a sweeping act of seventeen project awards to MBE/WBE architecture firms, all done at once, Carina Sánchez put action to words and showed other public figures how to lead and empower," says Rada Doytcheva, principal of RADA Architects.
Sánchez and her team have already witnessed numerous success stories, but Sánchez wants to keep pushing. "I look at a project from the lens of how can we help our community in a way that is going to have a lasting impact," Sánchez says. "We may not have always had the door opened for us and have had to push it open ourselves, but we have a responsibility to our community to make that change and hold it open for others to come through."
---
Related Links