"Think big. Dream big. Do big." That was the mantra in the Vaca household. Based in Los Angeles and defined by faith, family, love, and hard work, the Vacas may have been modest in means, but they were ripe with potential. As the CEO of a $235 million company—founded in her one-bedroom apartment in 1996—you might say what Nina Vaca has done is pretty substantial.
Though Vaca's parents dug their heels into American culture (setting up shop in LA with their family-operated travel agency), "We were Ecuadorians by trade," she explains. That meant you'd be more likely to find liver and cow stomach on the dinner table than turkey with gravy or meatloaf. "Even today," Vaca says with mirth, "there is so much rice in my cabinets at home."
The Vacas instilled in their children three fundamentals: love of their country, a dedication to excellence in everything they did, and advocacy for those less fortunate. "I was the middle child to two entrepreneurs and civic leaders," Vaca says. "I've spent my entire life trying to be both of those things." With her mother, father, and uncles all owning their own businesses, Vaca was able to see first-hand what being an entrepreneur required throughout her childhood. She started working in her family's travel agency at age 10 validating bus passes. After a series of unfortunate circumstances, Nina and her sister faced the daunting task of running the business immediately following her high-school graduation.
With the family livelihood at stake, Vaca's trajectory in the business world was necessarily steep. Despite the pressure and emotional hardship, holding down the family fort turned out to be one of the most formative and invaluable experiences of Vaca's life. Not only did she gain the real-world insights of an independent businessperson, but it was at this time that Vaca's fascination with technology was ignited. After growing up with the laborious process of booking reservations by pen and paper and placing countless calls to airlines, Vaca was relieved and amazed by the computer reservation system known as SABRE, which digitized the booking process.
Having experienced firsthand the wonders technology could do for a business, Vaca capitalized on the trend as soon as she graduated from Texas State University. After a stint in New York, she returned to Texas and began her entrepreneurial adventure. "One thing I knew in my heart," she says, "was that I was going to be an entrepreneur and do it for myself. I learned through the silent example of my parents that, in this country, you can."
She enrolled her sister—and eventually her brother and husband—and together they recruited some of the brightest minds in the industry; within six months, Pinnacle Technical Resources went from a single-computer-and-phone operation in Vaca's apartment to high-rise office space in downtown Dallas. Such a promising start could not have portended the market collapse Vaca would face in 2001, which deeply affected the start-up's positive trajectory. A string of firsts—layoffs, nearly missing payroll, uncertain viability of the company—were trying, but Vaca's perspective saw her through. "I learned very quickly as a child," she says, "about the persistence and the tenacity and the failure-is-not-an-option attitude you need to run a business."
And by applying those values, Vaca brought Pinnacle back stronger than before, first doubling its business in 2002, then tripling it in 2003. Charging forward as the fifth-fastest-growing firm in the $20 billion dollar IT consulting industry has earned it a place on Staffing Industry Analysts' fastest-growing companies list for seven straight years—a feat unmatched by anyone else in the industry. "Surviving the 2001 recession taught me a lot," Vaca says. "Today, my most important priorities are employing the right people and having the right strategy in place to provide growth, stability, and, ultimately, determine the future of our industry."
In 2011, the company made its first acquisition with Provade, a third-party labor-management software that allows Pinnacle to operate in more than 40 countries and 10 languages. Today, Provade continues to flourish under Vaca's leadership, boasting several billion dollars of spend under management as well as winning the 2012 TekTonic award in the vendor-management solutions category.
Together with Provade, Pinnacle's accomplishments continue to grow. As a diversified staffing, pay-rolling, and vendor-management software and services provider, the company earned a National Supplier of the Year Award as one of the largest diversity-owned IT staffing firms in the nation and was one among only six distinguished AT&T Global Suppliers of the Year in 2011. Even with all of this success, Vaca follows the same philosophy her parents preached. "Then and now, my values are still the same," she says. "Think big. Dream big. Do big."
In true Vaca fashion, her work is not done once she leaves her office. When she's away from her desk, she is spending her free time advocating for three other groups for whom she cares about deeply: women, entrepreneurs, and students.
In Des Moines, Iowa, earlier this year, Vaca spoke to a crowd gathered to celebrate the achievements of Hispanic businesses there. The Quad Cities Chamber of Commerce's executive director called her an inspiration to the business community, and he was not the only one to notice. A father in the audience reached out to Vaca saying that he hoped his daughter, who was also in attendance, could one day consider Vaca a mentor.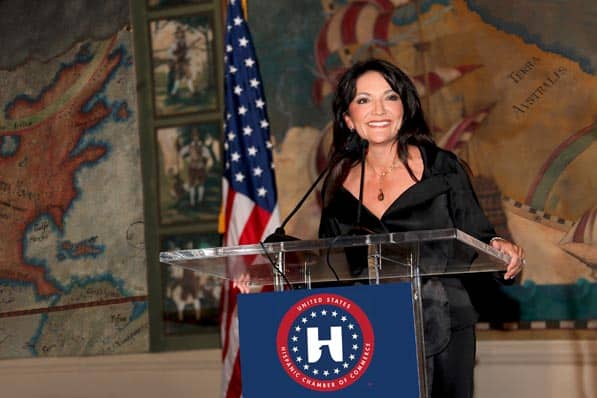 "It is so important to me that everyone has a mentor," Vaca says. "It is a personal mission of mine to raise up aspiring entrepreneurs and women in leadership." And Vaca has contributed to promoting the development of both groups. As a board member of the Startup America Partnership, a national network of start-ups whose mission is to arm entrepreneurs with the tools they need for success, Vaca has the opportunity to provide insight and advice on beginning one's entrepreneurial journey to those who wish to follow in her footsteps. More and more, she has also become involved in speaking to women's groups, and not just those in the business world. "It was always a dream of mine to have a big family and own my own business, but not at the expense of each other," Vaca explains. "It is so important that we have strong women as role models for our future generations." Women have found great inspiration in Vaca's message about how leadership can be in the home or in the boardroom and not at the exclusion of one another. "My mother spent the majority of her time working for the community, not looking at balance sheets," she says, "but she provided much of the inspiration behind my decision to be an entrepreneur as well as to help those in the community."
Vaca not only inherited her parents' ambition, she is continually inspired by their activism, as well. Her mother, who was an honorary consulate to Ecuador in Houston, as well as the past president of La Federación de Entidades de Ecuatorianos en el Exterior—the largest federation of Ecuadorians in the United States—has given more than 30 years of service to her native country. Today still, she serves Ecuador by working for its government as the Commissioner of Human Rights for all of North America. "She's the real superstar," Vaca says with admiration.
Given her family's history of service, it gives Vaca particular pride to serve her community and continue the work her parents started in the roles she has held with various chambers of commerce. In 2005, Vaca began her activism as chairwoman of the Greater Dallas Hispanic Chamber of Commerce. Her responsibility grew by 2008 as regional chairwoman and again in 2010 when she was named chairman of the board for the United States Hispanic Chamber of Commerce (USHCC) on which she served for two years. Thanks to the explosive growth of her company, Vaca says she is able to leverage her success for the benefit of the 3.1 million Hispanic-owned businesses for which she still advocates in her current role as the chairman emeritus of the USHCC.
One of the greatest satisfactions of Vaca's work is "knowing we're an important part of our economy and knowing that what we've done has created jobs, which in turn have created families, and those families have created futures," she says. Vaca is able to see the gains the Hispanic business community is making each time she gives a commencement address to a crowd of future entrepreneurs, sits on a panel of international business leaders at the Vatican, or makes a personal visit to a husband-and-wife-owned newspaper in the Quad Cities. "That is how I choose to spend my weekends," Vaca says of her outreach, "because I have many Pinnacle and family responsibilities during the work week."
Vaca's influence is even more ubiquitous than her physical presence. So much can be learned from her story of ascent from an earnest, young businesswoman to Ernst & Young Entrepreneur of the Year that it opens a chapter of McGraw Hill's university-level entrepreneurship textbook, Understanding Business. So strong is her desire for the bright futures of Hispanic and women entrepreneurs that, through Pinnacle, thousands of dollars have been contributed to the Stars on the Rise scholarship program benefitting attendees of the Dallas Hispanic Youth Institute, a summer college-prep experience.
With so many commitments, the demands for Vaca can be daunting, but are never limiting. "Sometimes … I wish there were five of me to meet the demands each day brings," she says with a laugh as she admits to texting during her interview with Hispanic Executive. "But it's all on behalf of moving the needle for Hispanics in America, and the fact that I'm fortunate enough to use my skills and success as a mentor, a sister, mother, and business leader … [makes] the journey completely worth it."
---
Interested in seeing more of Nina Vaca? Check out this video from The Story Exchange, a premiere nonprofit media organization dedicated to telling the stories of women entrepreneurs.