FedEx's Michael Rodriguez-Chapman talks about the importance of respecting other cultures, and what that means for information security
You don't get to be one of the world's largest delivery-service companies by sitting in only one place, doing only one thing, or speaking only one language. At FedEx, which has a labor force of 300,000 and handles more than nine million packages per day, this is an ethic that is symbiotically bolstered and informed by the people working behind the scenes—people like Michael Rodriguez-Chapman, director of information security, protection and assurance—to ensure the confidentiality, integrity, and availability of FedEx's data and systems on a global basis.
"Doing business on an international level presents a unique set of challenges," says Rodriguez-Chapman. "Most often these challenges are not overly complex, but they are also not clearly defined. I think one of the skills necessary to be successful in international business is the ability to thrive in ambiguities. If you are uncomfortable with ambiguity, you might find the associated international travel very painful."
And Rodriguez-Chapman should know—in his 24 years with FedEx, his work has taken him to literally every corner of the planet: Brazil, Mexico, France, South Africa, UAE, India, and Singapore, to name a few. Travel is not only a regular part of Rodriguez-Chapman's career, it has been a long-standing tendency that reaches all the way back to his youth.
Global Guide
Michael Rodriguez-Chapman's
tips for navigating the global marketplace
Respect culture, because people take it personally.
When you find yourself in a different country, take time to explore and learn about the people. After all, business is done with people.
Don't be afraid of ambiguity. If you learn to embrace it, it can be your best friend. I've made a career out of something that others fear way too much.
"My father was in the military, so the family moved every two to three years—I was conceived in France, born in the United States, and started elementary school in Okinawa, Japan," Rodriguez-Chapman explains, noting that just as he learned to count to 10 in Japanese, the family moved again—this time to the Panama Canal area. "My brothers and I loved living near the Panama Canal. As a kid, everything needed to be explored, and there was so much to explore there.
"When I joined FedEx in 1989," he continues, "the company was expanding its international operations and was looking for volunteers to go to Europe and help with the system and operational expansion. Of course, I raised my hand."
At that time, FedEx was developing a reputation of "making the impossible possible," which is what was expected of Rodriguez-Chapman with his new European assignment. "The expectation was that we, the team, would be able to quickly make a difference, and often that meant making decisions with less than 100 percent of the information," he recalls. "So being able to deal with ambiguity was a very positive skill to have."
Despite the challenges, or perhaps because of them, Rodriguez-Chapman thinks fondly of his time in Europe with FedEx. "It was some of the most exciting times of my career," he says. "I was 28, and one day I was in the United States, the next I was living and working in Paris."
Upon completion of his assignment in Paris, Rodriguez-Chapman was asked to extend his stay in Europe with a new assignment in Milan, and then another in Brussels. Two years after taking what was originally planned as a six-month assignment in Europe, he returned to the United States, working at the FedEx headquarters in Memphis, Tennessee, where he was part of the international marketing team. Though he was back at the corporate headquarters, he continued to pioneer many new endeavors for FedEx.
"I was first promoted to the director level to develop technology to establish the first retail environment for FedEx, which was something very new for transportation companies in those days," he says. "I then joined information security because it was yet another area that came with a great amount of ambiguity."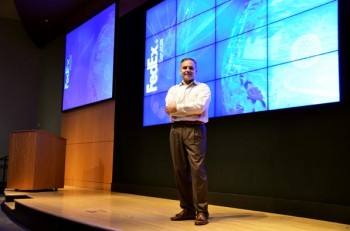 In 2009, Rodriguez-Chapman became the director of information security, protection and assurance. In this role, he oversees a team of 50 that manages everything from internal information security to code review and application security for the company's 150,000 computer endpoints and 290,000 network users. His team built the company's first shipment-fraud-detection software, which proved to be a very successful effort. Now, they are establishing FedEx's first Security Threat and Intelligence Center (STIC), designed to move the information-security efforts from an in-depth, layered-defense model to a research-driven, risk-based approach. "I'm excited about this new challenge," Rodriguez-Chapman says. "Moving information security from a 'no' to a 'know' model greatly empowers the business to achieve its objectives."
In his time with FedEx, Rodriguez-Chapman's work has earned him the coveted Chairman's Quality and 5-Star awards—some of the highest honors given by FedEx to its employees.
In the midst of his myriad of activities, Rodriguez-Chapman remains most dedicated to his international work. "FedEx is an international company, and security is important because it covers the entire scope of our work," Rodriguez-Chapman says. "Anytime we're doing acquisition work or growing our security footprint, there is always a need for me and my team to travel."
When asked what's next in his career, Rodriguez-Chapman responds vaguely. After all, ambiguity is his niche.