Hispanic Executive had the pleasure of partnering with the USHCC to bring the 2013 USHCC Kickoff Reception to its hometown on June 27. As part of the kickoff, HE had the privilege of welcoming USHCC Chairman Emeritus Nina Vaca, Chicago Mayor Rahm Emanuel, and activist, philanthropist, and businesswoman Eva Longoria to Chicago.
The invite-only event, which was sponsored by Northwestern Mutual, happened to coincide with the US Senate passing a massive immigration reform bill earlier that day. The night's speakers—including USHCC president Javier Palomarez and his guest, Mayor Emanuel, Hispanic Executive's president Pedro Guerrero, HE's very special guest and fall cover star Longoria—all shared their thoughts and excitement on how this new legislation would help Hispanic entrepreneurs and businesses.
The night opened with Guerrero addressing the crowd of more than 170 who came to the historic Hilton Chicago to welcome the USHCC to HE's hometown. "As a business owner and Latino, I am grateful for the work USHCC does in Washington on my behalf," Guerrero said at the event.
Guerrero then unveiled HE's Summer 2013 issue, which featured Vaca as its "Leading Latinas" cover star. "[Nina] embodies what it means to be a strong Latina in business with her unwavering entrepreneurial spirit and dedication to advocating for women and Latinos around the country," Guerrero said.
After a quick USHCC promotional video was played, Palomarez came on stage and thanked HE for its work on behalf of the Hispanic community. "Publications like Hispanic Executive highlight the tremendous impact that Hispanic businessmen and women have on their companies and communities, and on this country," he said. "This is the very message that we at USHCC believe America needs to hear and America needs to hear it now."
Palomarez also took time to thank Northwestern Mutual, who earlier this year signed on as HE's corporate sponsor. "Your support is crucial in this endeavor and please know, while you're not a partner of ours, you're a partner of HE and that makes you familia with us, so we appreciate that."
Palomarez then turned his attention to the USHCC's efforts on behalf of the Hispanic community, and caught up in the vibrant air of the night went "off script," sharing some of his thoughts on the passing of the Border Security, Economic Opportunity, and Immigration Modernization Act.
"I am tired, tired of hearing how Mexico is no good except for illegal immigrants, drugs, border raids, [illegals] … the reality is, Mexico is the second-largest trading part to America and has been for over 75 years… bigger than England, bigger than France, … and we owe a lot to the people of Mexico and all of the states and countries below," Palomarez said.
During Palomarez's speech, both Longoria and Mayor Emanuel, quietly entered the room, taking in his passionate words. Longoria, who will be gracing the cover of Hispanic Executive's Top 10 Líderes issue, took the stage after a warm introduction by Palomarez and spoke on an issue that sparked her decision to create the Eva Longoria Foundation: Latina entrepreneurs.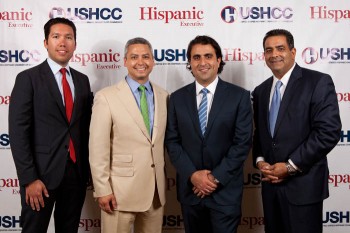 "Latinas and business aren't often placed in the same equation, but I'm here to tell you the power of the Latina entrepreneur is truly a force to be reckoned with. Latina business owners have played a major part in the 44 percent growth of Hispanic-owned businesses in recent years, which … contributed to the American economy by $465 billion annually," Longoria said.  She went on to say that as more Latinas become empowered, it is the responsibility of business leaders and policymakers to encourage women to take on more leadership roles.
She continued, "My responsibility to the Eva Longoria Foundation is to help Latinas build better futures through educational programs, but also entrepreneurial programs. [The foundation] provides the tools that Latinas need whether career training, mentorship, access to capital, or opportunity; opportunities like the USHCC provides every year through networking."
Marc Rodriguez, chairman of the USHCC, followed Longoria to welcome Chicago's Mayor Emanuel, who carried on the night's theme of immigration and small business.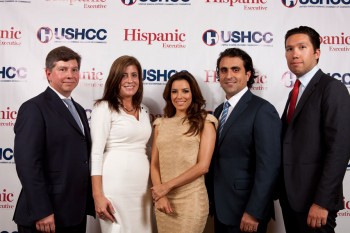 "If you're pro-immigrant you're pro-small business. If you're pro-small business you have to be pro-immigrant," Emanuel said, adding that immigrants started 50 percent of new businesses in Chicago.
After the speeches, Longoria stepped backstage to meet her fellow Top 10 Líderes, Jorge Perez and Andrea Bazán. She also chatted with Vaca and Northwestern Mutual's Jamie Delgadillo and Robert Marin.
For more event photos, visit our Facebook page here.
For video recaps click here.