Chef Jose Fernandez's work day begins with greeting and shaking hands with every member of his team. At points throughout the day, the chef must attend meetings and meet guests, but the bulk of his time is spent in the hotel's several kitchens—cooking, teaching, and enhancing the menus with new flavors and innovative dishes.
Fernandez is responsible for overseeing the entirety of culinary operations in the hotel—from its three restaurants (Shanghai Terrace, the Lobby, and Pierrot Gourmet) to banquets, the pastry kitchen, the bar, and the twenty-four-hour room service.
To create the menus for each, he takes into consideration the appearance and ambiance of each space.
"The menu is an extension of the location and look of the restaurant; it's the final piece of the puzzle," he says. "In the Lobby, there are twenty-foot floor-to-ceiling windows that allow plenty of natural light in. The Art-Deco interior design is paired with a menu that reflects freshness: seasonal produce and old-school dishes with a modern twist."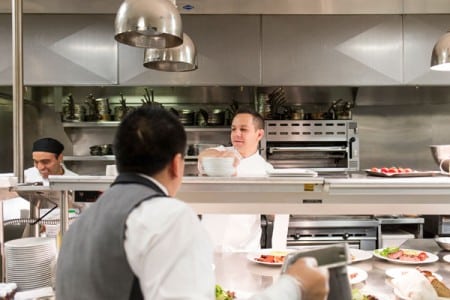 For Shanghai Terrace, named the best Chinese restaurant in the city of Chicago by Zagat, Fernandez found inspiration in Cantonese cuisine.
"Most dishes are meant to be shared, and the restaurant features a 1930s supper club decor," he says.
Culinary globetrotters can enjoy European-style entrées by choosing to dine at Pierrot Gourmet, a café and bistro with a distinct Parisian flair.
"It has large tables where people can sit close to each other, talk, and see what others are ordering, like in restaurants all over Europe," Fernandez says. "We also have a retail side to the Pierrot, so our patrons can take some of the best dishes to-go, especially during the holidays."
Room service at the Peninsula has also developed its own identity. Chef Fernandez has made it possible for guests to enjoy a memorable dining experience in the privacy of their rooms.
"For those who don't have enough time to experience our restaurants, we have all the current menus available through room service at any time of the day," he says. "Plus, we offer small portions with samples of local specialties and international fare."
Originally from Barcelona, Chef Fernandez admits that he loves to eat at the small tapas restaurants that are tucked into practically every corner of his native city.
"The flavors of the Mediterranean played a huge role in my culinary foundation, especially the seafood and fresh produce," he says. "South American flavors and spices have also influenced me. After moving to the States, I became very interested in smoked food." Fernandez is known for perfectly executing barbecue flavors. "However, since I joined The Peninsula Chicago, I've been more involved with Asian traditions."
At the crossroads of such gastronomic confluences is a personal style that Fernandez describes as "eclectic, seasonal and fresh."
"I don't like to hide any ingredients," he says. "I want flavors to shine and become the stars of my food. I am always trying to do things differently to keep the excitement going."
Though a cosmopolitan chef, Fernandez has stayed close to his roots. One of his favorite dishes is a classic Spanish paella, or fideua, as its Catalán version is called.
"There is nothing like teaching someone how to make a paella," he says. "A friend of mine used to joke about how a good Spanish chef would never travel without his paella pan. But it is true! I take my olla paellera wherever I go."
The Peninsula Hotel, with its premier setting in the heart of downtown Chicago, is a perfect venue to host meetings, conferences, and popularly, weddings. The hotel has received the Forbes Five Star and the AAA Five Diamond Award every year since its opening and offers everything from an on-site team of event planners to state-of-the-art audio and visual equipment.
A personalized menu can be designed around a theme, season, or regional cuisine to add a special touch to any event.
"We customize menus all the time," Chef Fernandez says. "We make sure the events are worry-free and that the food and service are unique. If a company were planning to hold a conference at the hotel, for example, I would prepare a seasonal and fun menu that attendees would remember—to the point they wouldn't stop talking about the Peninsula Chicago with friends and family."