Chevron's corporate philosophy, known internally as "The Chevron Way," is a comprehensive blueprint for the oil and gas giant's overall direction, from driving high-performance results to facilitating diversity and inclusion for its driven, dedicated staff. But for Oscar Arredondo, the Chevron Way is more than a mission statement. "We want to be an energy company that's admired," he says. "That's a tall task for this world."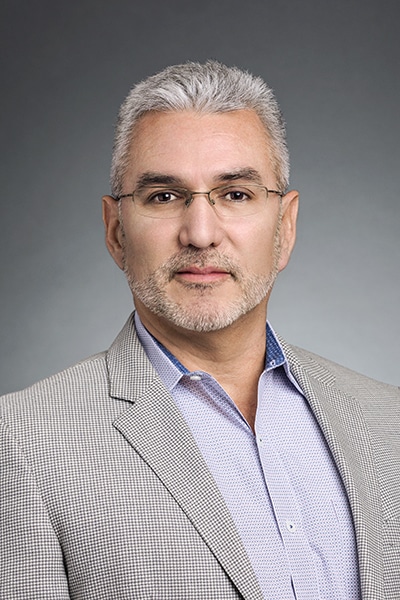 As Chevron's senior counsel, Arredondo is struck by how the company's statement of values affects not just its vision, but its internal culture as well. "To me, it's not about oil and gas; it's about delivering energy to the world," he says. "That is what has enabled us to have the standards of living we have in Western society, and develop world covets as well."
It's a mind-set Arredondo has held through decades of work at Chevron. Starting as a holdover from Texaco during its merger with Chevron in 2003, he saw an opportunity to get in on the ground floor with the company and stayed on while many of his colleagues took severance packages.
Getting there in the first place was a result of both perseverance and flexibility—skills that he stresses are vital to any profession, especially in the legal space. Arredondo's early successes required him to "knock on quite a few doors" and argue that his Master of Laws degree made him just as valid as someone with a juris doctorate. "Once you break that barrier and prove yourself as a competent lawyer, you earn a reputation," he says.
Over the years, he's been able to leverage that reputation to earn himself more exciting opportunities. Another key to success, he says, is getting out of your comfort zone—like when he was asked to handle his first upstream position in Venezuela in 2003. "It's about having that faith in yourself and that intellectual flexibility to take new challenges," Arredondo says. "It's not my comfort lane. And it's certainly not my country, you know. But I think I can contribute. And that's what's shaped where my career has gone."
In his nearly twenty years as senior counsel at Chevron, Arredondo has had the chance to counsel the company in international relations and to consult with expatriate engineers, business development experts, and geologists from all over the world. "Because of Chevron's needs and the skill set I bring to the table, I have been afforded plenty of opportunities throughout my career," he says.
"Once you break that barrier and prove yourself as a competent lawyer, you earn a reputation."
He's managed upstream operations everywhere from Venezuela to Brazil to Kazakhstan, juggling marketing, transportation, litigation management, and a host of other duties. Most recently, he returned to Houston to work as the acting general counsel for Chevron's biggest and most recently acquired refineries: Pascagoula, the largest US refinery in the company's portfolio, and Pasadena, newly acquired in May 2019.
It's a relatively new responsibility: prior to that, he was acting general counsel for Chevron's Pascagoula and Salt Lake City refineries and provided support to one of their additives facilities outside of New Orleans. Supervising the work of two new, significant properties in Chevron's umbrella is a unique challenge Arredondo relishes, though.
Among his major tasks in 2020 are turnarounds for both refineries—extended shutdown schedules to clean, repair, and maintain the complex equipment employed at both facilities. That involves coordinating all the contracts for maintenance, inspections, and product sales in order to complete the turnaround as quickly and cost-effectively as possible. "It's a major logistical feat," Arredondo points out.
Another huge challenge has been establishing Chevron's presence in the Pasadena refinery after its acquisition. Organizational cultures and processes have to be translated into the Chevron world, especially for personnel who've stayed on from the refinery's previous owner, Petrobras. "You don't flip the switch, and what's green becomes blue, you know?" Arredondo says. "It's a process of sharing best practices and communicating clear expectations and establishing your business plan and priorities."
But along with establishing authority there's a need for humility and understanding, Arredondo explains. "You have to understand that the existing refinery and the individuals who run it have some knowledge that you don't." The goal, then, is acquiring that knowledge as quickly as possible and putting the team's skills to effective use.
As for what's next, Arredondo is still looking for more ways to serve the Chevron Way as best he can. "I'm looking next for opportunities that use my inherent and acquired skills to support Chevron business and gain experience in different parts of the Chevron world—geographically or within the business segment."
---
Related Links
Ruth Giansante Brings It All Together at World Fuel Services
At CRC, Margita Thompson Focuses Her Energy on Empowering Californians