On August 18th, Representative Joaquin Castro posted an article in Variety, stating that "Latinos Love Hollywood, but Hollywood Hates Latinos." I've read it countless times and sat with its message. I thought to myself, "How does this bode for the progress of Latinos in Hollywood? Why does this feel unsettling to me, a third-generation Latino filmmaker? Are we really just stereotypes to the industry that we love, or is this how we're telling ourselves to view each other in order to 'work' to push our narrative of progress forward?"
As Latinos, we stand on the shoulders of giants. I look back at people like Anthony Quinn, Rita Moreno, and my great-grandfather "Lico" Estrada, who was a background actor and played a Mexican musician in several Westerns (catch a glimpse of him in the original Magnificent Seven). I am in awe of the foundation they laid and the sacrifices they made. I am acutely aware of the changes made to their names to be more palatable to audiences of the time, the (at times) overt racism they experienced, and most of all, the way that their exquisite talent proved that we Hispanics belong at the table.
Now that we have a seat, we must not rely on their stories but rather pay homage to them through our successes. We must create our destiny.
I'll be the first to tell you that I am as "brown-ish" as they come. I'm from an upper middle-class household. I love Elton John just as much as I love Vicente Fernandez. My Spanish is very so-so, and as I've been told several times, "You sound a lot smarter than you look" (interpret that as you will). I am a walking poster child of the fast-growing population of second-, third-, and fourth-generation Latinos.
"Let us be the change that we want to see so that it becomes impossible for us not to be seen."
Attending a prestigious university, I had many doors open to me because of my upbringing. Those doors took generations to open for my family, just like the many other Latino families that fought hard in order for someone like me to have the opportunities I have today. I am not blind to the advantages that I have over other Latinos in the industry, nor am I unaware that my success is built on that of Latinos who came before me. But as we continue to make inroads into the lifeblood of Hollywood, how do we empower one another to have a long-standing impact and influence over time?
I found part of the answer when I was twenty-five years old. One of my dreams had come true: I had the opportunity to work with legendary character actor Danny Trejo on my short film Bridesman. "Uncle Machete" and I had a lot of time to chat on set and speak about the state of the industry for Latinos. During an interview on Power 106, Danny noted, "People say to me, 'There need to be more Latinos in Hollywood.' I say, 'Well, go make a movie.' And this kid said, 'There needs to be more of us,' so he went out and did it." He went out and did it.
Trailblazers like Tanya Saracho, Gloria Calderón Kellet, Eugenio Derbez, Eva Longoria, Danny Trejo, and Robert Rodriguez continue to do so much to open doors for Latino talent with the content that they produce, the incubators they foster, and their consistent efforts to hire Latino talent. That is how we have made our voices heard. But we need to continue to stoke the Latino fire. We know the power of community and the power of familial bonds. There should be no excuse for us not to take the toro by the horns and create a vision for working in unison with everyone in this industry to build a brighter, more inclusive future.
With the intense focus on diversity and inclusion in recent years, Hollywood is actively doing what it can—in a very short period of time—to help lift our voices up. Studios and networks such as HBO, NBCU, and Warner Brothers have actively tried to recruit diverse voices and talent with their various diversity programs. Celebrities and filmmakers such as Ryan Reynolds, Ryan Murphy, and Guy Ritchie have dedicated themselves to opening up programs and internships focused on ensuring that people of diverse backgrounds have an entryway into the industry. Yes, these are anecdotal examples—but they are signs, nonetheless, that the effort is being put in.
Is it enough to rebuild the foundation on which Hollywood has existed for decades? No. Tenochtitlan wasn't built in a day, and this business continues to be an experiment. However, it is up to us to continue to create points of entry and prop the door open for those behind us to ensure that the representation of Latinos is proportional to that of the American population, and to ensure that programs such as One Day at a Time and Vida are recognized not as good Latino content but just as good content that is accessible to everyone.
"We are called at this moment to help make a difference, not only for the Latino community but for our brothers and sisters of other diverse backgrounds."
We can no longer rely on the wrongdoings of the past in order to forge a shell of success. Let us rely instead on the growing population of sixty million Latinos in the US, and that Latino grit that we were all raised with, to continue to do the work and get the job done. Instead of resting on tired clichés and talking points like "Hollywood hates Latinos" and "We're tired of being represented as drug dealers, gangbangers, and maids," let us be the change that we want to see so that it becomes impossible for us not to be seen.
We are called at this moment to help make a difference, not only for the Latino community but for our brothers and sisters of other diverse backgrounds. Let us celebrate and lift one another up rather than blame those we view as "in power" for their perceived inadequacies when it comes to diversity. We must continue to hold a mirror up to ourselves and ask, "How can we do better?" We must learn to forgive, help people understand where we're coming from, and convey our perspectives while ensuring that we're doing everything we can to propel Latinos to the roles of decision-makers.
We have some awesome perspectives to share—perspectives that we may not have shared previously because of the "I'm not white enough, I'm not brown enough" feelings that many of us feel we have to navigate. It's a brilliant state of confusion that provides us with a universal connection to the quest to find out why we're here and the things that bring us together as human beings.
We're storytellers, after all, and it's time to tell nuestras historias.
---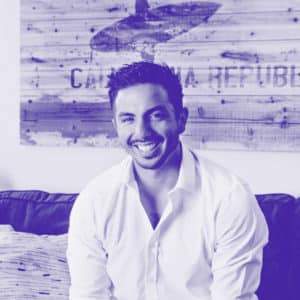 Tony Estrada is a Mexican American filmmaker based out of Los Angeles, CA. His most recent short film, ¡Viva la Revolución!, starring Mexican superstars Maite Perroni, Lonnie Chavis, and Miya Cech, played at film festivals across the world and is aligning with a national brand to gain distribution to every school in America. His previous short film, Bridesman, starring Danny Trejo, played at film festivals across the US, including the Academy Award-qualifying HollyShorts and LA Shorts festivals. Alongside his narrative work, he has directed and produced branded content work for LYFT, CBS, LA County, Mattel, Phantom Auto, and Niagara Bottling. His E Squared banner currently has a number of television, film, and branded content projects in various stages of development. His previous articles have been published in periodicals such as the Advocate, Elephant Journal, and the Good Men Project.
---
Related Links
NextGen Collective: How Diversity Organizations Can Seize This Moment