https://hispanicexecutive.com/nextgen-collective-sheena-morales-weinstein/
Natalie Arribeno is the founder and designer of Nubia Natalie, an activewear line showcasing the work of artists from around the world on eco-conscious fabrics.
With an MBA and a background in fashion and finance, having worked in corporate America for a Fortune 500 company, Arribeno combined her skill sets in 2017 to found Nubia Natalie, a brand named after her own first and middle names.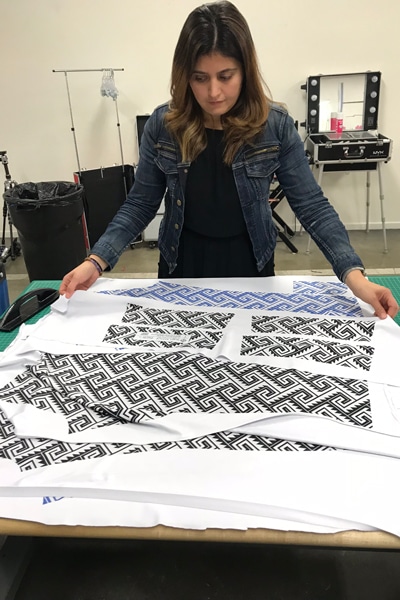 She was inspired by an experience she had attending a music festival, where merchant booth selling guayaberas had the artisan inside meticulously sewing while others managed the booth and sold the products. Arribeno decided to create her own clothing line that would provide direct acknowledgement to the artisans rather than co-opting them.
"Nubia Natalie is not just a new activewear line by a Latina," Arribeno says. "It's a living, breathing ecosystem. I want Nubia Natalie to be a vehicle for many more artisan communities, so we can continue to tell these important stories and save their part in history. My ultimate vision is to see diverse communities find common ground again, and set aside their own prejudices, through the power of storytelling and shared connection—just like flexible fibers woven into the same fabric."
We caught up with Arribeno to discuss her vision and inspirations, and here's what she had to say.
On being a champion for other artisans, and for herself 
"My entire brand is about championing the voices of underrepresented artisans, but I noticed I wasn't championing my own work. Since I started my business, while working full-time, I noticed I was afraid to outright say I was building a business. Instead, I often called it a "side project." In hindsight, it was due to a fear of owning my authentic voice—and the looming possibility of failure.
When I started to talk more openly about my business, I noticed a lot of people starting to cheer me on. I received a lot of positive feedback and some great earned media. It was then that I made the conscious decision to update my LinkedIn profile and own my new venture in a big way.
I took it even further by reducing my full-time schedule at TWDC. I even took up teaching fashion merchandising at Cal State University, Los Angeles, as a way to hone my fashion experience and refine my own public speaking skills.
The reality is that if you don't believe in yourself, no one will take the risk for you. Quitting my comfortable life meant that I was so afraid of being average and therefore needed to take the risk for myself. When you start to believe in yourself everyone else will, too."
"The reality is that if you don't believe in yourself, no one will take the risk for you. When you start to believe in yourself, everyone else will, too."
On her biggest inspiration
"Growing up, it was my parents who inspired me the most. You could say my career started working alongside my parents—both self-made entrepreneurs, running a printing company, interior decorating company, and a small wedding rentals shop. And it was actually my mom who pushed me towards fashion. She noticed something in me that I myself wasn't awakened to yet.  She's the one who first pointed out how much I lit up when looking through textiles, colorful clothes, merchandise, and other raw materials."
On the surprising benefits of self-care
"The biggest surprise in my career has been recognizing that the more I grow, the more self-care I need. I do a lot of self-care! I journal, I walk, I meditate, I exercise, and I try my best to eat as well as possible. When I take care of myself I know I am giving my best to my brand and everyone I work with."

On eco-conscious methods
"For Nubia Natalie, it all starts with the fabric. When I first started, I spent a lot of my resources finding the right fabric and fit. I made a conscious decision to use Repreve recycled-plastic-bottle fabric.
Subscribe Now
Receive stories like this in your inbox every two weeks!
Subscribe to the free NextGen Collective Newsletter.
We also incorporate dye-sublimation printing, a form of printing that transfers dye directly onto fabrics without the use of any water. I chose this eco-conscious printing method because of the low waste factor, nontoxic inks, and its ability to produce bright vibrant colors.
Because fashion is one of the top polluters globally, I wanted to ensure that all of my products are made with the least amount of harm to the environment. Also, since I work with indigeneous communities whose values are rooted in environmental preservation, actively protecting mother nature is another way our company shows solidarity with our artisan partners. Lastly, everything is cut and sewn in my home city of Los Angeles, where I visit with the manufacturers regularly. I am proud of the local and international relationships I've fostered with everyone who comes in contact with our Nubia Natalie brand."
---
Related Links