On April 13, 2017, Hispanic Executive continued its #NextGenLíderes National Tour with a stop in Chicago. The event, in partnership with Northwestern Mutual, hosted Codie Sanchez as its keynote. Sanchez, who runs a multimillion-dollar investment business, provided an impactful presentation and advice to Chicago's next generation of líderes.
Afterward, over dinner at the Virgin Hotel in downtown Chicago, we met three rising-star millennials. Read on to learn about their experiences, what they love about Chicago, and the passion they have for their respective industries.
---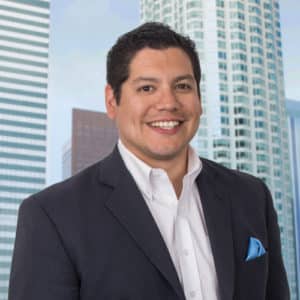 SHAPING THE FUTURE OF COMMUNICATION
David Salinas always knew he would end up in Chicago. It's where he belongs.
"I've always loved Chicago, mostly for the sports, but having a chance to go to work every day and build a career here is something I wish everyone could experience," Salinas says. "This is a great city with diverse culture and a lot of opportunity to interact and meet people from all walks of life."
The Indiana-native attended Purdue University, earning a degree in English in the hopes of becoming a sports writer. But his first real job out of college was a sales support role at CBS Sports in south Florida. "I learned a lot from working with all the different sales teams and sitting in on calls with the leadership team," he says. "Playing a part and watching deals close for some of the biggest sporting events like the Masters, March Madness, NFL, college football, and many others got me excited to learn more and eventually take on a sales role myself."
In the summer of 2010, he got the opportunity to transfer to CBS Sports' sales office in Chicago. Since then, he has had sales positions with a focus in digital marketing for Major League Soccer, Undertone, and, currently, H Code Media.
"I help many of the big brands across the country connect with US Hispanics via custom creative, data-driven targeting and cross-device messaging," Salinas says. "Given how much—and how fast—technology is changing, it's a fun industry to work in." 
Throughout his schooling and career, Salinas has drawn inspiration from his parents. His mother has been his support system, attending sporting events and encouraging him to do well in school and not be afraid to take risks. His dad has led by example, including going to work for thirty-five years and never complaining or taking a sick day. "Between the two of them, I couldn't have asked for a better foundation to set me up for my success today," Salinas says.
Salinas hopes to pass along his story of success through a TED Talk. "It would be a great honor to tell my story and inspire other Hispanics," he says. "It's a great time to be alive, and with technology evolving every day, we all have the chance to be successful. We just need to actively seek out those opportunities, take risks, and get around people who have the same vision."
Ultimately, he pins his future success on one thing: continuing to learn. "The Internet is still very young, and I can't imagine what the next five years will bring," he says. "I hope more Hispanics will lean in, get involved, and help shape the future of how we communicate."  
---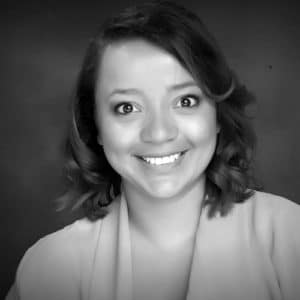 Connecting the Diversity Dots
When Samantha Renovato was nine years old, she moved to Chicago from Guadalajara, Mexico. It was then that she became more aware of her culture and the variety of other cultures that coexist in the United States.
"I remember once school started, I saw so many races that I had never seen before in person," she says. "I felt excluded by the people who couldn't understand me and ignored me. But, I also felt included by those that even though we couldn't understand each other, we still became friends and would hang out during recess all the time. That's the magic of this country, that you can establish meaningful relationships even though there are differences."
Now, Renovato works as a diversity and inclusion (D&I) analytics specialist at Nielsen, a global performance-management company. She helps track and benchmark what diversity looks like for the company and where it ranks compared with other organizations.
With degrees in psychology and human resources from Lewis University, Renovato began with a traditional HR role at Nielsen. "It was a profession where I was able to help people with developing their career, performance, and create a better work environment," she says. "Diversity and inclusion has always been present in everything that I do."
She became involved with Nielsen's Hispanic Organization of Leaders in Action employee resource group, which helped her connect with associates from other areas of the business and grow her internal network. After three years, she joined the D&I team.
As part of her role, she has presented Nielsen's D&I strategy in Bogotá, Colombia, for its Latin American rising leaders. "I take pride in being able to use Spanish to communicate key messages like our strategy," Renovato says. "I know mi abuelita would be proud as well, as she always stressed the importance of talking to her in Spanish, even though she understood English. I am now very thankful, as it's an invaluable skill to have."
A major goal for Renovato is understanding what diversity is and what it means in different areas. She also wants to continue using Spanish in her professional life and working where she can make an impact. "Within the US, there's a more defined definition as to what diversity is," Renovato says. "A goal of mine in this space is to continue to stay informed on demographic changes and influences and continue to connect the dots and advocate for underrepresented groups."
Renovato loves the diversity Chicagoland has to offer, given that it has "so many cultures in what I'll call a drivable distance," she says. "Summers in Chicago are also the best. It's when you can really see the city come alive."
She has also joined the Board for the Aurora Puerto Rican Council, where she is also part of the scholarship committee. "Being able to help those in need that are pursuing their dreams brings me a lot of satisfaction," she says.  
---
A Thirst to Evolve

 
For Ivan Izus Torossian, management consulting was a natural fit, given his intellectual curiosity for humanities, marketing, and economics.
"The fact that I work on projects within emerging markets on a daily basis confirms that this role was a perfect match for both my personal and professional background," says Torossian, who heads the research efforts for management consulting at EIU Canback, the Economist Intelligence Unit's consulting arm. "Hard deadlines get me pumped, and I enjoy consistently stimulating both hemispheres of my brain with challenging projects."
Torossian works with the world's largest companies as clients, on projects dealing with strategy development, mergers and acquisitions, due diligence, global growth, and operations.
"In general terms, I digest qualitative data that's leveraged by quantitative predictive analysis to help senior executives draw fact-based conclusions about where and how to play," he explains. "I report directly to the founder of the firm, and I work with some pretty bright young folks; if you are the smartest person in the room, you are probably in the wrong room."
Argentinian-born Torossian moved to the United States to pursue an opportunity for a position based in Chicago. He's worked in a variety of industries—manufacturing, publishing, life sciences, and consulting—all in the global area, doing business on the ground in more than thirty countries, and he has degrees from UMSA, in Argentina, and Boston University. But, his heart wasn't in Boston. "I always wanted to move back to Chicago, the place I now call home," he says.
He loves the fact that he was able to get rid of his car and take the L or bike to the office. He has a strong core group of friends that he plays soccer and eats asados with at least once a week. "It's a necessary social network for us all who have similar stories," Torossian says. "Despite the long winters, with all it has to offer, I think Chicago is really undervalued on many levels compared to cities like San Francisco, Boston, or New York."
With a home in Chicago, Torossian has his sights set on having more strategic responsibilities at EIU Canback, and he also wants to enroll in graduate school. To stay relevant and lead the next generation, he says, one needs to speak the coming language: data and analytics.
"I will continue striving to be an inspiration for younger Latinos who, like me, might have a nontraditional path for diverse reasons but have the work ethic and thirst to evolve," he says.