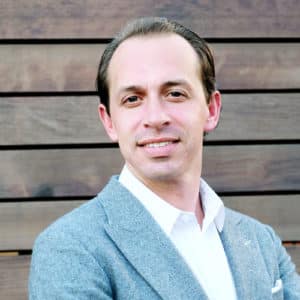 Combining a background in biomedical engineering with a fascination for patent work, Peter Socarras started his career as a patent agent even before going to law school. And, after several years as a patent associate in Washington, DC, he moved to the Bay Area to "deep-dive into the Silicon Valley med-tech ecosystem." 
Although he was very happy working in the traditional law firm environment, "in 2012, a colleague started bending my ear about Nevro," Socarras recalls. "He was consulting for Nevro at the time and was convinced that Nevro had the potential to be one of those great med-tech success stories that so rarely come around." So, Socarras took a chance and joined the growing company, and now he serves as its senior director of intellectual property. 
Nevro was founded in 2006 to develop a pharmaceutical-free spinal-cord stimulation (SCS) system to treat chronic pain. Though other companies had SCS systems on the market, they typically delivered electrical therapy between 50 and 100 hertz and induced a tingling or buzzing sensation, known as paresthesia, to pinpoint the patient's area of pain. Nevro's technology bucked the existing paradigm by delivering therapy at 10,000 hertz, without generating or using paresthesia. The company's founders believed that going orders of magnitude beyond traditional SCS frequencies would produce better therapeutic outcomes.
When Socarras joined Nevro in 2012, The company's Senza system had already been approved in Europe and Australia but had yet to be introduced in the United States. "For a while, I was the only in-house attorney," he says. "I had to develop an IP strategy; pitch our strategy and IP position to investors through several rounds of funding, including an IPO; and answer whatever questions came through the door on any given day. It was definitely 'drinking from the fire hose.'"
In 2014, Nevro conducted the industry's first randomized controlled trial of SCS technologies, comparing its Senza system with conventional low-frequency SCS devices.
"The lower-frequency systems used paresthesia and helped about 44 percent of the patients receiving permanent implants, resulting in an average 44 percent decrease in their back pain," Socarras says. "Our HF10 therapy eliminated the need for paresthesia and increased both the number of patients helped, to about 84 percent for back pain, and the amount of pain relief, to about 67 percent—which were statistically superior outcomes."
That same year, on November 6, the company's Wall Street debut raised $126 million, with shares rising nearly 40 percent on opening day. Six months later, it gained FDA approval.
"Many of our patients suffer from 'failed back surgery syndrome' and have turned to SCS as a way to treat their pain," Socarras says. "These are patients who have not been helped by surgery, pills, or other existing therapies." The statistics back him up: studies show that 56 million Americans suffer from back pain, and surgery works in only 25–30 percent of cases.
The other treatment typically given for pain is, Socarras says, increasingly problematic. "Evidence for the use of opioids for chronic pain is lacking," he says. "They are not a long-term solution. SCS is backed by clinical studies, and I am proud of the role we are playing in providing evidence-based alternatives to the huge societal problem of opioid overuse and addiction."
According to Grand View Research, global sales of nonpharmaceutical, nonsurgical pain-management therapies are expected to reach $8.6 billion by 2022, with neurostimulation devices such as Nevro's accounting for approximately 50 percent of that total. "We're just at the beginning of this technology," Socarras says. "Our goal is to bring more data to the market to prove that this is a viable therapy and to get it in the wheelhouse of more doctors."
Many Nevro patients have told Socarras heartwarming tales of how SCS relieved them of years of debilitating pain, which has influenced his approach to the patent process. "Filing patent applications is usually a very dry process," he says. "But we figured out a way to properly present these stories to the patent office so that examiners would understand the impact this technology has on real people's lives."
Working on the theory that it's better to overprotect than under-protect intellectual property, Socarras has obtained patents for every aspect of the Nevro system, expanding the company's patents from four, when he started, to more than one hundred. He works closely with the company's development team to ensure he understands new tweaks so that appropriate patent applications can be filed in the timeliest manner.
"Our R&D department is constantly improving the existing technology," Socarras says. "They want to know more about why it is working, how it is working, and what we can do to get greater effectiveness for all patients. I never envisioned the success this company would have or the magnitude of the impact we would have on patients."