Emilia Lopez only knew she wanted to work for a multinational company when she obtained her bachelor's degree in business at the Colegio de Estudios Superiores de Administración (CESA), in Colombia. A native of the country, she began her career in financial services at Citibank Colombia, where she held a variety of roles primarily focused on commercial banking credit and risk management. Right from the start, she knew she had a passion for banking.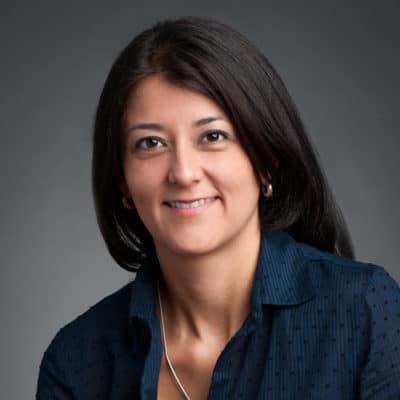 "The banking industry was compelling to me because of the breadth of its impact in society," says Lopez, who is currently managing vice president of US Card at Capital One. "I was also drawn to the analytical rigor and business judgment required to manage credit and risk. My career at Citibank gave me the opportunity to understand how a variety of businesses operate while developing expertise in banking products and services. I was also, luckily, surrounded by incredible people, many of whom I consider my dearest friends and mentors."
Lopez continued her development by pursuing an MBA at the University of Chicago Booth School of Business. After graduating, she spent a six-year stint as a strategy consultant for Boston Consulting Group (BCG), and she believes her experience in consulting not only broadened her skill set but also was instrumental in expanding her career options. "I value tremendously my time at BCG—incredibly talented people, a culture that values continued improvement, and the opportunity to work on complex issues with top-tier organizations," she says. "Hard to imagine a better learning ground." Lopez says she intended to be in consulting for two years and go back to banking, but the quality of the experience delayed her plans for a few years.
Now, though, she has found a home back in the financial-services industry, at Capital One. She spoke with Hispanic Executive about how she has been able to make an impact at the company and how its inclusive culture ensures that every voice matters.
What drew you to Capital One?

I wanted to get back to execution. Consulting included some of those elements, but Capital One gave me the chance to really see things through from concept to execution. Something else that was attractive to me was Capital One's focus on values and changing the way people interact with their money. This desire is palpable at Capital One. It is part of how the company directs itself. Capital One is a disruptor, and we're determined to find talented people to best serve our customers. I was—and continue to be—impressed by the culture at Capital One.
What are some of Capital One's strong values?

Capital One's foundation is its values. The company thrives on open dialogue, truth seeking, and inclusion—all serving as a common language among associates. We have created an open, transparent culture where associates have a voice to contribute in all conversations, especially when they have a dissenting view. Our values guide decisions from big to small, and it's that focus on doing the right thing that creates a welcoming environment. At the end of the day, we're committed to doing right by our customers and helping them to best manage their financial health, and our values help create the best place for us to do that.
What about Capital One's company culture most speaks to you or is impressive to you?

I would have to say truth seeking. We are all about finding a better answer versus finding the expected answer. Data and fact trump ego and politics. This only works due to the intellectual rigor that permeates the company, combined with a large dose of humility from its leaders. This whole recipe is impressive to me.
Is there a risk as Capital One grows globally?

As any company grows, culture usually evolves. I trust Capital One's culture is robust enough to allow for positive evolution in the face of any growth. The company's culture is protected by rigorous hiring processes that work to ensure that people who meet our standards are equally moved by our values and aspirations.
What are you focused on at Capital One? Where would you most like to make an impact?
I lead a division in what we call the upmarket segment within the credit card business. It is important for me to drive positive impacts for our customers and associates alike. I also believe the more I invest in helping our associates be the best they possibly can, the more impact we will be able to collectively drive for our customers. I work toward these goals by guiding, supporting, and challenging my teams as well as by participating in various mentorship opportunities and business resource groups within the company.
I recently took on the role of accountable executive for Capital One's Hispanic Business Resource Group because even though I don't define myself solely as a Hispanic woman, I've come to realize that I am in a position to influence and inspire others. My behaviors and choices carry more weight than I imagined. It's truly humbling and a great responsibility to be seen as an example for others. I take this honor seriously and find the passion of the group members very energizing and inspiring. 
How does someone, especially someone with a diverse background (i.e., not a white male), succeed in such a dynamic environment?

Any relationship is a two-way deal. What Capital One has brought to the table is its inclusive culture. This leads to an environment that invites and values different voices and perspectives. What I have brought to the table is my very all: every day I try to do my best, try to focus on what I can do better and how I can continue to grow. I think of myself as a professional ahead of a Hispanic woman executive. The fact that I am a Latina is not going to change, so I focus on what I have control over: my actions and decisions. My philosophy is, whatever the situation, I have a choice and ability to change things and to look for the upside. I deliberately anchor on choice in all aspects of life, and I appreciate every twist and turn I face that keeps me growing and motivated.
Why is a strong diversity and inclusion strategy so important at Capital One?

This is part of Capital One's drive to seek the truth. A diversity of backgrounds, experiences, and perspectives is key to producing an innovative environment where associates thrive. Oftentimes, we come up with multiple solutions to a challenge. In the short term, this can be difficult because everyone doesn't automatically agree. However, eventually this leads to better answers—ones that are more beneficial to our customers or associates.
How did you end up as a leader?
I do not know if someone chooses to be a leader; I know I did not. I am a driven individual, oriented toward self-improvement but not highly competitive. I have been in professional environments that recognize my capabilities and accomplishments, and I have been given the responsibility to lead teams. I get a lot of energy from leading, and the development of my teams and partnership has always been my focus. I believe in pushing and supporting people to help them be the best they possibly can be.
Taking a look back at the past couple of years, what do you see as some of your big wins either professionally or personally?
Professionally, I feel good about finding my groove at Capital One and developing a network of people who believe in me at different levels of the organization.
Personally, my biggest win is having a loving and respectful relationship with my husband after almost fourteen years together. We complement, cherish, and push each other in ways that make us better partners and better people. Recently, we decided to stretch our creative side by participating in a broad range of adventures: we have done pottery, painting, pyrography, archery lessons, and signed up for the challenge of walking 150 miles in National Parks over the summer—all things that we have never done before. Challenging myself in a situation where I can fail gives me perspective and courage to try different things professionally by applying a similar mind-set.