Over the past eleven years, Nestor Martinez-Segura has risen steadily from a financial services agent to current managing partner at New York Life. During those early years, he says he was able to develop new skills, reinforce his own core values, and meet a number of new mentors and colleagues that transformed his career.
"That experience helped me to build the vision around the impact I could make in my community," Martinez-Segura says. "Shifting my career from the agent role to management was a decision based on changing the focus and significance of my career and making it about others and not about myself."
In his rise at New York Life, Martinez-Segura has been able to reflect on his leadership philosophies, and he stresses the importance of building culture, recruiting diverse talent, and continually demonstrating that "leadership is about 'we', not 'I'."
At the most fundamental level, Martinez-Segura believes that his penchant for going above and beyond is largely responsible for his current success. "I'm not afraid of working hard," he says. "I believe that nothing is more important that a strong work ethic; I learned it from my father when I was very young."
Raised and educated in Mexico, Martinez-Segura moved to Seattle in 2005 to pursue a career in the financial industry—a challenge heightened by the language barrier: he didn't speak English. He began taking English classes—a practical decision, but still one that demonstrated a clear will to improve no matter the challenge.
As Martinez-Segura transitioned into more managerial roles, one of his mentors taught him to look at culture as, "A series of conversations," he says. "The most important conversation is the one that happens twenty-four hours a day, seven days a week right between your ears."
"[Culture is] a series of conversations. The most important conversation is the one that happens twenty-four hours a day, seven days a week right between your ears."
As a managing partner, it's natural that others seek out Martinez-Segura for answers, guidance, and leadership. In return, Martinez-Segura believes that his willingness to lead by example and "get dirty in the trenches" has allowed him not to mandate a vision but create a shared vision with his team.
Part of that vision is building a diverse team. Martinez-Segura says he loves the way his office represents the wider community and fuses different cultures and backgrounds.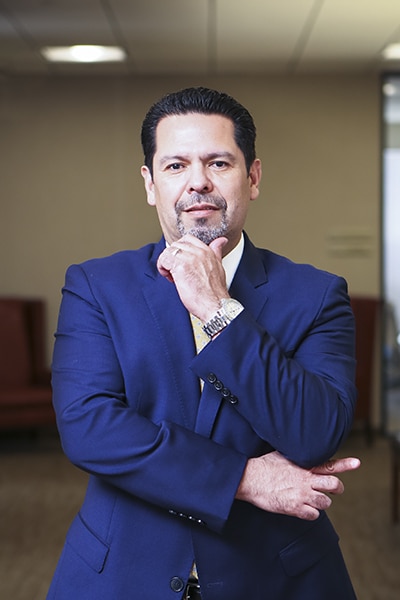 "To provide the right environment where new ideas can be nurtured, that starts with the way we think and how we accept each other by encouraging diversity and inclusion," Martinez-Segura says. "I believe that the American Dream is alive in every person that comes to this country, and I am excited to see that our company is able to provide one of the best ways for people to achieve it."
Within New York Life, Martinez-Segura's ultimate goal is to increase Latino representation in the Los Angeles General Office.
Diversity isn't only important for internal team members, but in better representing New York Life's clients, he says. "Diversity provides a better service to our clients because we are able to mirror the community and relate to the people we serve, understand their concerns and their desires, and help them achieve their goals in their own way and language."
With his own career progression, Martinez-Segura is intent on providing a strong hand, but one that unites just the same. He's worked to implement processes that include as many in the office and on the management team as possible, empowering them to lead and contribute to the growth of his team.
He's also willing to make the tough choices and take ownership of his group. "Sometimes circumstances require us to make an executive decision to be able to move forward, and we need to be ready to do that,'" Martinez-Segura says. "I own the responsibility of every decision regardless of the way they were made or the end result."
Recruiting is a focus point for Martinez-Segura, as he believes it's one of the keys to making the widest impact possible at New York Life. "I want to make sure we are doing everything we can to help our community make better financial decisions," Martinez-Segura says. "Are we reaching out to as many people as we possibly can? Are we helping people to transform their professional careers? Or is there room for improvement?" Success for Martinez-Segura means creating future leaders.
He is especially proud of New York Life's community outreach through philanthropy. "We are protecting more lives in the community and helping families to stay in their homes or send their kids to college if the unthinkable happens," Martinez-Segura says.
The managing partner's own core value of integrity matches well with the company's commitment to helping where it can. "Every single promise that New York Life has made to me, they've kept," Martinez-Segura says. "That's why the company is moving in the direction it is today."
---
RELATED LINKS
Liliana Canedo wants to grow financially, Juntos
Citlalli Rojas empowers her community, which empowers her in return