Since its inception in 1911, Pan American Life Insurance Group (PALIG) has established itself not only as one of the most financially strong insurers in the Americas but also as an employer that elevates and empowers female leaders throughout its footprint in twenty-two countries.
That's extraordinary for many reasons, including the realities of women in the workforce in Latin America. According to a study by the Inter-American Development Bank, the labor force participation of women in Latin America and the Caribbean is low, with the gender gap being one of the widest in the world. The International Labour Organization reports less than 50 percent of women in Latin America are employed.
Despite those challenges, María del Rosario Álvarez, María Teresa Bolaños, Diana Alejandra Vargas Torres, and Ana Melissa Ramos have emerged as trailblazers in the insurance industry and their respective areas of expertise.
Given the opportunity to set an example for the next generation of Latina Leaders in the region, they've delivered through notable achievements, building trust and mentorship.
María del Rosario Álvarez Embraces Potential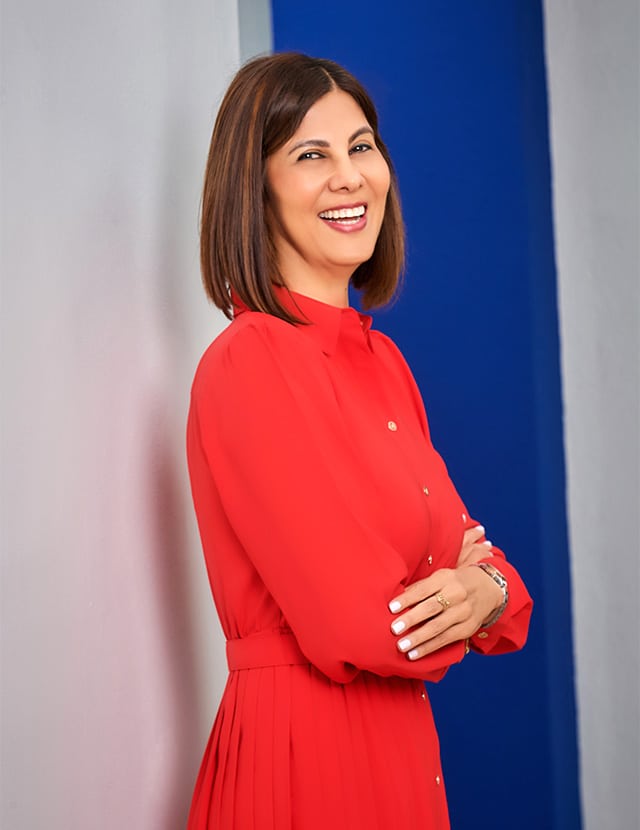 Before María del Rosario Álvarez assumed her current role as a country manager for Honduras and became the first woman to be named general manager in the company's Latin American operations, she began her career at PALIG as an ambitious financial manager who didn't have any experience in the insurance industry. Álvarez gradually worked her way up, gaining experience across different roles and responsibilities along the way.
That journey not only helped her understand the business but also allowed her to form critical relationships with her colleagues and the leadership team. It also reinforced her abilities, and she earned the trust of PALIG leaders.
When sharing details about a breakthrough moment in her career journey, Álvarez recalls, "One day, a leader called me into his office and told me that the following year I'd be country manager for Honduras. It was satisfying because he didn't see me as a woman but also as a good leader and teammate. From that day on, I knew it was my responsibility to continue improving every day, to inspire the rest of the team, and to be an example for other professional women who want to build credibility and respect."
For the past twenty years, that's exactly what she's done. Today, she looks to pour what she's learned back into her community and into young Latinas seeking success.
"Don't look at what you are now," she advises. "Think about what you can become because you have the potential, skills, and the abilities to be more. You can achieve all that you want."
María Teresa Bolaños Isn't Afraid of Challenges
Like Álvarez, María Teresa Bolaños also began her journey at PALIG two decades ago and has had a chance to work in a wide array of roles, serving in provider network operations, finance administration, operations, and currently as the country manager for El Salvador. In April 2023, she was the first woman to be named president of El Salvador Insurance Association. Her experiences in those roles have inspired the "open-door" leadership style she has today.
"I have worked closely with many people throughout the organization," she explains. "I've been able to learn the details of all the functions, which allows me to communicate more effectively with different people at the company. Employees know they can come to my office if they have problems, and they can approach me. It helps that I know what I'm asking them to do."
As a leader who has often been the only woman in room, she can relate to the challenges young Latinas face on their way to success. Despite any pressure they might feel to change who they are, Bolaños urges young leaders to be authentic.
"You don't have to be intimidated," she advises. "It's OK to be different in a group. Also, you need to trust your capabilities and preparation as you take on new challenges."
Diana Alejandra Vargas Torres Helps Build a Customer-First Culture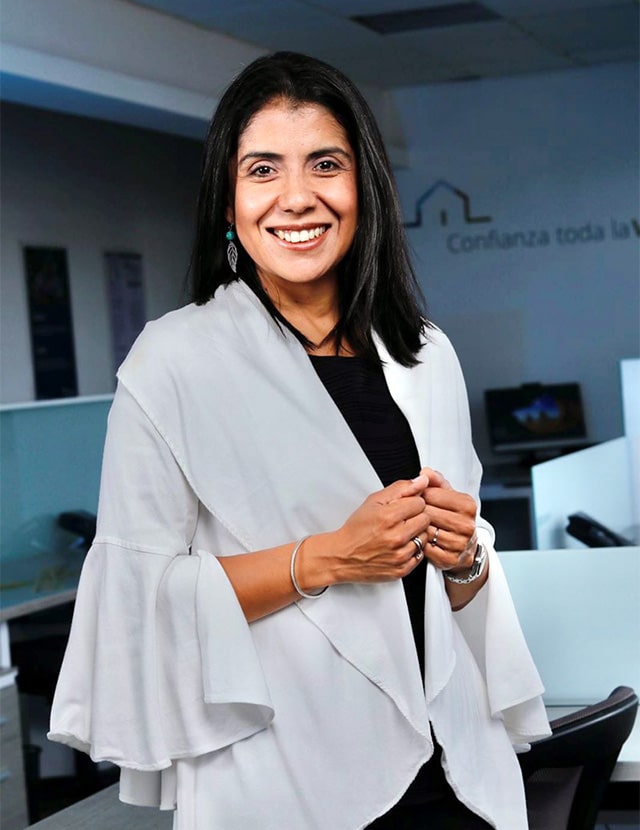 If it wasn't for a life insurance policy that her father left behind after he died, Diana Alejandra Vargas Torres doesn't know how she and her family would have survived. That's why she pursued a career focused on the benefits, health, and life insurance space, which ultimately led her to PALIG, where she is the country manager for Colombia.
She joined the company when the COVID-19 pandemic was at its peak and was moved by PALIG's commitment to pay for COVID-related claims even as some competitors turned their backs on their policy commitments.
"I saw PALIG demonstrate how we really help families and that we are committed to keeping our promises," she says.
That lit a fire under Vargas Torres that's steered her focus toward helping the company's customers and their communities in other ways. One effort saw her and her colleagues build a facility for low-income children to eat. Another helped train women and other professionals to sell insurance.
Young people wanting to be successful and to help pull their communities forward should heed Vargas Torres's advice: love what you do.
"You have to enjoy it or else you'll never be successful or reach your goals," she says. "You also have to believe in what you do."
Ana Melissa Ramos Builds Confidence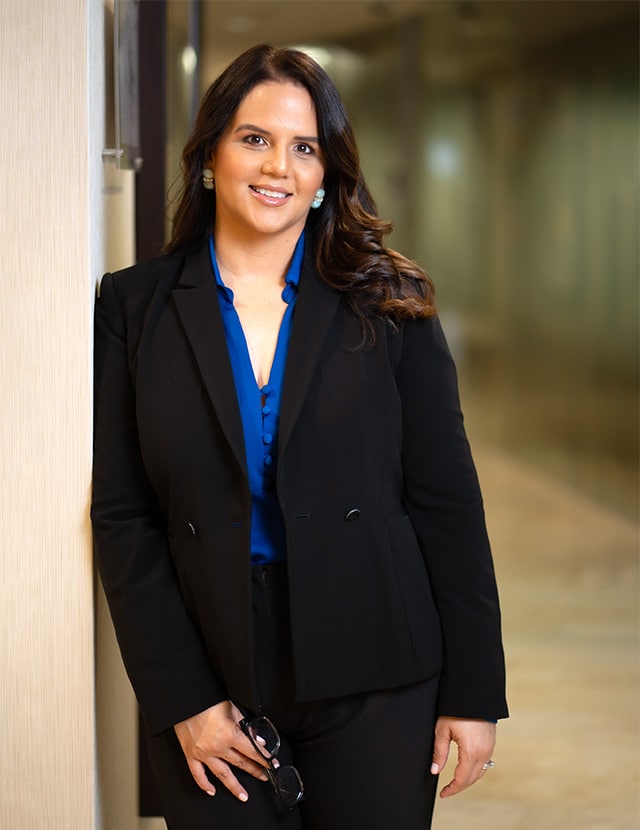 Ana Melissa Ramos, a deputy global HR officer at PALIG, was born and raised in Panama but spent much of her early life on the road, traveling with her family, studying abroad in Costa Rica, Kansas, and Spain, and adapting to new places. She spent the first half of her career in a similar way, often packing her bags to work in places like the Dominican Republic, Switzerland, and St. Louis, Missouri. Those experiences engrained in her a certain confidence and passion, one that allowed her to raise her hand for new projects and to speak honestly with leadership—even if it meant disagreeing with their ideas.
In 2016, she brought those traits to PALIG and has leveraged them to help strengthen the HR vision and be a voice for the company's talent. Since then, she's slowed down on her travels, gotten married, and had a baby, all while assuming bigger responsibilities at the company, a feat she says wouldn't be possible if she was at a different company. In her role, Ramos aims to support her colleagues in the same way the company has supported her.
"I feel a commitment to mentoring and coaching other women," she explains. "I try to be accessible, including with people who aren't my direct reports. It's a chance to see what they're working on and understand what they're passionate about and the challenges they face. I encourage them to have confidence and to share their real point of view to be successful."