Achieving career success while maintaining a healthy work/life balance can be challenging for anyone anywhere, but in my experience moving to the US from Chile nearly a decade ago, this can be even more challenging for Latinos (both foreign and US born) and immigrants. And cultural differences are just the start of the challenge.
It is already difficult to align professional goals, values, and aspirations, but fostering a fulfilling personal life requires thoughtful strategies that honor your own culture while also embracing the most advantageous American business and social practices. We Latinos must be intentional and deliberate on how we navigate our careers in the US.
Here are five tips that helped me when I began my journey of building a meaningful career (and life) in my new home country.
1. Set Clear Goals and Priorities
Is it clear in your mind, what your goals and priorities are? Can you clearly articulate those ideas with others? For example, if we were riding in an elevator, would you be able to explain your core career objectives in thirty seconds? It is critical to be specific about your goals, and explain them in an articulate manner, too.
Achieving a balance between career and personal life requires a clear sense of direction. You might believe you should work twice as hard as the others to prove your worth, obtain good opportunities, or climb the corporate ladder in what may feel like a foreign environment, but it's often not about working harder, it's about working smarter while also prioritizing family, relationships, and your well-being.
That is why establishing goals provides a roadmap for decision-making and allows people to focus, as well as allocate their time and energy more effectively. From time to time, it is critical to reassess and adjust these goals to make sure they are still relevant and aligned with evolving priorities.
2. Find Mentors and a Network
Creating a support system is one of the most vital pieces of the career development puzzle, but how much time do most of us dedicate to connecting with a mentor and building professional networks?
I have learned that seeking mentorship opportunities from individuals who have successfully navigated their careers in the US is a key to success. If you are a Latino who is new to a US working environment, or even if you were born in the US, you may want to hear from experienced individuals with a similar background about their path.
Learn what made them stand out among other professionals who may have an advantage of growing up and being trained in the US culture. Ask them what strategies they used to prove that their international experience is relevant. Engage them as mentors who can provide invaluable guidance and connections that help you make informed decisions and avoid mistakes.
Sometimes people perceive networking as "tiring and boring," but we should embrace it and see each connection as a potential opportunity. Getting coffees or having thirty-minute calls with strangers is very common in the US. When looking for a new job or to expand your network, don't focus only on your "first" connections. Instead, ask them to put you in touch with their contacts who may be of interest. Most times people will be glad to offer you their time and get in touch with you, and that's how your web will start to expand naturally.
3. Negotiate and Advocate
Have you heard the phrase "you are your best advocate?" Advocating well for yourself is foundational in any career. Individuals should be proactive in negotiating for fair compensation, benefits, and opportunities for growth.
To achieve this, you need clarity, confidence in your skills and capabilities, market and opportunities research, and a clear articulation of one's value and contributions. Don't be afraid to fight for yourself. If you are well prepared to explain why you deserve your request, the chances are greater you will get it.
By advocating for our needs and aspirations, we Latinos can position ourselves as valuable assets to our employers while also ensuring that our personal and professional needs are met. Ultimately, this is a win-win situation for everyone.
4. Cultivate Cultural Intelligence
Are you familiar with how people think across cultures? Do you put yourself in other's shoes to truly understand their needs, feelings, and issues? Cultivating cultural intelligence is essential for effective communication and collaboration, especially in the workplace. Latinos should strive to understand and appreciate the cultural norms, values, and communication styles of their colleagues and clients, while also bringing a rich tapestry of traditions, values, and perspectives to the US workforce.
Rather than viewing cultural differences as a burden, Latinos can leverage their unique heritage to foster creativity, collaboration, and innovation in their professional pursuits. Developing cultural intelligence not only enhances professional relationships but also contributes to a more inclusive and harmonious work environment. Be patient and flexible. Cross-cultural effectiveness takes time and effort.
5. Invest in Continuous Learning
How often do you learn a new skill or tool? Is it part of your mindset to dedicate time to learning something different or new? In today's fast-paced and demanding professional landscape, maintaining a continuous learning approach is of utmost importance.
Embrace a growth mindset and stay on top of industry trends and new technologies. This proactive approach not only enhances your value to employers, but also empowers you to pursue roles that align with your career aspirations. As you grow professionally, you'll be better equipped to make informed decisions that contribute to your work/life balance.
Navigating a successful career path is a journey, not a sprint. It requires intention, strategy, and continuous effort. As Latinos/as continue to make significant contributions to the US workforce, their ability to navigate their careers while achieving work/life balance will play a vital role in shaping a more diverse, vibrant, and prosperous future for all.
And if you're wondering where to start, feel free to connect with me on LinkedIn if you have any questions. I'm happy to connect.
---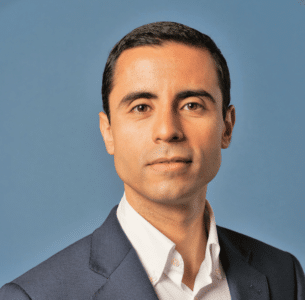 Jorge Stevenson is the VP and head of strategic finance at Bestow, a leading end-to-end digital infrastructure startup that powers the life insurance industry. He is also an adjunct professor for graduate students at New York University, teaching finance for marketing decisions and competitive strategy. Stevenson is a multilingual professional with over fifteen years of experience in finance, strategy, M&A and business development in the financial and tech industry. He has served as a board member/advisor in multiple organizations. He earned his MBA (with honors) from Duke University, received a certificate in disruptive strategy from Harvard Business School, and earned the bachelor's in business administration and economics (with honors) from the Pontificia Universidad Católica de Chile.