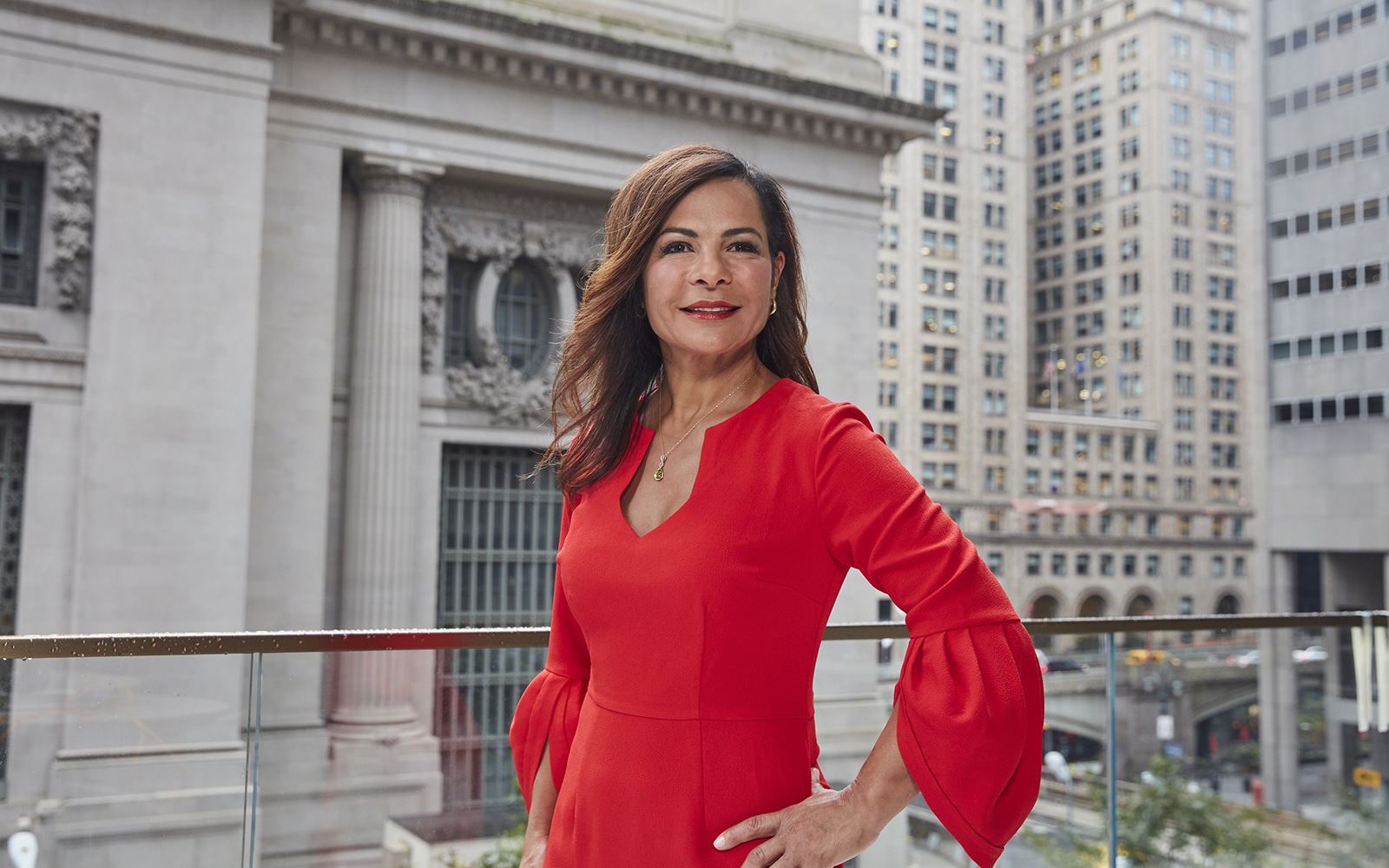 It took less than one minute for Maria Bartolome Winans to say yes to joining Kyndryl as chief marketing officer.
Creating and building a world-class global brand from scratch for a start-up at scale with 88,449-plus employees and a global base of 4,600 clients—including 75 companies in the Fortune 100—is no small challenge, but Bartolome Winans was ready.
"I've been a curious person since my childhood, always looking for the next learning opportunity," she says. "So stepping into this role was an easy decision. It's a once-in-a-career opportunity as a marketer."
Kyndryl is a technology services company that designs, builds, manages, and modernizes the mission-critical technology systems that the world depends on every day. With highly skilled practitioners worldwide, deep expertise in digital environments, and tools to drive continuous innovation at scale, Kyndryl is advancing the vital systems that power human progress.
As a twenty-nine-year veteran of IBM who held numerous global positions during her tenure with the company (most recently, as CMO for the Americas), Bartolome Winans saw the transition to Kyndryl as a chance to reenter the global marketplace at a services company where people are at the heart of business operations.
"At the core, Kyndryl is about the people," she explains. "Our experts are the ones who show up in front of our customers every single day. They're helping our customers solve critical technology issues such as maintaining business continuity and reducing operational risk with increased security, enhancing operational efficiency with IT infrastructure, reducing the barriers of complexity and skills shortages, and driving transformation and agility through Kyndryl's comprehensive suite of capabilities."
The focus on services, not software or hardware, is inherent even in the company's name. "'Kyndryl' is all about the spirit of partnership and growth that's intrinsic to who we are," Bartolome Winans remarks. "It's a modern spin on the idea of 'kinship'—referencing the belief that people are at the center of everything we do and that relationships are built and nurtured over time. New growth is hinted at in the end of the name, which sounds like 'tendril'—we will build our business on relationships and grow alongside our customers."
Innovation Relies on Inclusion
Fostering a culture that prioritizes people isn't a new mission for Bartolome Winans. In fact, it's the reason she's remained in the technology industry for nearly three decades.
When she joined IBM out of college, Bartolome Winans felt valued and empowered to bring her most authentic self to work—as a businesswoman, an artist, and a proud Latina. Later, as she climbed the leadership ranks, that experience inspired her to advocate for the culture of inclusion that she so appreciated. During her time at IBM, she not only served as cochair of the company's Hispanic Council but also mentored other Latina leaders and consistently worked to inspire the young professionals all around her.
Kyndryl, Bartolome Winans points out, is a chance to build an industry-leading D&I approach and prioritize inclusion from the very beginning. "I want Kyndryl to be a people-first company," she explains, "where every employee should feel heard and empowered to show up as their fullest selves."
Defining Culture
Kyndryl's people-first culture goes hand in hand with its nature as a services company. But identifying Kyndryl's culture and truly cultivating it from the top down are two different things—at the end of the day, Bartolome Winans knows, company culture is driven by the people who live it.
So while the Kyndryl leadership team has built out cultural platform ideas for Kyndryl, the company ultimately depends upon every employee—senior leaders included—to help foster a culture where people are restless, continuously anticipating, learning, and innovating; empathetic, serving with trust and transparency; and devoted to customers.
"We're going to be a company that supports employees and customers by operating in a model that empowers accountable, inclusive teams; cultivates simplicity everywhere; and delivers exceptional services—this is the Kyndryl Way of working."
To underline Kyndryl's commitment to its people, the company has partnered with the One Tree Planted nonprofit to plant ninety thousand trees around the world, with a personal dedication to each and every Kyndryl employee.
"We want our people to know that they are the root, the beginning, of Kyndryl," Bartolome Winans says. "Trees provide oxygen, and we think of our Kyndryls as the oxygen of the organization. At the heart of this company are our global employees. They are the ones helping us prepare for growth and success."
So with a spin-off completed and a career-defining moment in the works, what does Bartolome Winans see herself doing next? After nearly thirty years as an "IBM-er," where does she hope to take the company she's helping bring to life?
"I want Kyndryl to become the employer of choice," the CMO says simply. "I want Kyndryl to be known as an employer who places the highest value on its people, recognized for our culture and expertise."
Bartolome Winans and the leadership team at Kyndryl have gone to incredible lengths to bring heart to a brand-new services company. It's an exciting time—for them, for the industry—and Bartolome Winans and company are ready to place a premium on people.