A move can be a difficult, life-changing experience for any child—especially one that's intercontinental. Raised in Santiago by her Chilean mother and Spanish father, Maria Bartolome Winans immigrated to the United States when her father, then a professor at the University of Chile, accepted an opportunity at Duke University. Ultimately, the family welcomed the leap, knowing it would hold strong to its culture over the course of its journey.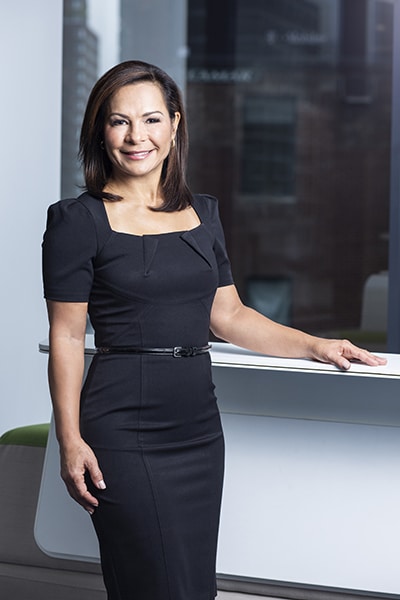 "My parents were very instrumental in making sure that I stay connected to my background. I learned to honor what made me unique," Bartolome Winans says. "We spoke Spanish at home and embraced our roots. But more importantly, they saw an opportunity to give me a better life while Chile faced economic uncertainty." This dichotomy, chasing opportunity and challenges while also honoring one's past and culture, is critical to Bartolome Winans's work for IBM.
As she grew up, Bartolome Winans pursued opportunities afforded to her in the fertile academic area of North Carolina known as the Research Triangle Park. She attended the University of North Carolina, earning a bachelor's degree in business administration and art. When it came time to find her first job after college, she wanted to commit to an institution that valued the continued education and diversity that thrived at UNC.
"For every one of my twenty-nine years at IBM, I've been given the opportunity to continuously learn, educate, and challenge myself," she says.
It's no secret that IBM is a massive company, both in terms of its global impact and the sheer number of people in the organization. That size gave Bartolome Winans a new perspective and a clear way to embrace and be inspired by her parents' dreams. She learned early on not to shy away from the magnitude of IBM but to instead be excited by the freedom she was afforded to make a name for herself.
"I was always the type that looked for opportunities to try new things, to stretch myself," she says. "And I learned that a lot of the characteristics that really make me unique—my heritage, my culture, speaking Spanish, being curious, always working very hard—helped me differentiate myself."
Three years into her tenure with IBM, Bartolome Winans was given the chance to utilize her background and skills in Latin America and Europe. Not only did she speak Spanish and have a deep understanding of a variety of cultures but she also had a strong work ethic and an eagerness to test herself.
As a dreamer traveling the world for IBM at a young age, Bartolome Winans began to see that she could maximize her influence—and she became empowered to think big and think bold. "I made a commitment to myself that by the time I was forty, I was going to be a vice president of this company," she explains. "I didn't know if it was going to be in sales, marketing, or strategy, but I knew I was going to be a vice president. I was certain I could do more; the opportunities were immense."
Part of the process of differentiating herself came in learning to be vocal, bringing her unique self to the leadership experience. As she rose through the ranks of IBM—eventually to her current role as chief marketing officer of North American marketing—Bartolome Winans put a priority on sharing that focus with other women and people of color. Not only does she run the largest geographical marketing team at IBM, but she also finds the time to attend and lead conversations with diversity and inclusion groups, encouraging employees to embrace the diversity within themselves.
"I'm a very proud mother of two beautiful children, and I'm an executive. I'm a Latina and also an American. I'm all the ands that I want to be. That's the power of choice," she says.
In addition, Bartolome Winans is a believer in the power of mentorship. Having had role models and mentors herself, she wants to help IBM employees and other professionals realize their capabilities. "It's important to hear from outsiders, from the experiences of others about what motivated them, what inspired them, and what decisions they'd have made in particular situations," she says. "For some that's business, and for others it's more personal—being a mother in the workforce, for example."
IBM has long maintained an external perspective, performing outreach through social engagement, building relationships, and instilling the values of mentorship.
One of the CMO's most recent mentor relationships is with Vanina Marcote, IBM's global performance market manager. Marcote moved from Argentina to the US to enrich her opportunities and was connected to Bartolome Winans by another marketing executive who recognized that she could learn from someone who had traveled a similar path.
"We've built a great rapport, an ability to connect through the different dynamics between the US and Latin America," Bartolome Winans says. As cochair of the IBM Hispanic Council, she was able to pull Marcote into a project building the group's social presence. "We started to do a lot of outreach through social engagement, demonstrating that there is opportunity for Latinas at IBM, and focusing on our own executives as well as the importance of mentorship," Bartolome Winans says.
Not only did Marcote help build external engagement in the council but, as a result of excelling in a new area, but she's also built confidence to take on broader responsibilities with her own job. Bartolome Winans has worked to instill in Marcote the attitude that as she leads from the front, it's crucial to include every single voice—that strong leadership means leading with the people.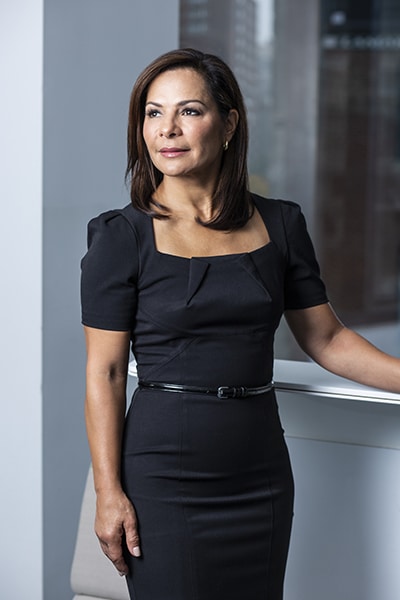 By putting forth positive energy and an environment of inclusion, Bartolome Winans ensures that she commits to IBM's enduring values. (In 1935, the company instituted equal pay for women and men who were in the same position, and it first signed an equal opportunity agreement in 1953.) In fact, she believes IBM's commitment to inclusion is inherent in her background as well as the drive her parents inspired within her.
"I want to build a culture where every single team member is working at their best and wanting to come into a job where they feel like what they're doing matters," she says. "IBM has a long-standing commitment to diversity and inclusion. We've stayed very true to those values because we know that diverse teams drive innovation. It's to our benefit to come to clients with a diverse team full of different backgrounds, with different experiences and points of view."
Bartolome Winans says that she's proud to lean into the IBM motto "I believe. I belong. I matter." Not only do the words resonate deeply with her own career path but as a mentor, she also uses it to influence individuals like Marcote to believe that they too can summon the power of change.
Nearly thirty years in at IBM, the CMO remains committed to the long-standing values of innovation, diversity, and inclusion, in part because they match the values of her upbringing. And she still gets excited by the prospect of motivating young Latinas to be their best selves through the promise of those same values. "Working with someone like Vanina—it's why I get up every day," she says.