"In a perfect world, anyone can get from point A to B safely, regardless of their ride choice, be it public transportation, bicycle, scooter, rideshare, private car, or flying vehicle," Ariel Francisco Ruiz says. It may seem like a strange statement for an employee of Uber, which built its reputation on ride-sharing technology—but Uber has expanded far beyond enabling rides and earning opportunities via traditional cars.
Uber's app now allows electric bike and scooter rental, the company has a subdivision for driverless vehicles, and it also hopes to enable aerial ridesharing within the next few years. That initiative, called Uber Elevate, is working with partners to launch VTOL (vertical takeoff and landing) aircraft to transport riders between skyports and being devised by top names in architecture, design, and engineering.
"It's our path to becoming the Amazon of access to transportation, which we think is also going to be vertical," Ruiz says.
It's that type of innovation that drew Ruiz to Uber, where he's been senior litigation counsel since April 2017. A graduate of Cornell Law School, he worked at the law firm Morrison & Foerster for nearly eight years after graduation, first in New York City and then in San Francisco—a move he made in part because his husband was in business school there. His transition to Uber was a little unusual: a partner at Morrison & Foerster who knew someone on the legal team at Uber not only tipped off Ruiz that Uber was looking to hire someone with his experience, but also helped him prepare for the interview. He got the job, obviously.
"I wanted to work at Uber because I thought it was a disruptive company," he says. "It was changing the way people got around, and I thought that would ultimately change the way cities are built. Public transportation doesn't always serve all areas or the people who would use it most. Parking on the street is a really inefficient way of using space.
"You can use that space instead for dedicated bike and/or bus lanes, dedicated paratransit and/or rideshare pickups and drop-offs. You can build public parklets, add bee friendly, bioretaining and/or carbon-reducing landscaping, or increase the size of pedestrian sidewalks . . . I can go on and on.  I thought this company had such great potential to enable great things for residents and visitors of cities and towns of all sizes."
In the relatively short time that Ruiz has been working at Uber, the company has already grown quite a bit. One of the most notable changes is Uber's IPO in May 2019, which Ruiz finds especially exciting. "The thing that I look forward to is seeing how the market judges the company," he says. "I think the company continues to have a tremendous amount of growth potential."
What's evolved the most over the last few years, though, Ruiz says, is Uber's emphasis on doing the right thing. "Even [when I started], what I saw was that everyone was trying to do the right thing. Since then, it's become the bedrock principle that is carried through every single thing that everyone does. Every decision is looked at as, is this going to make our technology better for the people who use it and the cities where they use it?"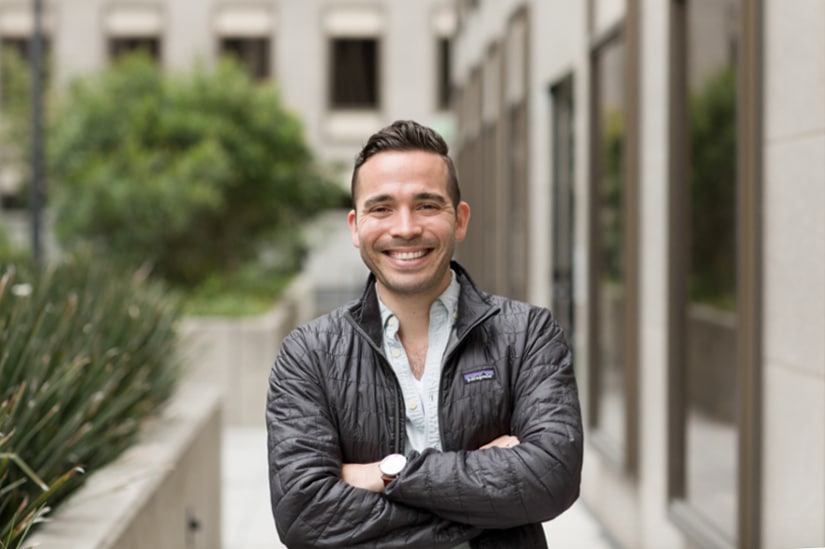 In his own job, things have evolved significantly for Ruiz since his days at Morrison & Foerster. There, most of his matters were complex commercial litigation, class-action, and unfair competition cases. Now he still practices in those areas and more, including accessibility. Ariel also works on a number of arbitrations—some of which he handles himself from start to finish—in addition to small claims matters, which are almost always handled in-house. "People who connect with each other via our technology typically sue us and not each other," he says. "It keeps us busy."
The company's "do the right thing" motto also applies to the legal team's work. "Sometimes the outer bound of the law would technically allow the company to take a particular path." Ruiz says. "We ask, however, is this good for riders, drivers, eaters, couriers, restaurants, carriers, shippers, cities?"
It's a mentality trumpeted by the partners Ruiz works with on a daily basis. "Ariel is a brilliant lawyer, an eminent professional, and an ideal client," says John Quinn, a partner at Kaplan Hecker & Fink LLP. "He works at the intersection of cutting-edge technological innovation and innovative legal argument, and he brings deep experience, tremendous knowledge, a solution-oriented and pragmatic mind-set, and a knack for teamwork to everything that he does."
Ruiz's job is a demanding one, made even trickier by the fact that he doesn't generally control his own schedule. "Our calendars are open to all employees—I always joke that I have twenty-five thousand clients," Ruiz says. "People are always putting time on my calendar." As a result, he puts everything in his life on his calendar, including going to the gym, taking his dog to the dog park, dinners, appointments, etc.—along with work-related things like working on motions and briefs. Otherwise his day can get filled up with back-to-back meetings and he ends up having to do his other work with court ordered deadlines overnight or on weekends.
"Sometimes the outer bound of the law would technically allow the company to take a particular path. We ask, however, is this good for riders, drivers, eaters, couriers, restaurants, carriers, shippers, cities?"
Still, he makes time for diversity initiatives like the Law in Tech Collaborative, a program started by eBay that's expanded to several other companies, including Uber. It aims to give law students from underrepresented backgrounds the ability to split their summer internship between the legal departments of these companies and traditional law firms. Ruiz served on the selection committee for last year's batch of students, reviewing resumes from a number of law schools, and interviewing students at the University of Miami. "It was great to meet these young, excited law students," he says.
Ruiz is excited to see what's next for his ever-evolving company. "Before you're public, you watch to see how people react [to new ideas] via your family, friends, the media, and data," he says. "But now it's also the shareholders and the stock market [determining success]." And the ideas keep coming. There's Uber Eats, that connects eaters, restaurants, and couriers. There's Uber Freight, that connects carriers with shippers. There's the newly launched Uber Works, that connects workers with big and small businesses that need to fill available shifts. And there's the yet-to-launch Uber Elevate. "It's going to be interesting which ideas win and where," Ruiz says. "And I'm here for the teams working on making each of them a success."
---
A Message from Shook, Hardy & Bacon
"Ariel is deeply collaborative with his outside counsel, trusting us to do our jobs but also guiding us with his inside knowledge of the industry. This creates an easy-going relationship as we together strive to find creative solutions in this evolving industry."
—Annie Chuang, Partner
---
A Message from Reed Smith
Reed Smith is a dynamic international law firm dedicated to helping clients move their businesses forward. With 3,000 people across 29 offices, including more than 1,700 lawyers, our long-standing relationships and collaborative structure make us the go-to partner for the speedy resolution of complex disputes, transactions, and regulatory matters.
---