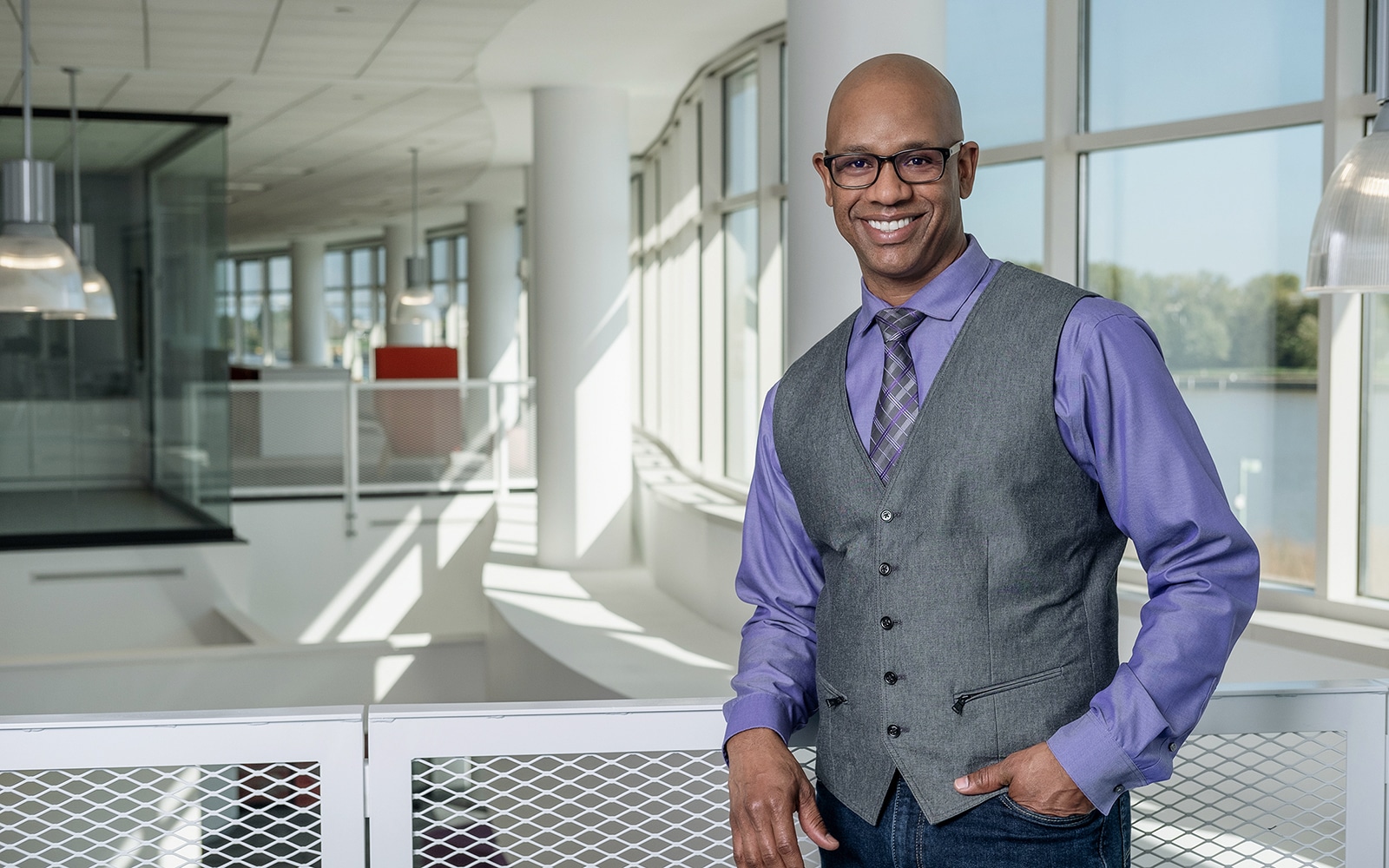 Dr. José Méndez-Andino leads research and development at Owens Corning, but he's not just there to make better fiberglass composites, insulation, and roofing products. Of course, driving innovation for a leading global building and industrial materials manufacturer is a key part of his job, but the veteran leader is also on a mission to create a more sustainable society.
It's an ambitious mission, but one for which Méndez-Andino is uniquely qualified. After a friend's winning high school science fair project inspired him to follow his passion for science and engineering, he earned a degree in industrial chemistry at the University of Puerto Rico. Méndez-Andino then came to the US mainland, where he completed a PhD in synthetic organic chemistry at the Ohio State University and postdoctoral studies in natural product synthesis at the University of Pennsylvania.
Upon leaving UPenn, Méndez-Andino spent a decade at Procter & Gamble, using his advanced technical skills and training to formulate and improve products for iconic brands like Vicks and Bounty Paper Towels. But as the young scientist worked within the robust and established consumer-driven research and development (R&D) framework, he noticed something. To do his job most effectively, he needed more than scientific knowledge—he needed a deep understanding of people and behaviors. That epiphany sent him to the University of North Texas, where he earned a master's degree in applied anthropology.
Industrial chemistry and anthropology may sound like a strange combination, but Méndez-Andino says the disciplines fit together perfectly. "Science alone doesn't help us create the best products in the consumer space," he explains. "Adding the study of human behavior helps us innovate on a whole new level."
Because of his understanding of business anthropology, Méndez-Andino notes, he is better prepared to create environments in which his R&D teams can thrive. He joined Owens Corning in the building materials R&D team in 2012, and in 2021 was named executive vice president and chief research and development officer.
He has been instrumental in creating a new product pipeline to support the company's iconic pink fiberglass insulation and other products. Expertise in natural and social sciences has helped him at every step of that journey. "I believe it's essential to understand not only the chemistry and the materials but also the people that design, manufacture, install, and purchase our products," he says.
Méndez-Andino also uses that knowledge to make important adjustments to the materials, processes, and workspaces at Owens Corning. When these measures come together, he explains, the result is better products for the consumer.
Recently, the company released its new FOAMULAR NGX insulation. The advanced product developed by the R&D team Méndez-Andino leads is designed to replace and outperform a legacy product known as FOAMULAR XPS. The new generation of foam insulation delivers a 90 percent reduction in blowing agent global warming potential, eliminates an ozone depleting chemical known as HFC 134a, and increases energy efficiency.
As the CR&DO explains, Owens Corning scientists research and choose new materials as they collaborate with process and product engineers, who in turn create and test new product formulations, ensuring compatibility and safety at each step. Then, other teams check and test product performance as they create prototypes that are evaluated, modified, and optimized before a final version is packaged and marketed for consumer use. The innovation journey typically takes many years to complete.
Méndez-Andino points out that R&D work must be designed to solve the most important challenges of the future. For this reason, his team draws on the company's ambitious long-term sustainability goals to inspire Owens Corning's research pipeline today. And as Méndez-Andino demonstrates just what is possible in terms of developing more environmentally friendly products, he hopes he can encourage competitors and other manufacturers to take similar steps. "The world has to address sustainability and climate change," he stresses, "and companies have a role to play. Building a sustainable future through material innovation is the mission of our company."
This mission drives the R&D team and the company as a whole to deliver better products and new functionalities. That effort is aided by another important commitment in the area of diversity and inclusion.
"The technical challenges we have to solve are diverse, and our customers are diverse, and that means our research and development team has to be diverse," Méndez-Andino says. The chief R&D officer is working hard to increase diversity in gender, ethnicity, and technical disciplines. For example, although women and minorities are often underrepresented in the STEM fields, the company's research team is currently 30 percent female. While that represents progress, he and his team actively recruit to continue building a team that reflects the general population.
Of course, since Owens Corning employs about four hundred and fifty engineers and scientists who work in production facilities and technology centers around the globe, the company is always provided with an array of different viewpoints. Méndez-Andino unites input from experts in a wide array of scientific and technical disciplines as well as people across the company. He gets the best performance from diverse teams by creating space for debate, discussion, and even disagreement.
"Competing ideas drive successful R&D," he explains. "The whole premise of science lies beyond simply picking one uncontested opinion. We harness contrarian opinions, pressure test them, and transform individual insights into the collective wisdom we need to move forward."
Thanks to this approach, Méndez-Andino's R&D team has been stacking up accomplishments. In addition to FOAMULAR NGX insulation and dozens of other new and refreshed products, the company recently introduced PINK Next Gen Fiberglas insulation and PINKBAR Fiberglas rebar. Both products are a result of the human-centered design approach that Méndez-Andino champions. PINK Next Gen Fiberglas insulation, made with advanced fiber technology, delivers 23 percent faster installation, less dust, improved indoor comfort, and sound reduction. PINKBAR Fiberglas rebar, Owens Corning's alternative to traditional steel reinforcement solutions for concrete, is lighter than steel and never rusts and reduces installation time and transportation costs.
Twenty years after starting his career, Méndez-Andino is still passionate about science, human behavior, and how those realities intersect in the business world. "I'm inspired to put all of these pieces together to make a product, a system, or a whole organization better," he says. "And when we do that, we can make the world better too."