For more than twenty years, Robert Bard has been looking for the right person to lead LATINA Style. In October 2001, Bard's first spouse Anna Maria Arias (who launched the magazine in 1994) passed away suddenly after years of spotlighting professional Latinas.
"I asked our supporters if I could run the magazine until we found the right person. That was in 2001. I became the de facto Latina-in-chief," Bard says, laughing.
LATINA Style boasts a readership of close to 600,000: a copy of the magazine issent to every company in the Fortune 1000, every member of Congress, and every Hispanic leader in the White House and federal government. LATINA Style also has a partnership with all major Hispanic and women's professional organizations in the country. As a result, the publication has helped Latina leaders across the country to network, connect, and come together in an environment in which they have felt isolated for far too long.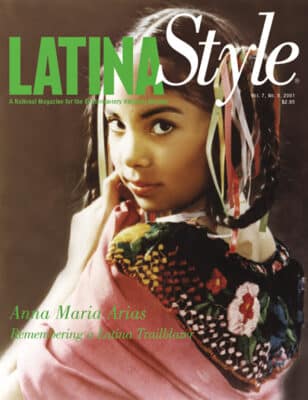 In the twenty years that Bard has been looking for the perfect woman to take up Arias's vision, he and his wife of the last eleven years, Chief Operating Officer Lupita Colmenero, have forwarded the vision of the magazine's founder, finding new and innovative ways to bring the Latino community together to celebrate the accomplishments of amazing professionals, young and old.
A Reputation Money Can't Buy
LATINA Style is more than a magazine. LATINA Style's Top 50 Report has become a mainstay for those working to document progress in diversity and inclusion: every year, it recognizes fifty companies "whose mission of diversity and inclusion has been reflected in the way they recruit, promote, provide benefits, and create programs for the betterment of their employees, but most specifically Latina professionals."
"When The 50 was launched, it was announced on Capitol Hill," Bard says. "The reception to unveil the first LATINA Style 50 Special Report was held at the vice president's residence and was hosted by Ms. Tipper Gore. It created a validation that you couldn't possibly buy."
The magazine as a whole has received support from Washington, DC, including from former Congresswomen Ilena Ros-Lehtinen and Lucille Roybal-Allard and current Congresswoman Nydia Velázquez, since its inception. Congresswoman Grace Napolitano is the current congressional liaison. "The day that Supreme Court Justice Sonia Sotomayor finally got confirmed, the only publication that she spoke to was us," Bard remembers. "And we had known Justice Sotomayor because of the work we had done in the community for a number of years."
Of course, The 50 is not the only initiative launched by the publication to have made an impact in the industry. The LATINA Style Business Series is one of the (if not the) most successful business development programs for Latina business owners in the US. The program has been recognized by NBC, ABC, Telemundo, CNN, the New York Times, and many other media outlets.
LATINA Style also created the National LATINA Symposiumto recognize outstanding Latinas in the military as well as veterans integrating into the civilian workforce. "Whenever you walk into a Latino house, you will know if they have a family member serving because their picture will be the first thing that you see," Bard says. "We decided we needed to do something to bring those amazing people the recognition they deserve."
A True Partnership
Colmenero's contributions to the Latino community can't be captured just by looking at her work as COO. She was the founder and publisher of El Hispano News for thirty-five years and founded Parents Step Ahead (a nonprofit organization that empowers and educates parents to take a proactive role in their children's school organizations) before coming on board with LATINA Style more than a decade ago.
While running for board president of the National Hispanic Publisher's Association, Colmenero made it clear that bringing non-Latino owned organizations into the fold was the best way to develop relationships and raise awareness about Latino-owned publications. She faced fierce opposition, but after giving a fiery and impassioned speech, she converted one person instantly (and many more subsequently; she won the election, becoming the first Latina president of the organization): her future husband.
"Before that meeting, I had sent a long letter to everyone involved stating my position, and I think Robert thought it was a love letter," Colmenero says, laughing. "It had been some time after Anna Maria's death, and I think I helped inspire him to get back involved. I started seeing him at every convention and meeting I traveled to."
Looking back on everything she and Bard have been through together, the COO doesn't have any regrets. "Robert and I are both big believers in everything happening for a reason," she says. "My two kids think of Robert as a father figure, and my daughter became an officer in the navy, and I'm not sure that would have happened without Robert and all the work we've done together with the military and their families."
This years-long partnership has bonded Bard and Colmenero for life, resulting in a sentence-finishing synergy that is as encouraging as it is sweet. It is because of that bond, and their shared passion, that they have made Anna Maria Arias's vision a reality.
"Lupita is the visionary and my inspiration," Bard says. "I've been so lucky that God put these two incredible women in my path."