At Southern California Edison (SCE), volunteerism isn't just a footnote on the year-end company report. Employees are encouraged to volunteer for causes that align with the company's values as well as their own, and the company regularly sponsors volunteer opportunities like Habitat for Humanity projects. Javier C. Rivera, a senior attorney at SCE, has not only joined some of those projects but has brought his daughter along to help build housing for those in need. His son, Rivera says, will follow suit when he's old enough.
"It's an opportunity to explain to my daughter how fortunate we are as a family," the attorney says. "I can share some of my story with her and let her know how far we've come."
There are parts of Rivera's story that his daughter is ready to hear, and there are parts that may come when she's a little older. The night before his first day at Yale, Rivera and his mother slept in their car: the family only had enough money for one hotel stay, and Rivera wanted to make sure his mother would be safe on her trip home.
Rivera knows firsthand what it's like to be housing insecure and to have exactly one pair of shoes. He is a product of public schools and of free-and-reduced lunch programs. But these experiences do not define all that he is: above all other things, Rivera is the gold standard for what good can be done in the world when someone is determined to pass on the support they received.
Do What You Can
Rivera has spent his entire legal career finding ways to intersect his legal expertise with his passion for advocacy, mentorship, and providing opportunities to those whose lives may have placed them well behind a traditional starting line.
The lawyer's commitment to this work is directly linked to his family's legacy: his grandmother was a community organizer within the African American and Latino communities for decades, and Rivera and his family always found themselves participating in clothing and food drives and offering up space in their small, overcrowded apartment to those who needed a place to sleep.
"We didn't have a lot," Rivera says. "But it was just understood in our family that you did whatever you could for your community."
Similarly, Rivera's focus on mentorship—including his efforts as a mock trial coach and his support of middle school and high school students through a global program called Street Law—is inspired and motivated by the mentors who have helped shape him.
The lawyer speaks at length about his first professional mentor, Dr. Bob Pollack, a white clinician who had little in common with a Black Puerto Rican student but who nonetheless helped guide Rivera through his early years at college then stayed in touch afterward.
Then there are his legal mentors: Jesus Roman and Arturo Padilla, who implored Rivera to not wait to get involved in his community and to start doing pro bono work immediately. These mentors—who also looked like Rivera—showed him that with determination and compassion, he could achieve his personal and professional goals.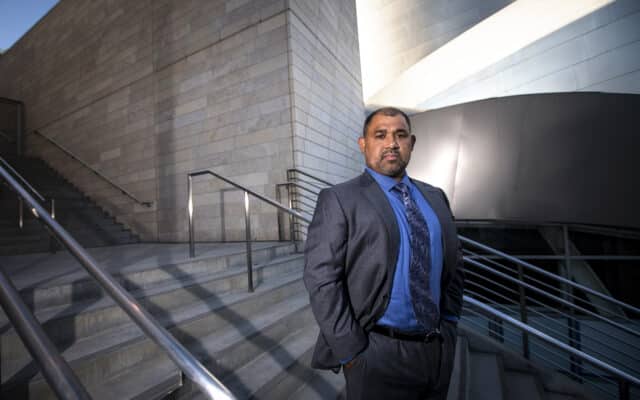 If Rivera had it his way, every word in this story would be dedicated to these individuals and all the other mentors who have supported him over the years. "I was fortunate enough to connect with amazing people who shared their wisdom and time with me, and allowed me to learn from them," Rivera says. "I still talk to all of them to this day; I seek advice from them regularly, especially now about being a father and work/life balance, because there's no manual for that."
Along with the mentorship Rivera himself now demonstrates, he's also a fierce advocate for those in need. He sits on the associates advisory board for the Legal Aid Foundation of Los Angeles, which—along with providing board experience for younger attorneys—focuses on assisting unhoused or housing-insecure veterans.
"I participate in clinics where we do warrant expungement for unhoused individuals and help get back benefits for veterans who may have had them stripped due to housing insecurity," Rivera says. "In all of these activities, I'm very grateful that SCE has been supportive of me continuing to do this work."
When Rivera's mother was diagnosed with non-Hodgkin's lymphoma, Rivera joined the board of the Los Angeles chapter of the Leukemia & Lymphoma Society, on which he served for eight years. His mother's treatment fortunately proved successful, and her cancer remains in remission.
A Dream Come True
Rivera, his wife, and their two children recently moved into a new home, where Rivera says he has been able to see the immigrant's dream—watching the next generation making gains on the previous one—play out in front of his eyes.
"I'll watch my son walk out to our little yard, and I just think back to the life I wanted so badly when I was a little boy," Rivera says. "That moment is the physical embodiment of a dream come true. It just makes me more motivated to continue my volunteer work, to take them with me, and see what can be done to make all of our lives better." The lawyer doesn't claim to be a rags-to-riches story, and firmly rejects a narrative where he is the sole hero and victor. Rivera understands what it took to get him here and constantly thinks of those who have not had the impactful mentors, the support, and some of the lucky breaks he's had. Rivera's victory is seen in his devotion to his family, and in his passion for helping those whose stories he has, in many ways, shared.
---
LimNexus LLP salutes Javier Rivera, senior attorney at Southern California Edison Company, on this well-earned recognition for his exemplary contributions to the legal industry. LimNexus LLP joins Hispanic Executive in championing excellence in the legal profession. At LimNexus LLP, diversity is in our DNA, and we exemplify inclusivity. limnexus.com/#/aboutus/diversity