"I always knew that working with computers and technology is what I wanted to do with my life. It's not just a career or something I have to get up and do: I do it because I have a passion for it," says Marcos Marrero, whose passion for technology was ignited when he was just eleven years old.
While Marrero was visiting family in the Dominican Republic, his aunt, who owns a computer institute there, introduced him to an Apple IIe computer. "I remember sitting in front of this computer just playing games and exploring for hours on end," he says, laughing. "I was hooked. All I wanted to do was explore this new world."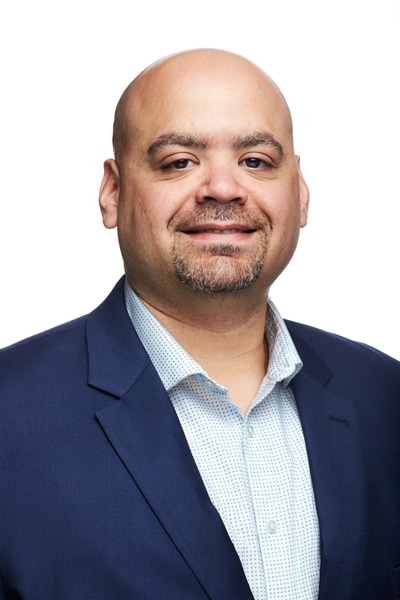 When he was fifteen years old, his parents divorced and Marrero, along with his mother and younger brother, moved to the Caribbean country permanently. To Marrero, the 1,500-plus mile move away from his home in New York City meant one thing: more opportunities to explore the world of computers and technology. And that's exactly what he did.
Marrero took one computer class at his aunt's institute and, six months later, became the guy teaching the classes. "It all came very natural to me," he recalls. "After just that one class, I was teaching adults in their thirties and forties how to use a computer."
Today, Marrero—with twenty-plus years of experience under his belt—serves as the chief information security officer at H.I.G. Capital, a global alternative asset investment firm. He manages a team of three and together, they handle cybersecurity for the entire firm. They also serve as consultants for the firm's investments, assessing their cybersecurity risk and ensuring the proper protection programs are in place.
Of course, Marrero says, he had a lot to learn before he could reach the C-suite.
At the age of nineteen, Marrero left the Dominican Republic and returned to the United States to pursue a career in technology. He started doing contract IT jobs for different companies around the Miami area and soon after, what started as a short-term job for Lloyd's Banking Group (LBG) actually led to his very first corporate position. In April 2001, Marrero joined the financial services company as a helpdesk technician.
While working at the helpdesk, he was assigned an IT ticket to help the bank's new Head of IT Risk and Information Security Ramon Iturrioz set up his computer. "When I was setting up Ramon's computer, I asked him how I could get into information security," Marrero recalls. "He told me he was actually looking to hire a security analyst and asked if I had any interest in the position. I admitted that I did not have any experience in information security. Ramon responded with, 'Doesn't matter. I can teach you the security aspects. The important thing is that you know the company, infrastructure, and technology.'"
A few months later, Marrero transitioned to the IT and Information Security Department, thereby beginning his journey into the sector.
After twelve years with LBG, Marrero secured a variety of IT positions at notable Miami-based companies, including Greenberg Traurig, Greenspoon Marder, and Itaú International. He helped each company build their information security program from the ground up. "Each company and position was a stepping stone for the next," Marrero explains. "I've been able to continuously learn and grow my expertise in ways I never thought possible."
Although his success and career trajectory are defined by years of hard work and determination, Marrero is the first to admit that he wouldn't be where he is today without Iturrioz's mentorship at LBG all those years ago. "He was willing to take a chance on me; he let me go off and do my own thing," he says.
Now, Marrero does the same with his staff at H.I.G. Capital. "I was mentored at the very beginning of my career—it's the reason why I am where I am today, and it's the reason why I have a passion for mentoring others," he says.
Marrero's leadership style, combined with his lifelong passion for technology, has led to multiple nominations in the industry. In 2015, he was a finalist for CISO of the Year, an award that recognizes an individual's outstanding work in information security. More recently, he was nominated for two other awards: Security Leader of the Year for North America and inclusion in a list of the Top 50 Chief Security Officers.
Although appreciative of the recognition he's received for his achievements, Marrero remains focused on the job. "It was never about the accreditation and monetary benefits that come along with the job. It's always been—will always be—about loving the technology."
No Place Like Home
Along with serving as H.I.G.'s chief information security officer, Marcos Marrero serves his community through volunteer work for Habitat for Humanity. In fact, he's been a volunteer with the nonprofit organization for the last twelve years, helping to build homes for underserved communities around Miami-Dade County.  
"My local church had an event where they were looking for volunteers for the organization," Marrero explains. "It piqued my interest because my dad was a general contractor for fifty-plus years, so I've always had a special connection to that kind of work. I attended one of their sessions and really just fell in love with the organization and what it stands for."