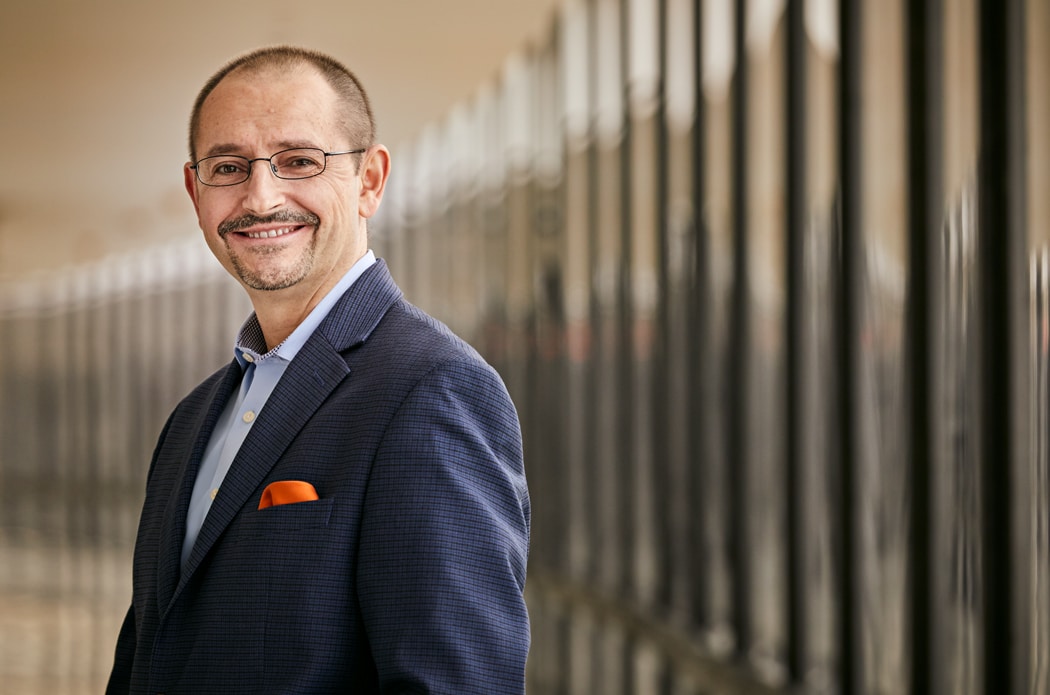 Jesus Mantas began working as a technology consultant in the south of Spain at age thirteen. "When I went to see clients, they would ask me, 'Where's your dad?'" he recalls, laughing. "And I said, 'I'm the one who will install your accounting software, train your people, and help you change your processes.' And they would say, 'Is this a joke?'
"But after the first visit," Mantas continues, "if they ever needed support, they would always ask for me. 'The kid knows this stuff,' they would say."
Mantas's passion for challenging conventional views led him to win a European essay contest at age nineteen. His paper described a multidimensional world with a new dimension of time that challenged Einstein's theory of relativity. He was invited to present it in Stockholm but struggled, as his English was not good enough. "I could have won a scholarship if I could communicate better in English," he thought. Instead, Mantas completed his master's with honors and become an officer in the Air Force of Spain.
By October 1994, at age twenty-five, he was working at Procter & Gamble in Europe. He received an unsolicited offer from another company to work for three years in the United States, and he jumped on it, motivated by his desire to become bilingual. After only four weeks, though, Mantas was told by a supervisor that he would not succeed in the US because of his poor English and that he was not fitting in with the American stereotype of success. He learned one of the most important lessons of his life: "How you're perceived shapes who you are in the minds of other people."
A Perpetual Quest to Learn
Mantas's perspective as an immigrant drove him to endure and overcome challenges. He chose humility and took action. "Regardless of the intent of the person giving me that feedback, I chose not to dismiss it," he says. "I decided to master the language as well as communication and empathy skills."
Determined to improve his language skills, Mantas persuaded the University of California Irvine's Graduate School of Management to accept him as an adjunct professor in the MBA program. "I was nervous in my first sessions, teaching students older than me in a language I didn't dominate. My legs were literally shaking," he remembers. With time and practice, however, his weakness became a strength.
Mantas joined Price Waterhouse (PwC) in 1997, persuaded by the people working there. "Everyone I met seemed smarter than me; I could learn by just being around them," he recalls. After starting as a manager, Mantas became a partner in just four years. One of his clients was Palm Inc.—an early pioneer of handhelds. Alongside Palm Inc. colleagues, Mantas built the first enterprise-class mobile solution in the industry—seven years before the iPhone was launched. Marina Levinson, the former CIO of Palm and NetApp, recalls, "Jesus has a great combination of tremendous leadership, business acumen, and perseverance. He was way ahead of the mainstream."
After IBM acquired PwC Consulting in 2002, Mantas quickly rose through the ranks and gained increasing responsibility, eventually leading global wireless solutions, North American consulting for the enterprise sector, Latin American business services, IBM's global outsourcing, and IBM's global business consulting, one of the largest consulting businesses in the world.
Cultural and Leadership Development
Out of the many achievements in his career, Mantas is most proud of his development of talent. Many of the people who have worked with him have become senior business and technical leaders at IBM and elsewhere.
Glen Rodrigues has worked with Mantas in different jobs over two decades. "I would describe Jesus's style in five ways: empathetic, inclusive, clear, encouraging, and deeply passionate about the idea that people can have far better potential than they believe they do," Rodrigues says.
Mantas balances operational and empathic leadership. Rather than resorting only to authority based on command and control, Mantas exhibits persuasion and prioritizes community and empowerment. Rodrigues adds, "Jesus's leadership style allows people to feel they are heard."
According to Mantas, his mentors have contributed greatly to his success over the years. "Other people may see things in you that you don't," he remarks. "In many cases, I wouldn't have made those choices if someone hadn't pushed me."
He also gives credit to IBM, "a company where diversity and inclusion is a strategy, not a consequence. Diversity goes beyond fair hiring practices and protecting employees," he explains. "Diversity helps us drive client value, inspires innovation, and enables the best ideas to surface and flow freely across our business."
"Jesus is a great leader. I learned a lot from him, including how to combine strategy with execution," says Tony Martins, IBM's general manager of Latin America, who has worked for Mantas previously. "We always felt comfortable being ourselves and offering our opinions."
Gregor Pillen, now the general manager of IBM Germany, Austria, and Switzerland, also had Mantas as his manager and agrees with Martins. "Jesus drives diversity—not just for Hispanics. He inspires and connects people from different cultures with his passion for inclusion and positive thinking."
Today, Mantas is the senior managing partner of global strategy, innovation, and corporate development for IBM's $17 billion global business services unit. He also focuses on technologies that impact society, such as artificial intelligence. He cochairs IBM's Hispanic Diversity Council, which promotes programs around education, mentorship, and the creation of advancement opportunities for Hispanics. He is a board member at Biogen Inc, an S&P 500 biotechnology company, and serves on the World Economic Forum Global AI Council.
A Call to Action
According to Mantas, there is more work to be done when it comes to leadership development for Hispanic leaders. The fastest-growing minority in the US, Hispanics represent 18.5 percent of the US population. Yet there is still a significant gap when it comes to Hispanics in leadership: they represent only 4 percent of the executive ranks.
According to a study by IBM's Institute for Business Value, only 35 percent of Hispanics benefit from mentorship, compared to 53 percent of white professionals and 40 percent of the non-Hispanic population. Only 30 percent of Hispanic junior mangers say they have access to mentorship or training programs, and 60 percent feel they have to work harder because of their Hispanic identity.
That is one reason why IBM has created P-TECH schools, where students earn combined high school and associate's degrees in technology. P-TECH includes seventy-seven US school districts that are predominantly Hispanic. Mantas is also personally increasing his commitment to advocating for Hispanic diversity as a business imperative, mentoring and advancing Hispanics to leadership positions, and investing in Hispanic entrepreneurs.
In closing, Mantas says: "Over the next decade, we have a responsibility to close the Hispanic education, workforce, and leadership gaps, not just for the benefit of Hispanics but for the benefit of the entire US society. If we shape this generation to do well, it will lift economic opportunity for everyone, not only Hispanics. No other demographic can pick up the slack if we don't."