Rick Galvan is a people-made leader. In the office, at manufacturing facilities, during town halls, and overseas, Galvan's focus has always been on people. He pulls from his life experiences to motivate and inspire his teams, and his authentic and transparent approach to leadership keeps him grounded and relatable. To Galvan, the truth is clear: when you treat people right and foster a positive workplace culture and environment, the business metrics will follow.
Galvan's untraditional climb up the corporate ladder started when he was just twelve years old. His uncle hired him at a grocery store in Chicago's inner city, and it quickly became evident that Galvan was anxious to do "hands-on work." By the time he was a teenager, he had dropped out of school to work full-time for a gas station.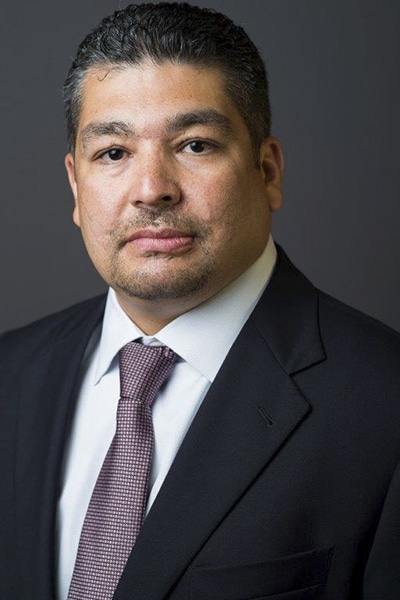 "Back then, we had a full-service operation. You'd go out there, pump gas, blow up tires," Galvan remembers. "A crew from the railroad would stop there often . . . we just formed a relationship. They said, 'Kid, you got good work ethic. When you turn eighteen, we'll get you out at the railroad.'"
The railroad crew was true to their word: in 1990, Galvan was hired as a mechanic's apprentice, launching his railroad career.
Eventually, Galvan went back to earn his GED, completed a two-year degree at Joliet Community College, received a bachelor's at the University of Phoenix in 2006, and completed the Executive MBA program at the University of Missouri–Kansas City in 2014. He advanced through positions at Class I railroads, including BNSF, Kansas City Southern, and CN. He found that the more people he met, the more they would help him reach his goals.
Those individuals remember Galvan just as fondly. "Rick has been a great example of how leading from the heart overcomes any adversity, inspires others, and influences positive behaviors such as the determination to never give up," says Jim Sokol, vice president for mechanical at CN.
Over the years, Galvan's work took him across the United States, to Canada, down to Panama, and through Mexico—which was an honor, says the American-born Galvan, whose heritage is Mexican. Traveling to Mexico provided him opportunities to connect with people there on a deeper cultural level than his predecessors could. Before blinking twice, Galvan had about three thousand employees under his supervision.
"I never thought I would get to a leadership position," Galvan admits. "And I never forgot where I came from. When I go out to the shops, to the yards, to the plants, I always see myself in that crowd."
For that reason, when Galvan joined railcar manufacturer the Greenbrier Companies as senior vice president of rail services operations, developing the company's culture became his most fundamental task. He brought siloed business units to work as one. He outlined leadership profiles and mapped out a succession plan for his team.
"Greenbrier should never have to go outside the company to bring in a senior leader again," says Galvan, who has since been promoted to senior vice president of Greenbrier Rail Services, a part of the Greenbrier Companies. "As a leader, you should be able to develop most leadership positions from within your organization."
For Galvan, good leadership is the ability to authentically connect with people, know when to listen, and to understand what to listen for. Often, solutions are right there on the floor; all it takes is boots on the ground and an open mind. "It doesn't matter if it's the janitor or the plant manager; they can tell in a second whether you're being authentic," he says. "And they have the answers because they know the business."
Sometimes, Galvan says, connecting with people can be as simple as presenting in Spanish during a meeting. Recently, an employee approached Galvan after one such meeting and thanked him. In twenty years, it was the first time an executive had connected with him on such a personal level.
"I never forgot where I came from. When I go out to the shops, to the yards, to the plants, I always see myself in that crowd."
Galvan understands how to develop an organization's culture from the ground up. He doesn't tolerate disrespect, dishonesty, or selfishness. As he sees it, healthy company culture can be tracked by a decrease in the number of injuries and lower absenteeism. People will look out for each other. They stay focused. They have a reason to show up for work in the morning.
As Galvan emphasizes, a healthy company culture is also inclusive and empowers everyone at the organization. Local talent recruitment can foster a more inclusive workplace, but Galvan says business leaders do not always take advantage of this approach. "Some companies are better than others, but I don't think we, as an industry, do a good job promoting careers within the neighborhoods and communities we serve," the SVP admits. "We should go into these communities, tell community members about our operations, take a chance, bring them in to join us, and develop them to advance through the ranks."
Galvan is developing a strategy to engage the communities that surround Greenbrier facilities once the economy opens back up. He asserts that providing jobs in this way will organically diversify the industry. With the right training and mentorship opportunities, these new hires will enjoy fulfilling careers.
Indeed, mentorship has been critical to Galvan's own success. Several mentors have helped him cultivate ambition over the years. "Some folks have it easier than others, but one thing is for certain: you need someone to pull you along, to help you advance through professional life," Galvan says.
As an SVP, Galvan says it's only fair that he pass the torch to the next generation. He mentors many—formally and informally. In November 2020, he signed up for the Big Brother volunteering program through Big Brothers Big Sisters of America.
"I think it's twofold," Galvan says of the importance of mentorship. "You help someone, and you end up helping yourself."
---
Chuck Coyle, director of rail services at New York Air Brake, congratulates Rick Galvan on this important recognition and his twenty-five-plus years of dedication to the rail industry. NYAB is honored to continue our successful relationship with Mr. Galvan and the Greenbrier Companies. – New York Air Brake LLC