In the 1980s and 1990s, North Philadelphia became known as the "Badlands," a term made popular by journalist Steve Lopez in his book Third and Indiana. Drug-related turf wars and gang violence spilled out into the streets and many young lives were lost. It wasn't a safe place to be a young man of color, but for working-class families with modest incomes, it was home. After making the move to North Philadelphia from his native New York with his mother and four brothers, Lucas Rivera found himself in the belly of the beast veering off the straight and narrow like many in the Badlands did at his age.
Though he grew up drawing, break dancing, DJing, playing instruments, he found his constant drive to create overshadowed by his overwhelming desire to fit in and partake in Philly's notorious street life. By the time he was a teenager, Rivera was in a gang and selling drugs on North Philadelphia corners. He was imprisoned three times: once for assaulting a teacher and twice for drug-related offenses. Rivera's mother was convinced she'd lose her son to the streets, along with all the artistic potential he exhibited as a child.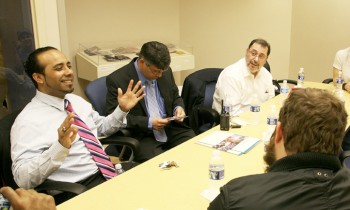 Now as a 34-year-old father and multidisciplinary artist, Rivera still works in the Badlands, but this time he's contributing to the advancement of his community and not its degradation. Rivera is the executive director of Artists and Musicians of Latin America (AMLA), a music organization dedicated to Latin music and the arts. He credits a similar organization called Taller Puertorriqueño for saving his life when he was 17. "I was introduced to Taller at the age of 17 by my neighbor, who took Jazz dance lessons there. She asked me if I was interested in teaching her group some hip-hop choreography and that they would pay me," Rivera recalls. "At the time I was still struggling with fitting in and becoming a positive member of my community. It was a tipping point for me and Taller was on the other side of that. Once I saw the organization and realized what it represented—I never looked back."
Spending more time with the group then at home, Rivera credits Taller Puertorriqueño helped me put together the pieces of who he was, as an aspiring artist, Puerto Rican, and Latino. "I was lucky enough to realize how influential the arts could be before it was too late," Rivera says. "I'm a huge fan of anything that has rhythm and complexity and I've dedicated my life to that love in a way that lets me give back to the community."
While attending community college, Rivera began volunteering his services as a dance and arts teacher at community centers, including AMLA. In 2003, he obtained his bachelor of fine arts in dance from Temple University and began teaching at schools such as Philadelphia's Mariana Bracetti Academy. In 2007, he was hired by Esperanza Academy as director of arts. In a city where few get past high school (graduation rates in North Philadelphia currently hover around 50 percent, with even smaller percentages for minorities), Rivera pushed beyond his rocky past and eventually obtained his master's degree, enabling him to do the work he loves at a higher level and with a broader reach.
"As Latinos, I feel like we don't know how to tell our story. We don't know how to position ourselves to obtain the resources that can be pumped back into the community," Rivera says. "For a long time the focus has been enrichment and education. It's my goal to move away from enrichment and to focus more on education."
Though he grew up drawing, break dancing, DJing, and playing instruments, Rivera found that his constant drive to create was overshadowed by his overwhelming desire to fit in and partake in Philly's notorious street life.
As a long-time member of the community he currently serves, Rivera is incredibly proud to see the work that Esperanza and AMLA are doing. Esperanza Academy is the only charter school of its kind in the city. Children do not need to audition or have a portfolio to major in any of the arts; they just need passion and must remain committed to maintaining their GPA. That being said, it's been difficult for Rivera to convince some parents that the arts are worth pursuing.
And art provides an almost intuitive outlet for Latinos to do just that, he says.  " I strongly believe Latinos are artistic people, from the way we cook to the way we speak. We need to take that soul and be intentional about it, let our children dream about being chefs, musicians, and artists; make them understand that those things can pay the bills too—if they obtain an education," Rivera adds. "I want to use enrichment as the hook and be intentional about the development. Any job will put food on the table, but we can raise our kids to know that they can make a living at something that makes them happy."