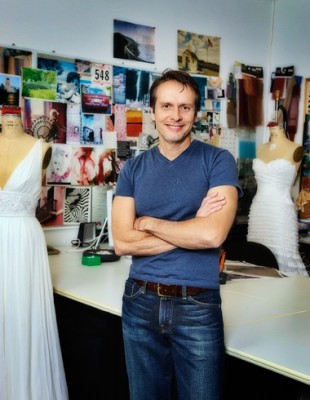 It takes a pretty compelling case to lure a full-scholarship law student, with a 4.0 grade point average, out of school and into a sweaty start-up in his mother's garage. The winning argument for Cuban-born Carlos Ramirez was fashion. A lifelong artist looking to use his creative prowess and make a profit, Ramirez left his lucrative career track to pursue the risky and not-always-glamorous business of dressmaking.
"Today Liancarlo operates out of a 30-person production house in south Florida. Its New York showroom sells to high-end and specialty retailers. "I don't make those big fairy gowns," he says. "Because I'm Latin, I think it has got to be curvy, shapely, body conscious. In Miami, you can't help but be tied to your roots."
Ramirez and his parents came to the United States from Cuba when he was eight. His father, Evelio, owned four grocery stores in Havana and later set up a jewelry business. His mother, Olga, was a homemaker on the island, and once stateside, she found a job as a seamstress. It remained her mainstay after she and her husband divorced when Ramirez was 17.
By the time Ramirez finished college (majoring in political science and architecture), his mother was toiling day and night. In the summer of 1980, after his second semester at the University of Miami's law school, he came up with a business plan on the fly. "She was getting paid dirt cheap—three dollars a dress to assemble," recalls Ramirez, indignant. "I said, 'This is ludicrous.'"
Heading to a fabric store, he selected patterns and fabrics that caught his eye, racing home. Relying solely on his artist's intuition, he began mixing and matching pattern components. "What could I do to make these things commercial?" he asked himself. Once the custom designs were laid out, his mother sewed a set of samples.
Dresses in hand, Ramirez went door to door pitching to retailers. His first batch consisted of inexpensive linens, wholesaling for $60 (a leap ahead of his mother's grueling wages), interspersed with a few nicer Italian linens for $120. Orders poured in, but the buyers' reactions astonished him. "Nobody liked the cheap clothes, but everyone liked the expensive ones," he says. "So I realized people were looking for quality."
Quality and value at a moderate price became Ramirez's mantra. Back at law school in the fall, he juggled a full load of classes while growing the new business. By spring, he decided to give his new gig a make-it-or-break-it trial. "When I told my mother I was taking a leave of absence from law school, I kid you not, she cried for a week," he recalls. Ramirez never returned to school, and Liancarlo was born. Accepting his new career path, his mother remained his head seamstress, and biggest supporter, until she passed away in 1996.
In the early days, Miami-based stores such as Caché welcomed Ramirez into the world of big retail, introducing him to key buyers. Liancarlo grew from his mother's garage to encompass her entire home and finally a warehouse. But a rise in outsourcing changed the industry. To compete, Ramirez slowed growth and production. He shifted his model "from just producing garments to creating specialty items." To date, all his gowns have been US-made for quality control.
With more time-intensive designs (a highly intricate Liancarlo gown uses 75 yards of finely cut fabric) price points naturally rose over the next two decades, now ranging from $2,700 to $7,000. "I've never been scared of China or business going overseas, because what I do is art, not mass production," he says. "We're cutting five dresses at a time, not 700."
About 10 years ago, following the surging wedding trend, Liancarlo launched a bridal collection. To stay in touch with brides-to-be, a younger demographic than evening-wear clientele, Ramirez has gone digital. His website is flash free and iPhone/iPad-compatible. He keeps an active blog. Using special software, he even "paints" digital portraits of real brides wearing his creations. (Retailers urge customers to send Liancarlo their wedding photos, and a lucky few receive Ramirez's surprise gift.)
Looking ahead, Ramirez admits he's not certain what the future will bring. But 30 years into the label, he knows he'll roll with the punches. "I never had seminal moments in my business," he says. "It has always been an evolution, as opposed to a revolution."