Immigration attorney Lisa Pino likes mentoring young people whenever the opportunity arises. So when she came across an overwhelmed-looking intern at a Washington, DC, event last year, she gave her more than just a sympathetic look. She gave her several minutes of her time, finding out things they had in common and offering encouragement. Pino also gave her a business card, urging the young woman to contact her about anything she might need. "Sometimes, it's better to be able to reach out to someone when you don't know anyone at all, right?" Pino says.
The intern eventually gave her something, too: an email of deep gratitude that acknowledged the comfort in her knowing that there was someone that she could reach out to who knew her background and looked like her.
"It just doesn't get any better than that," says Pino, who is a first-generation American with a Cuban mother and Spanish father. "I have met a lot of young people with similar stories."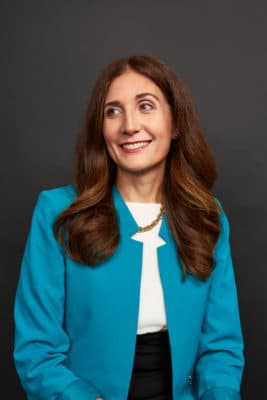 Stories like that help sustain Pino amid all the recent changes to the immigration landscape and all the anxiety it begets for clients and immigration recipients. Considering the size of the global mobility and migration practice at Mayer Brown—where she's been practicing law since the spring of 2017—that anxiety builds up quickly. Nonetheless, Pino is committed to providing the best advice possible.
"Our clients are Fortune 100 companies that are trying to hire and retain the best and the brightest," she says. "They want to be able to move their workforce around the world as the business demands, regardless of where an employee originates from or what their nationality is. Trying to help them keep work flowing seamlessly, without surprises, at the border or at the embassy—it's easier said than done in this time of change."
With both of her parents coming to the United States as immigrants who were escaping political turmoil, Pino was born and raised in New York City with a strong sense of integrity, honesty, and resilience. Those values, she says, organically led her into a career of public service. But a yearning to see the country outside New York, combined with an affordable, Hispanic-friendly college opportunity at Arizona State University, turned into nearly a decade in the Southwest. There, with her bilingual and bicultural background, she was drawn to immigration law. She even worked at border detention centers in Arizona during her tenure there.
"I'm so grateful for the impact Arizona had on my personal and professional life," she says. "I got to see the impact of national policy at the local level, both in urban and rural areas, and I feel it's made me a better leader and decision-maker than if I'd worked exclusively in a big city."
Pino lived in Arizona when Barack Obama was first elected president in 2008. Although she didn't work on his campaign, she volunteered and was certainly captivated by it. When he created online opportunities to apply for jobs in his administration—the first time a US president ever did so—Pino decided to give it a shot. Then, the phone call that changed her life came in April 2009: she was among those chosen from hundreds of thousands of applicants to serve in Washington, DC. She ultimately spent five years with the US Department of Agriculture and three years with the Department of Homeland Security, all as an appointee in senior executive service roles. In fact, she stayed with the administration until the last day of Obama's second presidential term in January 2017.
Although her decision to become a public-service attorney would require lower pay—a fact that concerned her parents, particularly in recession-plagued 2009—Pino says she was very fortunate to work for the Obama administration. "I saw it as a privilege and a responsibility to use my time to give back," she says, "and see how I could galvanize what I viewed as the right decisions, aligned with the president's priorities, in a way that best served the American people."
When the presidency changed hands, the priorities changed as well; a proposed travel ban took center stage. Pino's background with immigration issues and homeland security compelled her to stay involved, this time in Washington's private sector. At an event supporting those negatively affected by the travel ban proposal, she learned of Mayer Brown's global mobility and migration practice. In the past year and a half at the firm, Pino sees compliance as a recurring area of emphasis for the firm's clients—both in terms of how they should plan short-term for immigration changes as they occur and in how they should leverage such legal changes into business decisions that still serve their long-term goals.
"Sometimes it's straightforward; sometimes it's more nuanced. But I think the best way that we can deconstruct our approach is through what we call the Global People Solution," she says. "That means we address the clients' needs comprehensively so that whatever solution works best is customized to the client and really honors what their goals are today and for years to come."
But how can that be done effectively when the current state of immigration affairs is so turbulent? Pino says it's about addressing fundamental issues, staying savvy about building commonality, and—frankly—a keen ability to oscillate with each news cycle. Changes in policy, both in the United States and abroad, require firms like Mayer Brown to be able to anticipate, respond, counsel, and strategize as swiftly and responsibly as possible. And Pino believes that Mayer Brown has both a framework and an infrastructure firm enough to allow them to adapt at will.
Fortunately for the clients of attorneys like Pino, the will to maintain justice remains steadfast and strong. "Lots of different stakeholders are engaged in the immigration debate, but there isn't always enough of a unified coalition, and that's important," she stresses. "The diverse talent pool that people rely upon stretches across race, gender, and country of origin. Take everyone from scientists like Einstein, who became a naturalized US citizen, to the founders of Google, for example. It enriches us as a nation to have talented people—no matter where they're from—participate in our economy. It makes us stronger."