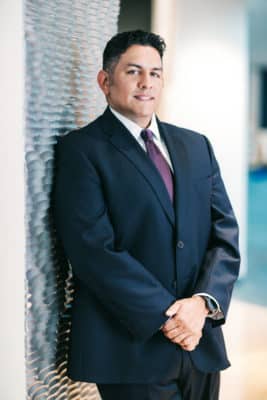 As vice president of litigation at Samsung Electronics America, Richard Rosalez has a lot on his plate. Managing litigation for the company in the United States means that he has to juggle a slew of issues on a day-to-day level — from minor and major lawsuits to elevated consumer complaints to counseling business teams on strategic issues and matters related to brand protection. "It's a bit like playing many chess matches at once or working in an airport control tower," Rosalez says. "You have to simultaneously remember the pieces in play and strategize on the moves that you need to make. And you need to keep communication lines open to avert disaster and plan ahead."
Fortunately, with seventeen years of impressive experience behind him, Rosalez has the chops to handle it.
"I've had the pleasure of working with Rich on a number of cases over the years, involving both patent litigation and class actions," says Richard Edlin, vice chairman of Greenberg Traurig. "What first impressed me about Rich was his knowledge of these two distinct areas of the law. But as you work with Rich, you learn that, regardless of what we are working on, he is well prepared, knowledgeable about the facts and the law, and a very strategic thinker for Samsung. Whether we are working on a brief or preparing a witness for trial, his input is insightful and astute. Rich is a calm force throughout and very talented in his role."
In addition to his own expertise, Rosalez has a great team to help him as well. Here, he shares his thoughts and advice on managing litigation at Samsung.
How did you end up joining Samsung in 2011?
After law school, I worked at Latham & Watkins in New York and at Jones Day in Dallas, both of which are large, international law firms. Over the years, my practice included intellectual property, antitrust, complex commercial, and government-enforcement and white-collar matters. When an opening at Samsung caught my eye, I applied for a position to lead a newly formed litigation team. From there, I gained increasing responsibility and became part of an expanded team and was promoted to my current role a few years ago.
How do you stay up-to-date on the latest developments in products and technology?
It's important to stay apprised of developments at the company, across the industries that we compete in, and with our suppliers and partners so that I have a solid understanding of the competitive landscape, can better advise my colleagues, and can more effectively anticipate any issues. Therefore, I closely follow news related to Samsung, the industries that we are a part of, our competitors, our suppliers, and our partners. I also read science and technology news to follow emerging trends and innovations. As we've entered new product categories, having a solid understanding of the competitive and regulatory landscape around Samsung has helped me to better counsel the business on potential developments on entering a new market, which allows us to prepare and prevent challenges.
What has it been like to work with Samsung's technology as a litigator?
Samsung strives to bring the latest and greatest products and innovation to consumers, and our investments in research and development have led to breakthroughs and market-leading positions in more categories than any other company. More than anything, it's exciting to be part of a company that is pushing the envelope with new technologies and to help address legal issues that arise.
What are some of the things that you've focused on in leading your department?
A big part of my approach is to empower team members to make key decisions and take ownership of what they're working on. I want to share in successes, and I strive for that and recognize it when that happens. But I also want to share in setbacks and eliminate any fear of failure when things don't go as planned. We can't control outcomes or reactions to many matters that we manage. It's important to celebrate the highs, learn from the lows, and ensure that, as a team, we know that we did everything we could to get the best outcome. So, I do this by establishing and building trust and being honest and open with team members. Most importantly, I try to lead by example.
What has been your approach to mentorship?
True leadership stems in part from mentorship. Mentors can play key roles in professional development. I've sometimes lacked having a mentor, and it's a stark contrast to have someone who can provide guidance from previous experiences and share successes and failures and how to learn from mistakes. I want to extend that same support, so I strive to make myself available at all times to discuss any concerns and keep communication open so that mentees will seek my counsel. 
Working on such a demanding schedule, what are some of the ways that you manage stress?
Maintaining a good work/life balance is important. Being able to coach my children's sports teams and spend time with my family on vacations means I'm able to keep centered and tackle whatever lies ahead. Leading by example in that is also important because if I don't take advantage of flex time or vacations, my team might follow that lead and risk burning out as well.
What are some of the accomplishments and achievements you're most proud of?
Thankfully, I work with a fantastic team, and we've enjoyed some great results. We've won numerous trials and appeals, and protected the company against unviable class actions. Topping the list is a well-publicized litigation against Apple, which resulted in Samsung securing a unanimous victory at the Supreme Court.
On another note, I'm also proud of our Samsung Gives programs, which include matching charitable contributions and giving employees time off to volunteer. I've helped direct funds to causes I care about and volunteered with organizations, ranging from park clean-ups to the American Red Cross to multiple food pantries. In addition to giving back to our local communities, this instills a great sense of pride in Samsung. 
What have you enjoyed most about your role at Samsung?
I consider myself lucky to have landed here when I did, and fortunate to be part of a great team that I truly enjoy working with. I've also worked with a lot of great executives and team leaders outside of the legal department, and I have learned from many of them, as well as from outstanding outside counsel for Samsung, many of whom are the best in their areas of expertise. The job is extremely demanding but also rewarding, and it helps to have relationships with colleagues, where by helping each other and working hard, we pull through. The mutual respect and support that we cultivate ensures that we deliver, regardless of what the demands are.
Outstanding In-House Counsel
Each year in its annual Corporate Counsel Awards, D CEO magazine recognizes the top corporate lawyers in North Texas. At its 2018 awards ceremony, the organization recognized Richard Rosalez for his outstanding work at Samsung. The awards take into account noteworthy achievements in significant transaction, resolution of material litigation, law department management, mentoring other lawyers, demonstration of integrity, pro-bono work, or professional development. Among many categories, Rosalez took home the prestigious Outstanding In-House Counsel award.