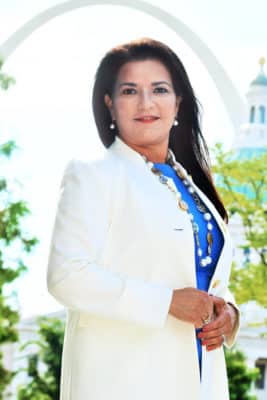 Marti Cortez is bringing the creative and innovative skills she has built over the course of her career to lead a team that serves the community and large commercial and industrial customers of Ameren Missouri, the largest electric service provider in the state. Growing up, she did not know that she was going to work for a company that is securing the future of energy. She only knew that she wanted to honor her parents' legacy by following their example and making a difference in people's lives.
"Neither Mom nor Dad had the opportunity to attend college, yet their example of motivation and hard work is the moral compass that still guides me today," she says. "My parents were salt-of-the-earth people. No matter how many problems they faced and overcame, they demonstrated a strong integrity powered by faith, and they took time to help others."
In her current role, Cortez fulfills her goal of making a difference by focusing on Ameren Missouri's mission to be a good corporate neighbor, and by developing ways to improve the business experience for commercial and industrial customers.
"It's energizing work. We're powering the quality of life," she says. "We have a strong presence in the community in which we operate and live."
The daughter of Mexican immigrants, Cortez believes that the examples of hard work, loyalty, and resourcefulness she saw in her parents have guided her and her siblings to excel in their careers.
Cortez started working at age fourteen at a retail store to help supplement her family's income. She helped to pay for her tuition at a parochial school, which she considered integral for getting into college. She would continue to pay her way through community college in Texas and then Missouri, where she enrolled in Webster University in St. Louis to complete a degree in marketing. This effort took several years to complete, while her roles and responsibilities at work kept growing.
"I enjoyed taking on the most complex clients," Cortez says. "I love a challenge and am forever grateful to those who recognized my potential. Two of the things that define me most are the leadership integrity and work ethic that I learned from my parents."
Like many first-generation Latinas, Cortez lacked role models who had attended college, but she, nonetheless, enrolled in the community college in Brownsville, Texas. In the 1980s, college registration was a manual process, so she prepared five index cards with a mix of general education courses to take if she could not get her first lineup. Her resourceful planning would ensure she could take a full course load and still work five days a week to fund her education. Over time, she accumulated classes in strategic marketing and communication.
"I naturally gravitated to marketing," Cortez says. "No matter the challenge, effective communication about your product or service sets you up for success."
Her professional path is as diverse as her academic one. She has worked in organizations that varied in scope and business models, but they all tapped into her experience and communication and innovation skills. Early in her career, Maritz hired Cortez to plan incentive travel programs for its customers, and after a series of roles with ascending responsibility, she was promoted to director of brand marketing and public relations.
"My sixteen years at the company were filled with more learning opportunities than some people have during their entire career," Cortez says. "As I was promoted, I became one of a handful of staffers who had worked in all lines of the performance-improvement business. I learned to project-manage and to marshal the efforts of cross-functional teams and business associates around the world."
Then, Cortez joined Bank of America as consumer market vice president, where she was able to apply her knowledge of performance improvement, rewards and recognition, and customer-loyalty strategies. She was then offered a position as vice president of operations and visitor experience for the St. Louis Science Center.
"I was delighted to serve in a position to improve the visitor experience while also promoting science, technology, engineering, and math learning," she says. "Leading a museum operation requires a lot of resourcefulness and partnership-building with the community."
After seven years of six-day workweeks, Cortez was recruited to Charter Communications, where her last role was as acting vice president of philanthropy and community relations. Her commitment to making a difference in the community helped her to develop a foundation for corporate giving and connecting to the community.
"What I've been able to experience from all these roles has given me a broader range of strategic moves to deploy," she says. "Those moves are most geared toward delivering on the brand promise while also looking at how customers and community stakeholders see and experience the company."
In 2013, Cortez joined Ameren Missouri as director of customer care. Then, in 2017, she was recruited to lead the business and community relations function. Her team is now responsible for Ameren's relationships with key community stakeholders, local elected officials, and large commercial and industrial customers.
Cortez has spent the past year designing business processes and aligning people and technology to enhance business relationships."Our company had been providing electric and gas service for more than one hundred years," Cortez says. "We are proud to offer rates that are among the lowest in the nation. To complement our offering, we are establishing an account- and relationship-management framework that will enable our team to serve as trusted energy advisers. We have developed a comprehensive approach that takes into consideration the perspectives of a very experienced group of coworkers in addition to a consultant group."
With her drive, creativity, and breadth of professional experience, Cortez is helping Ameren Missouri to create a better experience for its customers. "We are leading the way to a secure energy future, and we are proud to serve our communities," she says. "I am grateful for the opportunity to make a difference in the communities we serve while also bringing my perspective as a Hispanic American."
Throughout her professional journey, Cortez remains mindful of the skills her parents taught her: hard work, loyalty, and resourcefulness. With this in mind, she knows that immigrants like her parents can make a difference in the US business landscape.
"Many good people come to the United States with a passion to do better while seeking opportunity," she says. "Immigrant families like mine have gifted our country with doctors, medical caregivers, artists, theoretical physicists, and hardworking citizens who have made it their lives' work to give back to their community. No one eager to work hard should be denied an opportunity. I am proud to represent what a family of hardworking immigrants can contribute in service to others."