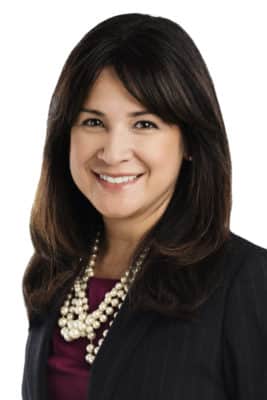 Alejandra Montenegro Almonte is exactly where she wants to be. As a member at Miller & Chevalier in Washington, DC, she's using her passion for the law and her love for Latin America to design meaningful compliance programs and conduct internal investigations to fight corruption throughout the region.
Looking back, Montenegro Almonte says being a lawyer has been her dream for as long as she can remember. After graduating from Harvard Law School, she found a new path in international arbitration and cross-border investigations. Later, during her years as an associate at Weil, Gotshal & Manges, she found her niche conducting corruption investigations.
She worked there for several years until she joined gategroup as in-house counsel to focus on legal issues in Latin America and develop an anti-corruption compliance program for the company's North America and Latin America operations. Taking a leap of faith, Montenegro Almonte made the switch away from the law firm and into a company culture that, she says, ended up giving her invaluable insight into the business world.
"As general counsel, I saw the inner workings of a company, and that had always been a little bit of a black box to me, having been at law firms that are such a different model," Montenegro Almonte says. "At gategroup, I learned the importance of presenting legal advice in a way that could be readily implemented by the company. This is quite different than arguing against a counterparty or crafting a winning legal argument. In-house, I learned not just to advise on the law but also to help the company operationalize legal standards and expectations so that compliance with the law was both meaningful and not obstructing the business goals."
She loved her time at gategroup, but she was invited to meet with the international department at Miller & Chevalier, which has a deep compliance and anti-corruption practice and a strong focus on Latin America. The firm's pragmatic approach to practicing law coupled with its first-rate experience in Latin America presented an opportunity too good to pass up. So, Montenegro Almonte joined its Latin America anti-corruption and compliance team in 2016.
"At Miller, I found a firm with deep-rooted expertise in compliance and anti-corruption across different industries," she says. "They understand that legal advice cannot be given in a vacuum. There is no one-size-fits-all solution. It's important to stop and learn the business so that our counsel cannot just be understood but also operationalized." She explains that this pragmatic outlook results in the business-friendly approach to legal counseling that made her effective while in-house. With her in-house experience in tow, she has learned to always emphasize to clients that enhancing compliance programs further protects the value of their enterprises.
What really sold her on the firm, however, was the Latin America anti-corruption team's deep ties to the region. "The majority of the team has lived in the region for extended periods of time, and several of us are from the region," she says. "They are, if not native Spanish speakers, near native proficiency in the language—and what's more important to me, they understand the culture of Latin America."
Today, Montenegro Almonte's focus is on advising multinational companies on anti-corruption laws, specifically, the Foreign Corrupt Practices Act. First passed in 1977, the act prohibits bribery of foreign officials and, thus, may reach companies and individuals outside of the United States that violate the law, which is quite broad in its scope. Essentially, the law may cover subsidiaries of US-based companies and even non-US-based companies that trade or operate in the United States.
So, Montenegro Almonte advises companies on developing compliance programs that help them detect, prevent, and respond to situations where their employees or agents may be making inappropriate payments to those foreign officials. To properly do this, she needs to have a deep understanding of the company's operations and existing control systems to identify where it may be vulnerable to employees using company funds for illegal purposes. This might include looking at vendor-management systems, accounting systems, existing ERP systems, and the company's overall environment risk-management procedures.
Understandably, some companies might be resistant to this, viewing compliance programs as added bureaucracy. But Montenegro Almonte says that she works with companies to help them understand that properly designed compliance programs can and should exist as integral parts of existing procedures. "People sometimes have knee-jerk reactions to compliance programs," she says, "but when done well, they come to understand that compliance ultimately protects their enterprise value and is in the best interest of the company and shareholders."
After gaining a deeper knowledge of a company, Montenegro Almonte then works to develop policies and procedures that will help mitigate identified corruption risks, both internal and external, which is important to note because corruption risks vary from company to company. Finally, because of her in-house experience, Montenegro Almonte is able to actually help companies effectively implement those policies and procedures. It is here where her and her team's deep understanding of the cultural differences between the United States and Latin America, and within the region, help most.
Montenegro Almonte says that cultural understanding is critical because it provides invaluable context. For example, in the context of compliance, it is not uncommon to encounter initial hesitation from non-US-based companies and their employees. To an outsider, this may look like obstinacy and an unwillingness to cooperate. But to someone who understands the cultural context, it is evident that the hesitation may come from lack of understanding of why a US law applies and fear of participating in a foreign legal process.
In the past few years, however, she has seen a tidal shift in Latin America toward a greater recognition for the need for anti-corruption and compliance programs. The discussion has shifted from US laws, and now many Latin American countries are creating anti-corruption laws, and many companies are taking those laws very seriously. "Now, the buy-in is much higher," she says. "As companies become more global, they realize that, to be a good corporate citizen, you have to demonstrate you have these compliance procedures in place."
On a recent panel in Costa Rica, in fact, someone shared how happy they were that she was attending because Central America was a fly-over zone for US lawyers for many years, but they wanted help with compliance, too.
"Corruption has really fractured the social structures in Latin America for so long, and there's this conception that, 'Oh it's just an accepted way of life,'" Montenegro Almonte says. "When you're from there and you spend time in these countries, you understand it's not an accepted way of life. No one likes it. So, to be able to help turn that tide and to empower organizations and people who are trying to make strides in changing that cultural perception is really what this is about for me. By helping people hold wrongdoers accountable, the perception that nothing is going to happen starts to erode."
In addition to developing compliance programs, Montenegro Almonte is also called in to conduct internal compliance investigations for companies in addition to defending them if there are external investigations into the company.
Montenegro Almonte loves her work, and it shows. And she never would have found herself here if she hadn't taken some risks, so her best advice to new lawyers and professionals at the beginning of their career paths is to always be open.
"Be open, and don't be afraid to go off course when opportunities present themselves, because I wouldn't be where I am and I wouldn't have had the exceptional experiences that I have if I hadn't been open," she says. "Leaving my prior law firm and going to a company was terrifying, and a lot of people said I was making a huge mistake, but the years I spent there were enriching beyond expectation. They made me a much better outside counsel than I would have been had I followed the path I had set out to follow."
Never one to shy away from a challenge, Montenegro Almonte looks forward to continuing to effect changes in Latin America and the world of anti-corruption and compliance at large.
---
Miller & Chevalier has a long history of assisting clients in their toughest challenges throughout Latin America. Our highly skilled practitioners include more than twenty attorneys with deep Latin American legal experience, nine of whom speak Spanish or Portuguese fluently, and many who have lived in the region.