As a female construction contractor and the first Hispanic owner of a Major League Baseball team, Linda G. Alvarado is certainly a trailblazer. But that's not what's important to her.
"I don't want my legacy to be that I was the first—but I still am the only," she says. "I want my legacy to be one of opening doors for other women, particularly Hispanic women in construction, engineering, and other careers."
She did not pursue a career in a male-dominated industry to make a statement, but the career she has built certainly leaves a lasting impression.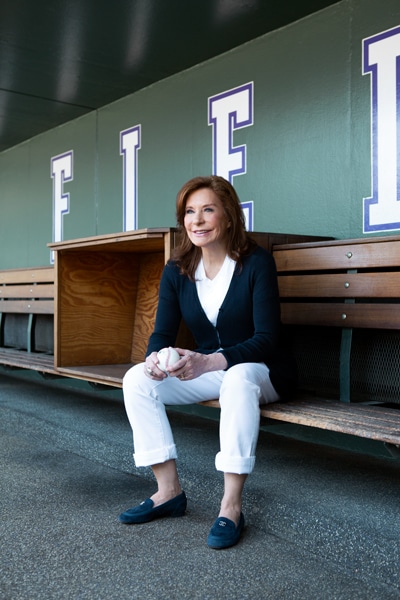 Alvarado Construction is a Denver-based commercial general contractor, construction management, and development company. Over the course of four decades, the firm has built a variety of projects, including multimillion-dollar commercial, government, industrial, retail, educational, office, and technology projects. Some of its most well-known projects are the Denver Broncos Mile High Stadium, Phoenix Civic Plaza Convention Center Expansion, the D.O.E High Energy Research Facility, and the thirty-seven-story Hyatt Regency Center Hotel.
Her interest in construction, however, dates back to her childhood in Albuquerque, New Mexico. The second-youngest child, Alvarado grew up with five brothers in an adobe home where sidewalks were nonexistent. Her parents didn't define what she could do by her gender. She built wood forts with her brothers and helped her father mix and place concrete for the sidewalks.
Today, she still credits her pursuit of a life in construction to the fact that she was enamored with the creativity in architectural designs and the construction skills required to complete projects. With all of her achievements over the years, she has certainly gained wisdom along the way—wisdom she can now share with the next generation of Hispanic leaders.
"Empieza pequeño, pero piensa muy grande."
Alvarado's mother, Lily Sandoval Martinez, taught her from a very young age to live and learn. "You are little and starting small, but think really big about what you can do," she would say. As years went by, this applied to Alvarado when she began her construction company. "My first projects were concrete curbs, gutters, sidewalks, and small bus shelters," Alvarado says. "Then, I started thinking about the company building high-rises someday."
"Diversity of perspectives can be a great business asset."
As Alvarado sees it, the concept of diversity is really more than social responsibility; it's also good for business. Diversity adds value in developing new products, services, sales, and marketing efforts. It is an important asset when considering the contributions of talented employees, when appealing to diverse consumers, and when looking at a company's bottom line. "Diversity in an enlightened corporate policy that seeks to address positive opportunities in the changing demographics and recruiting an underutilized talent pool of people and suppliers to succeed in the growing American and global economies," she says.
"Take risks. You'll never get to second base if you keep your foot safely on first."
"The biggest risk is the fear of taking a risk and making a mistake," Alvarado says. "You learn from a mistake and focus on taking next steps in achieving your goals, knowing there can be no reward without some risks. Hispanics have the ability, the capacity, and the intelligence to achieve our goals, but ultimately, it's up to us to take that step forward." When Alvarado began her career, people questioned why she was entering the construction industry, thinking she had no possibility except to fail. Alvarado says that taking this risk was her only way to build a path to success in a male-dominated industry.
"The journey to success is no different than when you learn how to walk as a child," she says. "You begin crawling, trying to stand up, fall, and cry. Learning to walk means you continue to pull yourself up and take risks to build your physical, mental, and emotional capacity to one day walk, skip, run, jump, and climb mountains. It's no different in our careers. Just don't give up or give in on your road to success."
"Don't look for excuses to quit. Get better at the game."
In order to continue to successfully meet and exceed critical milestones and strategic goals, Alvarado says you have to get better at the game. This, however, depends on your willingness to increase your capabilities. "Don't look for excuses or dwell on self-blame or shame," she says. "Shake it off, and move forward with a winning attitude."
"I'd rather be short on cash than short of character."
Alvarado has succeeded in business by staying true to a core set of values and ethics—not winning at anyone's expense, she says. More important than any high-profile construction project, she wants to be known for her integrity as a CEO, wife, and mother of three.
"It's important for young girls to understand and to be very careful that other people's lack of vision does not become their blind spots."
When speaking to young women, Alvarado reminds them to stay focused on the many possible careers they could pursue and how they can get there. "Don't let the conventional thinking of others distract you from believing in yourself and your ability to succeed," she says.
"Even in math, when you multiply two negatives, you come up with a positive."
Early in her career, naysayers challenged Alvarado, positing that she would never succeed because she was a Hispanic woman. In those moments, she said she would look at these attributes not as detriments but as benefits. "It would take perseverance in my attitude and in my aptitude not to quit—to keep learning and to focus my mind on the fact that if I multiplied these two negatives, it could be positive," she says.
"If it's never been done, that means it's possible."
One thing Alvarado relied on throughout her career is considering all possibilities and listening to all perspectives. She says that many miss a potential opportunity because it has never been done. "The words 'never' and 'always' seem to be opposites, but they are really the same," she says. "Always doing it one way or never considering another idea means we will soon be history."
"We have to hold the standard high, both ways."
Today, it might seem easy for Alvarado to rest on her laurels or revel in her successes, but she remains humble—an attribute that she believes is essential for all great leaders. "As we achieve success, humility us critical," she says. "Humility is acknowledging that you didn't succeed on your own. Even an accomplished leader needs to recognize that, whether at work or at home, it takes a team to succeed."