Lili Gil Valletta embodies the true meaning of optimism. Where some might see an offensive comment, she sees an opportunity to educate. Where some might see an obstacle or a disadvantage, she sees a superpower. This philosophy serves as the bedrock for Gil Valletta's leadership and mission: that businesses need cultural intelligence to win.
Gil Valletta moved to the United States from Colombia at just seventeen years old. "I moved here without speaking English, with a suitcase, a student visa, a pocket translator, and lots of ideas and dreams in my head," she recalls. Unfortunately, many of her initial experiences in the United States were colored by stereotypes and clichés about Latinos.
"People would first assume I was Mexican, but then when they found out I was Colombian they would reference Pablo Escobar," Gil Valletta says. "I thought it was very innocent, maybe a little oblivious, but I would try to have an open heart and not get offended. I would think, 'OK, people are ignorant; I've got to teach them, to show them a better way.'"
This mindset inspired what she has codified and patented as cultural intelligence, the ability to be aware of, understand, and apply cultural competence and inclusive data into everyday business. For a decade, this framework has inspired the mission of both her market research tech firm CulturIntel and the consultancy and cultural marketing agency CIEN+.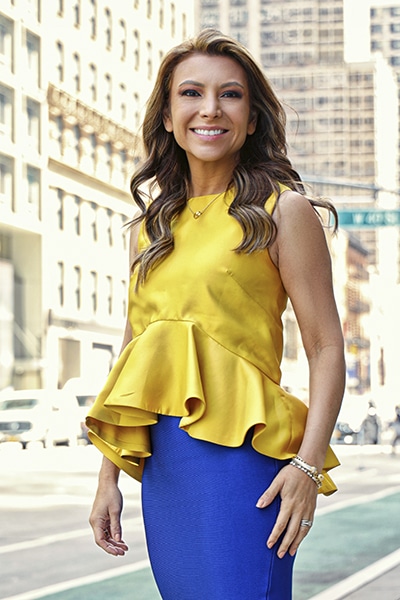 "We have the privilege of influencing some of the biggest corporations in the world that want to better understand untapped opportunities and the impact of culture and market shifts to their business," Gil Valletta explains. "We approach it from a place of empowerment; we demonstrate how it is mathematically impossible for a company to achieve their goals or street expectations without an inclusive approach to their business."
Prior to founding CIEN+, Gil Valletta helped pioneer multicultural and inclusive marketing strategies at Johnson & Johnson (J&J) as director of global marketing services and the cofounder of the Latino employee resource group, HOLA (Hispanic Organization of Leadership and Achievement). In 2009, Gil Valletta transitioned from her fast-track corporate career and joined former J&J colleague and now cofounder and business partner Enrique Arbelaez to create the company she says she couldn't find to hire.
CIEN+ has since become an award-winning partner to Fortune 500 companies and other leading organizations seeking to understand and authentically engage with diverse, high-growth market segments worldwide.
However, as Gil Valletta points out, the word "diversity" fails to capture the full, profit-driving potential that cultural intelligence offers. More and more often, she says, D&I initiatives amount to little more than superficial box checking. Cultural intelligence, on the other hand, strives to wake businesses up to the market share they are missing out on by not understanding and embedding an inclusive approach into decisions.
"Inclusion is not an altruistic mission; it's a superpower to future-proof your business. It's not about reacting to social pressures or simply chasing representation, but anticipating market shifts and expectations with data, committed action, and dollars," explains Gil Valletta.
This is what Gil Valletta describes as pursuing "purposeful profits." "We limit the power of inclusion when we limit its reach to talent or corporate social responsibility efforts. It ultimately enables you to do well and do good, and that is the by-product of cultural intelligence in action," she says. This was a message she boldly shared in a May 2021 TEDx Talk she titled "Diversity is overrated!" She challenged leaders to rethink and graduate from good intentions to lasting results, remarking, "I don't want to be your charity project; I want to be your growth project."
CIEN+ uses a three-step process to help companies unlock the power of cultural intelligence. First, they look at the data: they use their proprietary algorithm and AI CulturIntel to mine cultural insights, inclusive brand sentiment, and overall motivations across segments for a given market. Next, they sit down with the company's C-suite to size the opportunity, quantify market share potential, and design an acceleration plan. Finally, they bring theory into action, designing, launching, and measuring inclusive marketing campaigns that turn cultural trends into profits and growth.
That process has led to measurable change, Gil Valletta says. And after all that happened in 2020, she has perceived even further changes in the attitudes of her clientele. "There is a silver lining with COVID's health disparities, Black Lives Matter, George Floyd—all of it, combined with isolation—which is making people pause and rethink the world, their decisions, and their role in business and society," the CEO says. "I feel that there is a transformative power with crisis, if we choose to see it as such. In a very strange way, it's been a great catalyst, almost like a blessing for that discussion to take a different turn."
With her incredible capacity to see the bright side of everything, Gil Valletta even recognizes how COVID-19 has brought about positive change in her mission. With the power of virtual events, she explains, CIEN+ has expanded their reach to more executives and corporations around the world than they ever believed possible.
And while traditional focus groups and research methods were compromised during the pandemic, leaders craved real-time insights, and the CulturIntel tech experienced increased demand from organizations including the CDC and the White House. To date, the AI-powered tech has mined almost a billion digital discussions to report sentiment, insights, and mindshifts by ethnicity, gender, and generation in healthcare, financial services, tech, and more.
Gil Valletta remains optimistic—cautiously—about the future. "The social tension has ignited an opportunity for us to now have a closer encounter with the topic. However, without it being measured and tied to goals, we as humans are forgetful, and so it remains to be seen if this will truly stick and be transformative," Gil Valletta says. "If the awakening of 2020 doesn't spark lasting action, eventually the demographic shifts will catch leaders by surprise and their growth and stock price will have to play catch up. I want to be practical and action driven; that is why every leader needs cultural intelligence embedded into all they do. It's not emotional—just follow the numbers."
The Power to Unify
Lili Gil Valletta is one of the less than 2 percent of Latinas serving on a public board and was recently elected chairwoman of the FRIENDS of the Latino American Museum. The nonprofit is on a mission to support the building of a Smithsonian National Museum of the American Latino on the National Mall. As Gil Valletta explains, the museum will provide a complete look at American history, inclusive of over five hundred years of American Latino stories and contributions that have routinely been left out of history books.
After more than two decades of advocacy, the bill to build the museum gained overwhelming bipartisan support and was signed into law by President Trump in December 2020. "The passing of this bill during a pandemic and in the middle of an election demonstrates that we Latinos have the power to find higher ground and unify," she says. "People don't realize that in a very divisive moment, this was one mission and cause that we all agreed on regardless of politics."