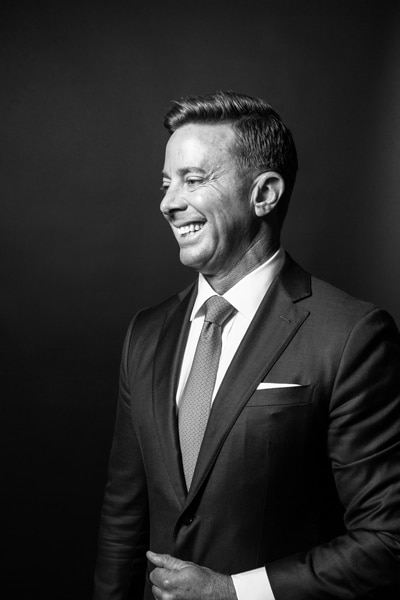 For Jorge Gonzalez, banking isn't about loans, checking accounts, branches, or online banking. It's about people.
Those people are the City National Bank of Florida's almost six hundred employees and its loyal clientele, many of whom have been with the bank—Florida's third-largest—for decades. As the bank's president & CEO, Gonzalez is betting that in the highly commoditized financial-services sector, it's people that will help him rise above the fray, win market share, and grow.
The bet has paid off so far: in Gonzalez's seven years at the helm of the bank, he's tripled the size of City National from $3 billion in assets to $9 billion—organically. "I always say our money isn't any greener, our services aren't all that different, but what is different is our people, our service, the way we do it," Gonzalez says. "And, if we win the war for talent, the bottom line is we win."
The top long-term strategic priority for the bank is retaining, recruiting, and developing the best talent. It's those people that Gonzalez counts on to build relationships with clients, deliver that superior service experience, and help continue to keep City National on the growth fast track. "But, we're not getting bigger just to get bigger," Gonzalez says. "We're growing to better serve our clients, to fill a niche between the big national players and the smaller community banks—the big-bank alternative."
Since being profiled in Hispanic Executive two years ago, Gonzalez has orchestrated the sale of City National to Chilean-based Banco de Credito e Inversiones (BCI), entered the Tampa and Sarasota markets in Florida, and launched a specialty finance company: City National Capital Finance, which is already ranked as one of the top leasing companies in the country.
The bank also builds scale to be able to invest in the people, technology, security, products, and platforms necessary to compete with the larger banks. Combined with ever-rising compliance and regulatory costs, these are things that smaller banks just can't afford. At the same time, Gonzalez keeps the bank nimble and close to its clients in a way he says larger banks are just not built to be.
The backing of its $50 billion parent company, BCI, also puts City National in a unique position with regard to the size of the deals the bank can execute and the technology it can implement. "I doubt there is another community bank like ours that has the support of a bank on the cutting edge of technology, service delivery, and product development," Gonzalez says. "It also gives us a global reach through BCI's network, which includes Shanghai, Brazil, Mexico, and Argentina. This adds to our uniqueness and augments our abilities."
In recent years, City National has been making big investments in both people and technology. Consumers have virtually no reason to go to a branch with the advent of mobile-banking technologies such as remote deposit and services that allow them to pay other people with the click of a button.
In fact, according to a recent forecast from research firm Javelin, the percentage of weekly customers using mobile banking has been climbing dramatically and actually exceeded those using branch banking for the first time in 2015, 30 percent to 24 percent—even though only five years earlier mobile banking was at 9 percent and branch banking was at 40 percent. "[Financial institutions] will need to continue to innovate to outpace this increasing mobile-banking adoption," said Daniel Van Dyke, an analyst for Javelin.
Gonzalez understands this all too well. "People just don't use banking centers like they used to," he says. "What people really want is multiple channels of connectivity." He doesn't look at these technologies like the big banks, though, which are focused on efficiencies and lowering costs. For Gonzalez, it's almost entirely about consumer choice and ensuring his clients can interact with the bank in whatever way they like.
He and City National are now working out what exactly superior service looks like in the age of mobile banking. The bank has already invested in apps for smartphones and tablets, allowing its customers to manage their accounts remotely and make deposits simply by taking pictures of their checks, and it has also made its debit cards compatible with the Apple Pay platform. At the same time, it has put a premium on cybersecurity measures, including software that watches for malware installed on customers' computers and phones and notifies them for free. "We just think it's a win-win for everybody because we believe it's a mutual responsibility between us and our clients to help in preventing any type of fraud," Gonzalez says. "I think clients depend on us to have confidence that they're dealing with a secure organization."
Such capabilities are normally reserved for larger banks, but City National wants to make sure it can remain competitive as more and more customer transactions take place online and on mobile platforms. And, to improve the overall quality and efficiency of each of those digital transactions, the bank has also dedicated itself to scaling up its fintech workforce. "Most of the increase in staffing that we've had has not been on the client-facing side," Gonzalez says. "It's been on the technology and operational-support and compliance side—IT support, IT innovation, IT security."
But, more important than keeping pace with technology, Gonzalez wants to make sure that as City National grows, everyone understands and, more importantly, embraces the company's culture. The bank has therefore invested heavily in training and recognition programs for its employees. This goes back to Gonzalez's emphasis on people. "Banking is ninety-nine percent people and one percent something else I don't know," Gonzalez quips with a smile. "That's why we focus so much on culture and on taking care of our people."
Beyond offering competitive compensation (every employee participates in a bonus program) and a generous benefits package, he and his team work to maintain City National's family-styled workplace despite the fast growth. Gonzalez maintains an open-door policy, and his mobile phone is listed on the company's intranet, available to any employee. He holds regular town hall meetings, including open forums, to stay close to the bank's employees. And, the last Friday of every month, the company hosts employee appreciation lunches, where executives dish out heaps of steaming barbeque or tasty tacos while employees play games to win prizes.
"Sometimes just stopping and really being focused on the situation at hand and not trying to solve two or three things at the same time—little things like that make a big difference in how people interact with each other."
—Jorge Gonzalez
City National has won more than its fair share of awards and accolades, but the one Gonzalez says he's proudest of is being named a "Best Bank to Work For" by American Banker magazine for the past two years. "That's an award that is based on our benefits and workplace policies as well as independent surveys of all of our employees, so I take it very seriously and I'm very grateful that our people love to come to work and understand their contributions are appreciated," Gonzalez says. "We've only participated in Best Banks twice, and both times we made the list."
Since its acquisition by BCI, City National has focused even more on developing its people. It's always made significant investments in training employees to do their jobs, but lately it has shifted to personal development as well. With the help of its parent company, City National has launched a leadership academy designed to develop its leaders. The first group going through the academy is Gonzalez's direct reports. The six-month process includes three two-day off-site meetings, and each executive is assigned a professional leadership coach. Eventually, every manager will go through the academy.
Additionally, about fifty managers at City National have gone through mindfulness training, too, which encourages them to stop, take a breath, and concentrate on individual tasks and concepts while drowning out distractions. It's a skill that will only become more important as City National pushes further into the digital sphere. "In today's world of technology, a lot of times you never disconnect," Gonzalez says. "So, how effective can you be? And are you really operating at your highest level of performance? Sometimes just stopping and really being focused on the situation at hand and not trying to solve two or three things at the same time—little things like that make a big difference in how people interact with each other."
As City National focuses on its people, it will also continue to serve its customers by investing in and strengthening its ties in Florida, making donations toward education, child development, and culture in its markets. "Our communities will prosper, and therefore we will have a better business community to work within," Gonzalez says, adding that City National is probably one of the only banks in the state that has received a community reinvestment rating of "outstanding" from the federal government—and that it has done so for fifteen years straight. The bank also gives close to $250,000 to the United Way on an annual basis and makes significant contributions to the YMCA, the Make-A-Wish Foundation, and the Children's Home Society, among others.
Looking ahead, City National hopes to improve its existing technology while exploring new possibilities as innovations proliferate. "I believe that this industry is going to be disrupted by a nonfinancial player, somebody who doesn't exist today in the banking business," Gonzalez says. "At the pace of change these days, you could quickly become a dinosaur."
Right now, the bank's upgrading some of its existing money-management platforms designed particularly for small- and midsize businesses. One platform provides such businesses with an efficient way to pay their employees and vendors and move cash around, and another platform acts as a digital lockbox where businesses can collect payments from customers. City National just launched a new version of the lockbox platform in July, and it will now allow businesses to collect their payments even more efficiently so that they can invest the money back into their work.
Farther in the future, Gonzalez expects that City National will get into data mining and the implementation of artificial intelligence to analyze the saving and spending habits of customers, but even that he sees as an opportunity to provide greater service. "I think if we're able to better use the information we have, we can be much more proactive in basically knowing that a customer wants to buy, say, a car—and therefore we should be trying to make sure that he has all the cost layouts for the types of cars he wants, the financing alternatives, etcetera," he says. "It's about using information to enhance the client experience."
Thoughts from Guest Editor Javier Palomarez
"Jorge's leadership at City National Bank of Florida clearly puts him and his company on the cutting edge of the financial services industry. With all the technological advances of recent years, Jorge is successful because he recognizes that despite the miraculous pace of innovation, it is the ability to lead, inspire, and connect people that is at the core of any sustainable growth strategy. He sets an example for us all."
SI Solutions, a business partner of City National Bank of Florida for the past six years, is pleased to recognize the accomplishments of City National Bank of Florida's CEO Jorge Gonzalez. Jorge is driving forward with technology solutions as we assist developing marketing strategies through multiple channels of customer communications. SI Solutions has been serving the financial market since 1976. SI is a leader in integrated customer communication solutions. We create, govern, and deliver personalized multi-channel communications your customers require. We will evaluate your current processes to determine appropriate products or services specific to your needs. Learn more at SI-Solutions.com.