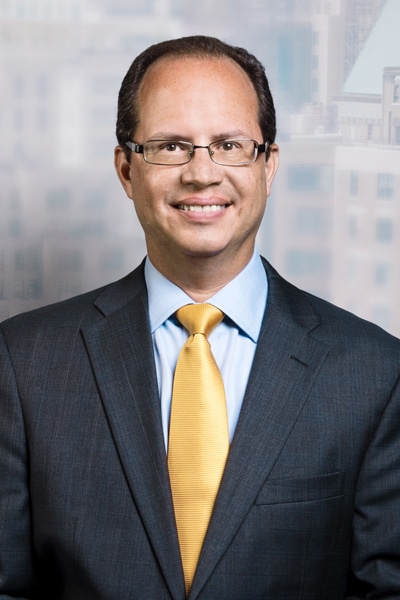 Hector Munoz is an executive director at EY, formerly Ernst & Young, a global leader in assurance, tax, transaction, and advisory services. But, he began his professional career in the Air Force. And while the business world may seem far removed from the military, Munoz says there's more overlap than you'd think. 
"In the business world, there's a lot of talk about leadership and high-performing teams," he says. "When I was in the Air Force, those same topics were constant themes. We routinely had conversations about leadership and attended trainings on how to be a more effective leader."
His initial introduction to the Air Force was through the Reserve Officers' Training Corps (ROTC), a group of officer-training programs located on college campuses nationwide. The goal of ROTC programs is to train future leaders of the US Armed Forces, and Munoz went on to be one of those leaders. He spent eight years in the service, primarily in San Antonio, Texas, and Denver, Colorado, and ended his military career as executive officer to two major generals. These days, he's using the lessons he learned in the Air Force and applying them to his daily work at EY.
Bringing Everyone Together
At EY, Munoz is part of the firm's advisory-financial services practice and specifically leads the strategic transformation practice for banking, capital markets, and wealth and asset management. Every day, he helps clients develop tactics for tackling large strategic problems and address complex transformations that are challenging to implement.
Munoz says that if he really had to boil it down, his definition of leadership—especially as it relates to the complexity of his EY work—is bringing everyone together to achieve something bigger than they can achieve on their own. Admittedly, his time in the Air Force informs his definition and approach.
While in the Air Force, he'd get just a moment's notice to deploy a team during the Desert Storm conflict, for example. Munoz would have to make sure the team had ground transportation, flights, permission to transport weapons, and medical-team supplies while handling myriad other details, both large and small. His team had to handle it all and achieve the impossible. If that's not excellent training for the business world, what is?
"Maybe it's because I learned leadership in the military—and that's what really drew me to the Air Force—but for me, leadership is bringing everyone together to accomplish a mission," Munoz says. "That's the same skill set I've learned to apply to large business transformations. It's about bringing many teams together, helping to have a clear purpose, and helping to achieve what looks insurmountable in the beginning. You persevere. You get it done. You accomplish. That's what I have been doing at EY."
Getting on the same page can be easier said than done, but Munoz learned early on that having one over-arching purpose can give a team daily goals that align with its larger commitment. "What motivates us? It may sound simple, but aligning agendas so that we all come together and contribute to a larger goal is the key," Munoz says. "As a leader, I make it my goal to know what makes each person tick. Each person has their own unique skill sets, personality, and attributes. You can't paint anyone with a broad brush. If I know their skills, I can map out how they align with the larger purpose."
When helping companies make these challenging transitions, Munoz says the early stages are often very chaotic and difficult because the way a bank or insurance company works is being completely overhauled. But, at the end of the day, when his team has succeeded at helping a company meet its strategic objectives, Munoz says it's incredibly fulfilling. This is also how Munoz describes the work he's done with EY's Advancing Latino Executives program.
People Power
EY has a number of affinity groups spanning a wide range of communities, and among them is its Latino Professional Network, which Munoz describes as a ground-up group intended to foster a sense of community for Latino employees while also focusing on professional development. Admittedly, he says, most companies have this type of affinity group.
EY's financial services group also created a "top-down" group, though, called Advancing Latino Executives, that is truly groundbreaking. In the group, Munoz and other Latino EY professionals identify and improve any systemic issues that may be getting in the way of recruiting, retaining, and advancing Latino talent. "We work with our leaders and share what we're finding," Munoz says. "This truly makes a difference in the way we work and in the lives of Latinos who work with EY."
Munoz was one of the founders of the group nearly five years ago, and his particular focus is retention. Just as his definition of leadership sounds deceptively simple, so does his explanation for why Advancing Latino Executives is so crucial.  "You need to mirror your customer base," Munoz says. "You can't have a company lacking diversity if your customer base is diverse; you need to have a company as diverse as the marketplace. But, you need to have a company that's empowered to make a difference."
For years, EY has asserted that people are the organization's best asset. Munoz says this essentially means that the company's greatest contribution to the marketplace is brain power and the perspectives of its people to help clients solve problems. "That means you better have the best people and retain and attract the best," he says. "In return, you want your people to feel engaged and happy. If your goal is to attract the best, the happy people in your company will have their talented peers join them at EY. In terms of retention, I see pride and engagement as very important."
It appears that increasing engagement is paying off. This past May, it was announced that EY had reached the number one spot on DiversityInc's Top 50 Companies for Diversity list—the first time a professional-services firm earned the top spot on the list. Munoz cites the tone at the top of the firm as a primary reason this recognition was achieved, but he says it's also about engagement at the top.
On a regular basis, top Latino executives meet with Stephen R. Howe Jr., EY's US chairman and managing Partner and its Americas managing partner, and other EY Americas leaders to discuss everything from metrics to what the executives think is working or not working. "Executive leadership at EY is truly engaged around our diversity and inclusiveness strategy," Munoz says. "At EY, diversity is about all differences, and we think broadly about differences; they include background, education, gender, ethnicity, nationality, generation, age, working and thinking styles, religious background, sexual orientation, ability, and technical skills. Inclusiveness is about leveraging these differences to achieve better business results. It is about creating an environment where our people are valued and where they are able to contribute their personal best in every encounter."
Clearly, recruitment and advancement are very different at EY than in the Air Force. Munoz jokes that it's not like "lining people up," but he sees both as aspirational in decidedly different ways. In both instances, you're motivating people and helping them to aspire for more. In the military, Munoz says, it's about protecting freedom and reducing suffering. At EY, it's about building a better working world—in a different way.
"At the end of the day, it's all about us building a better working world for our people, clients, and communities," Munoz says. "Like in the Air Force, when recruiting at EY, I'm working to inspire members to connect the hard work they do every day to the larger impact they're having on the financial-services industry and on clients as a whole. Our diversity initiatives are about helping everyone recognize the difference in others and leverage what makes us all different and amazing in this fantastic soup, as crazy as that may sound."