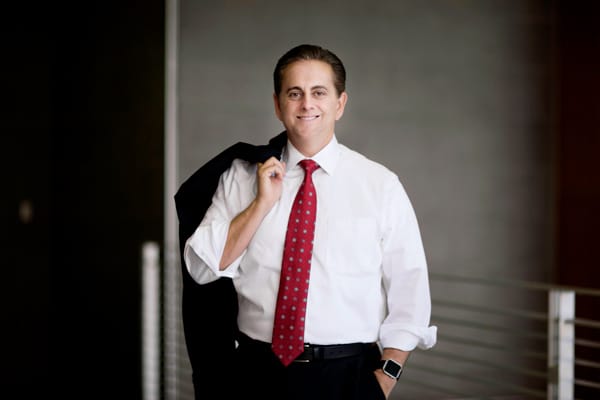 It's a clear and sunny day in Los Angeles, and when Jose A. Gomez looks out his office window, he sees dozens of students crisscrossing the campus. Gomez, executive vice president and chief operating officer at California State University, Los Angeles (Cal State LA), feels a special connection to those students. "They each have a story of struggle and perseverance," he says. "Their story is my story, and I want them to have the same opportunities I had."
Gomez was born in Texas but moved with his mother to Southern California when he was nine years old. Growing up east of Los Angeles in neighboring La Puente, the young Gomez dreamed of a college degree—but he wasn't sure higher education was possible for a young Latino with a single mother struggling to make ends meet. 
Fortunately, there was an excellent public university just a few miles from his home. He enrolled at California State Polytechnic University, Pomona, which is one of twenty-three campuses in the California State University system. "I found a high-quality, high-value education close to my home," Gomez says. "If not for that, there is no way I would have been able to attend college."
Now, creating similar opportunities for young Angelenos is central to Gomez's mission. After fifteen years advising top elected officials in California (including a state senator, treasurer, and attorney general), he joined Cal State LA in 2009 and became its executive vice president and chief operating officer in 2013. His responsibilities include leading strategic initiatives designed to enhance partnerships between the university and business, governmental, and community stakeholders while creating educational opportunities for students.
In early 2014, Gomez and other university leaders welcomed students, government officials and key partners to the Television, Film, and Media Center open house on the campus' northwest side. The celebration marked an important milestone for Cal State LA and an important win for Gomez. After four decades of fizzled attempts, the university had finally succeeded in acquiring the property and renovating the building. The local Mormon Church, which once refused to sell, acquiesced to national leaders after Gomez phoned them in Utah.
With an agreement in place, Gomez secured financing from local credit unions. Construction crews transformed the structure into a state-of-the-art home for the university's Master of Fine Arts program in television, film, and theatre (TVFT). Highlights of the building include a 2,300-square-foot sound stage, a 3-D motion capture studio, screening rooms, and editing spaces. Cal State LA's MFA in TVFT program is the only university-level program in the nation that unites production, acting, and script writing. "Our campus is in the entertainment capital of the world, and this facility allows us to produce top-flight graduates that the local industry wants and needs," Gomez explains.
With the media center underway, the university president asked Gomez to help create more opportunities for the community to access Cal State LA's educational resources. To do so, he helped establish a Cal State LA satellite campus in the center of the city's downtown area. The smaller hub complements the main campus on the east side and mirrors the renaissance taking place as start-ups, creatives, and businesses move into the city center.
More recently, Gomez has been an instrumental part of bringing two other important projects to life—a $30 million soccer facility and LA BioSpace. The soccer project was born after the city's new Major League Soccer (MLS) franchise needed a practice field for its youth academy team. Gomez built a relationship with team executives, and that led to a proposal for a facility to house Los Angeles Football Club (LAFC) operations on campus as the  club prepares to join the MLS during its 2018 season. LAFC has pledged $30 million to construct a state-of-the-art training facility and soccer operations headquarters. Another $1.5 million is helping Cal State LA enhance and improve athletic facilities
"We get to fulfill dreams, and we do that best when we invest our resources and energy where it matters most."
—Jose A. Gomez
The LA BioSpace—which Gomez calls one of the most significant projects he's worked on—was created through grants from Los Angeles County and the US Economic Development Administration and will bring entrepreneurs and start-ups together in a campus incubator, where they can collaborate with faculty members, use university equipment and resources, recruit students, and enjoy campus amenities. The center helps the university engage other active players as community leaders, elected officials, businesses, and non-profits seek to develop the corridor surrounding Cal State LA into a thriving life sciences mecca.
While his projects have been complex, Gomez says there's a simplicity behind his work. "I just listen and engage," he says. "If you talk to people and try to understand their needs and perspectives, it helps determine what programs will bring the most benefit. We're here to serve the community."
One way Gomez and Cal State LA accomplish that goal is by providing access to a high-quality education. "We get to fulfill dreams, and we do that best when we invest our resources and energy where it matters most. We want the best facilities and programs that will drive results for our students," Gomez says.
The strategy is working. In 2017, the New York Times published a study by The Equality of Opportunity Project that ranked Cal State LA as number one in the US based on the upward mobility of its students. The university moved the highest percentage of students from the bottom fifth to the top fifth of income. Cal State LA's mobility rate is 9.9 percent.  The recognition validates a lot of the work that Gomez and his colleagues have been doing, as well as the work of those who came before them. But Gomez says the real credit should go to Cal State LA's students.
"Our students are smart, determined, and enterprising. They come to this university to learn, graduate, and then go on to do great things," he says. No matter what's going on in the world, when Jose Gomez looks out his office window, he knows one thing—for both Cal State LA and its students, the future is bright.