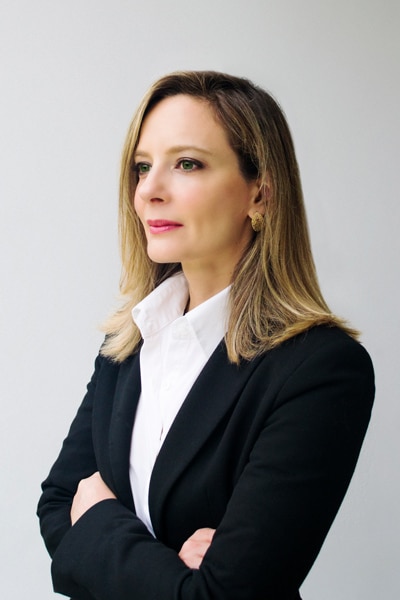 Barranquilla, an hour from Cartagena on Colombia's Caribbean coast, is a major point of entry for passengers and goods into Latin America. It is also the birthplace of Helen Warner.
With a Colombian mother and American father, she had a multilingual and multicultural upbringing. She was educated in an American school and stayed in Colombia until she was nineteen. She then moved to the US, worked her way through college, and majored in finance, thinking she would follow in her grandmother's footsteps and run her own business. "She was a woman ahead of her times, who started her own business from an early age. That business evolved into a clothing factory, then a hotel and several stores. She was a real inspiration to me," Warner says.
She went through the dual MBA-JD program at Nova Southeastern University because she thought the legal training would support her business career. "I did not intend to be a lawyer," she says. But she was enchanted by what she was learning, and landed a job in a law firm after graduating.
"I had hoped to get an in-house position, but found I needed experience first," she explains. "I spent most of my time researching and drafting pleadings, which I didn't enjoy. I wanted to be involved in the day-to-day decisions of a business."
After taking a break to work on a senatorial campaign in Colombia, she returned to the US and landed a job at LATAM Airlines—then LAN Airlines—a Chilean air carrier with passenger affiliates offering services in Chile, Argentina, Peru, and Ecuador, and cargo affiliates in Chile, Mexico, and Brazil.
When she joined the company, there were just two other attorneys and the general counsel, which meant everyone had to wear a lot of hats. She was the first woman lawyer hired by the company in the United States and began as a staff attorney.
2006–2008: Staff Attorney
During the first couple years, Warner spent a lot of time on regulatory work. Even though the Air Carrier Access Act, which prohibits discrimination against passengers with disabilities, didn't apply to international carriers until 2009, LAN started implementing it much sooner.
"I worked with the Department of Transportation and colleagues in each jurisdiction where we operate to learn all the relevant regulations, designed a training program for our personnel with direct contact to our passengers, and, with the support of the general counsel, rolled it out in every location where the company operated," she explains.
2008–2011: Corporate Counsel
Two years later, to keep up with the company's increasing reach, the legal department was divided more strategically, which was advantageous during LAN's 2010 acquisition of Aires, a passenger airline based in Colombia. "It was part of the Cueto's—the main shareholders'—vision to make LAN the top airline group in the region, which resulted in investments and associations with airlines throughout South America to expand the existing network and offer passengers new alternatives with the great service, innovation, and efficiency that LAN was known for."
"It was not my intention to make it a strictly female department. The talents and capabilities of each member of my team stood out from the very first interview, and from my point of view, it had nothing to do with their gender."
—Helen Warner
This is also when Warner started overseeing the customer service department in North America, which meant devising more proactive training programs, among other tasks, such as creating a specific, program regarding tarmac delays. "Except under very particular circumstances, an airline should not keep passengers on the tarmac for more than three hours if it's a domestic flight, or more than four hours if it's international," she explains. "Everyone on staff, from ground personnel to air crews, as well as our CCO and the internal procedures team, must understand new regulations promptly so they can implement them and ensure our continuous compliance."
2011–2014: Senior Corporate Counsel
The company added another attorney during this period, allowing Warner to take a more active role in other business aspects like corporate governance matters. "I started participating in bigger projects, such as joint business ventures," she says.
In 2011, she completed a diploma in Air Law from the International Air Transport Association (IATA). The program included courses on airline contract law, international air law for lawyers, EU air law, as well as aircraft acquisition and financing.
"The courses touched on some of our day-to-day work, and helped me bring together the acquired knowledge in a more textual or simplified form. Anything that has that ability comes in handy," she explains. "Our airline group is formed of eleven passenger and cargo air carriers from eight different countries. Each must comply with their local regulations, in addition to those of the countries where they operate, plus international treaties. Issues come up on a daily basis that require a deep understanding of a plethora of regulations and the ability to think on your feet."
The landmark event that occurred during this time was LAN's 2012 association with TAM Airlines of Brazil to form LATAM Airlines Group. "The integration process was extensive and brought a whole new set of complexities to our work, in addition to a required coexistence of diverse cultures," she explains. "A new organizational culture has been developing and as employees, we must be capable to evolve with this new entity."
2014–Present: General Counsel of North America, Caribbean, and Asia
Warner was pregnant with her second child in 2014 when LATAM's general counsel Juan Carlos Mencio was promoted to senior vice president of legal affairs. "He was my mentor and taught me much of what I know today," she says. "They had also considered hiring someone from outside the company, so I went through an interview process for the position."
She got the job in June; her son was born in August. "It was pretty hectic. I was texting the office while I was on the epidural," she says. "With my first child, I disconnected the full twelve weeks, but this time it was different. I felt the need to return earlier, driven in part by the degree of my new responsibilities, and was back in the office ten weeks later. I couldn't have done it without a very supportive and capable team."
Today, Warner oversees three other attorneys and one paralegal, all in Miami and all of them women. "It was not my intention to make it a strictly female department," she explains. "The talents and capabilities of each member of my team stood out from the very first interview, and from my point of view, it had nothing to do with their gender."
As far as the future goes, "the Cuetos have always had a clear vision of where the company is going and how big they want to be. We are currently the largest airline group in Latin America," she says. "Their goal is to become one of the top three airlines in the world." This is evident when considering that the airline is now opening fifteen to eighteen new routes per year, compared with two or five in the past. When Warner started, they had eighteen thousand employees; today, there are forty-four thousand.
The company hopes to continue to differentiate itself from its competitors in many ways, such as with its aircrafts: "We have one of the youngest fleets in the business. The average age of our aircraft is just seven years old. The group was the first to receive the Boeing 787 Dreamliner and Airbus 320neo in the Americas."
The same applies to its cargo offerings. In Miami, LATAM has the largest cargo cold storage facilities of any foreign carrier at an airport in the United States, and facilitates the storage of many different foods and perishable products. This includes pharmaceutical products, too—LATAM Cargo was the first in the Americas to receive the Center of Excellence for Independent Validators in Pharmaceutical Logistics (CEIV) certification from IATA.
"For Valentine's Day, LATAM Cargo and its affiliates have brought enough flowers from Colombia and Ecuador to cover the entire female population in the United States," she says. "LATAM has transported a large variety of cargo, including animals such as elephants, giraffes, horses, and alligators along with musical equipment for concerts, and even the Batmobile. My five-year-old daughter thinks this is the most fascinating part of my job, that and the fact that I help planes fly."