In America, success doesn't start with inherited money, family connections, or Ivy League degrees. Real success begins with knowing who you are and not letting anyone tell you otherwise.
Even in 2020, Hispanics still need to remind ourselves of this principle. There are forces out there that are intent on defining, controlling, limiting, and diminishing us. As our population and spending power have increased, so too has the resolve to cut us down to size. We can't let them.
That's the loud-and-clear moral to the story in the play Freak, an autobiographical one-man show that debuted on Broadway in 1998.
Just before the curtain falls, the audience glimpses a grainy, black-and-white photo of a man named Alberto Leguizamo. The Colombian native aspired to direct films before abandoning his studies because he lacked funds. Alberto, his wife, Luz, and their family eventually migrated to the United States where the proud man had to settle for menial jobs. Life was not easy.
Even so, Alberto never surrendered. He never gave into how society saw him. And that example inspired his son John.
The Broadway production of Freak was recorded for HBO and released in fall 1998 with Spike Lee directing. The HBO version won an Emmy for its writer and star, John Leguizamo.
It was back in 1984 that Leguizamo cut his teeth as a stand-up comic in New York City nightclubs. In 1986, he landed his first television part, a small role on Miami Vice. In 1991, Leguizamo wrote and starred in Mambo Mouth, an off-Broadway production where he played seven characters. Leguizamo later landed a meaty role in Brian De Palma's 1993 film Carlito's Way as the unforgettable "Benny Blanco from the Bronx." And in 1995, he starred as drag queen Chi-Chi Rodriguez in the movie To Wong Foo, Thanks for Everything! Julie Newmar and received a Golden Globe nomination for Best Supporting Actor. That same year, Leguizamo wrote, produced, and starred in House of Buggin', a Latino-themed variety series on Fox.
The actor also delved into the world of animation, lending his voice to the character of Sid the Sloth in five Ice Age movies beginning in 2002.
In 2011, Leguizamo opened his semiautobiographical one-man theater show Ghetto Klown on Broadway. The play tells the story of Leguizamo's career path from the comedy clubs to Hollywood.
The list never ends. It sometimes seems as if, over the past thirty-six years, the Colombian American comedian, actor, author, producer, playwright, and director has never stopped working. Or even stopped to take a lunch break.
The fifty-six-year-old Leguizamo refuses to be boxed in. He's the comedic actor who can deliver a strong dramatic performance. He's comfortable on television and film, but his first love is writing and acting for the theater. He's proud of his Hispanic ancestry, but he also appeals to the mainstream.
I first met Leguizamo in the late 1990s when he was doing Freak on Broadway. We had a mutual friend who set up lunch in lower Manhattan. A few years earlier, while we were both in our twenties, we had both presumptuously written our memoirs. In 2005, we saw each other again in Fort Worth, Texas, at the annual conference of the National Association of Hispanic Journalists, where he was on a panel. And in 2012, we bumped into each other at the Democratic National Convention in Charlotte, North Carolina, the day after former San Antonio Mayor Julián Castro gave a rousing keynote speech.
"When I'm on Broadway, I have no gatekeepers. I just have to produce the play, raise the money, and I'm free."
I've followed this man's career for decades. His material is brave, fresh, and smart. A lot of comedians make you laugh. Not many make you think.
Leguizamo does. He is always tackling new challenges, and he never runs out of ideas. I asked him where all those ideas come from.
"Well, it's always like what's in the zeitgeists and a little bit of what's going on in my life," he said. "And kind of like what I want to try to do where I try to push art and storytelling further than anybody else has."
It's rare to find actors that are equally good doing comedy or drama. I asked Leguizamo if he had a preference.
"I love the challenge of comedy because comedy is very unforgiving," he said. "So, when you succeed at comedy, it's like you overcame a big challenge. But drama, it's kind of more satisfying in some ways because you just get to use all sides of yourself, go really deep, and it's about really being in the moment."
I also wondered whether, looking back on his long career, he could pick out the roles and projects of which he's most proud.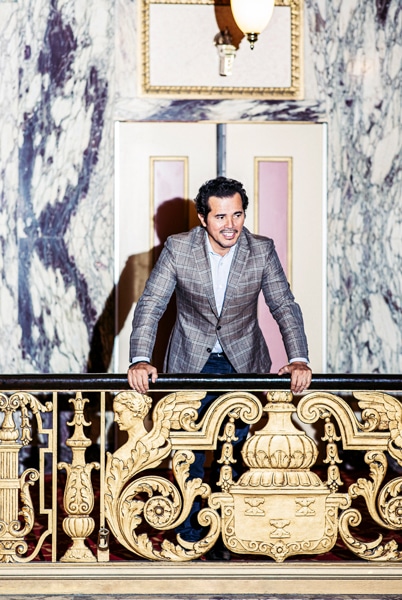 "It's got to be the theater," he said. "I mean, when I did Spic-O-Rama, and I played all the family members of this dysfunctional Latin family, and then all of a sudden I see Eddie Murphy doing The Nutty Professor playing all the members in his family right after, I know I had an influence in American comedy. I was very proud of that."
What about the dramas?
"I got to say Summer of Sam was really important," he said. "I just feel like working with Spike Lee was a highlight of my life. He is an actor's director, and I learned so much. There are no boundaries in film acting. You can go anywhere, and if you have the right director who trusts you and creates a safe environment, you can do anything. You're superhuman almost."
And what about the challenge of navigating across different mediums—from television to film to stage? What's his favorite way to tell a story?
"Well, I mean, there's a beauty to stage," he insisted. "And the challenge of stage is that you got to know what you're doing. You got to have real technique, and you got to have really studied. Otherwise theater, the stage will beat you up into a pulp and spit you out."
He went on to complete the thought.
"I mean, film is easier than stage, much easier," he said. "So that's what I like about film because I like the easy sometimes. I love the stage because it's hard. It's really hard, man. You've got to really be present, and there's no hiding. There's no editing. Nobody's going to fix your performance. It is what it is, and you better have real chops, and you better really deliver."
Leguizamo more than delivered in his most recent stage performance on Broadway. Debuting in 2017, Latin History for Morons is about several things: from a father trying to inject his son with self-esteem thanks to ethnic pride to the failure of our education system in teaching us all about the historical contributions of Latinos. The show is featured on Netflix.
And while you're on that streaming service, you can also check out the original 2019 miniseries When They See Us, in which Leguizamo plays the father of one of the Central Park Five—otherwise known as the five young men wrongly convicted of rape in New York in 1990.
"Last year, Latinx people were 3 percent of the faces in front of the camera and behind the camera. That's abhorrent. That's wrong."
Recently, the actor/comedian added another title to his résumé: director. Leguizamo became interested in the true story of five inner city high school students from Miami—four Latino/a and one African American—who won the US National Chess Championship in 1998. He envisioned a movie blossoming from the story, but white executives in Hollywood couldn't see it.
"When I went around pitching it to the studios, they were like, 'Well, Latin people don't want to see feel good movies.' I was like, 'What?' We want to be depressed? I mean, it's just ridiculous. I raised the money anyway. . . . It's just they don't understand. They don't get our stories. They can't relate."
What did finally emerge was the film Critical Thinking, which Leguizamo directed and stars in.
As for how Leguizamo feels about the "brownout" in Hollywood, where mostly white executives spend their days shooting down movie ideas aimed at America's largest minority— a group that, each year, purchases more than their share of movie tickets—well, don't get him started.
"I've been pitching movie scripts for thirty years, and I always got rejected," he said. "I started to think, 'Oh, my writing must suck. I can't sell anything.' And then I started to realize, no, it's not my writing. It's the subject matter. I'm writing about Latin stories and Latin people, and the Hollywood execs and the network execs don't get it. The gatekeepers are not us—they're the ones who decide whether our stories are valid or not. And they don't see it."
The result is what Leguizamo calls "cultural apartheid" in an industry that, ironically, sees itself as progressive and enlightened. Numbers don't lie.
"Last year, Latinx people were 3 percent of the faces in front of the camera and behind the camera," he said. "That's abhorrent. That's wrong."
Luckily, Leguizamo found salvation under the neon lights.
"When I'm on Broadway, I have no gatekeepers," he said. "I just have to produce the play, raise the money, and I'm free."
Next up for the artist? Perhaps another trip to Broadway—but with a much different vehicle this time.
"Now I'm writing a couple of musicals," he said. "I was inspired by Lin-Manuel [Miranda]."
Or maybe bringing to the screen a Hispanic superhero. Leguizamo created a comic book figure named PhenomX that he'd like to turn into an action figure. He is using a crowdsourcing site to raise the money to produce it.
"I was trying to use all the things that I saw growing up in the 'hood' and all of these horrible toxic factories and conduits spewing out venom, and everybody getting asthma and all kinds of respiratory diseases," he said. "So, I thought, 'What if all this horrible stuff that was happening to us was actually making us stronger?'"
When he is not busy creating, Leguizamo is also a businessman.
Case in point: he is a cofounder and partner in NGL Collective, an intriguing digital new media company headquartered in New York that produces cutting-edge video to help clients and advertisers reach the US Hispanic market. As a generator of video content on multiple platforms—and one that's currently poised to expand into audio products—NGL (or New Generation Latino) has been up and running for about ten years.
Though the company has evolved a great deal over the course of that decade—early on using Leguizamo's fervor for the eclecticism of Latin culture as its fuel—NGL's focus has kept steady on spotlighting the Hispanic American experience. Ultimately, NGL works from the assumption that anyone with something to sell has to go out and find the market, as opposed to simply waiting for the market to find them.
Today, NGL remains an extension of Leguizamo's greater mission as a forward-thinking actor, comedian, and playwright. He takes great pride in having helped conceive the company, particularly now as it becomes more and more realized as a force in media.
As a Generation Xer, Leguizamo has been in the game for a long time, nearly four decades. In the entertainment business, that's a lifetime. With the gray hair to prove it, the "Ghetto Klown" is a veterano now. He's been working nonstop since Ronald Reagan was in the White House, and he's put some points on the board.
"There are no boundaries in film acting. You can go anywhere, and if you have the right director who trusts you and creates a safe environment, you can do anything. You're superhuman almost."
Of course, movie posters and souvenir playbills don't tell the whole story. Leguizamo has also been knocked down more times than you can count. But like his old man, he always gets back up and never lets someone else define him, limit him, or hold him down. That's worthy of respect.
Leguizamo credits those who came before him . . . like, way before him.
"Look at it, we were almost genocided in the 1500s," he noted. "Ninety-five percent of all native peoples, the Incas, Aztecs were genocided. Only 5 percent survived, and we're still here and thriving. And we're still dancing and we're still singing and we're still doing poetry and we're still going. It's crazy. We're unstoppable."
I responded: "Look at your longevity, man. You're unstoppable."
"Thank God for my ancestors," he said. "We get it from them."
I'll buy it. Latinos don't live perfect lives. We struggle. We fight. We suffer fools, and we put up with racism and ignorance. We get knocked down.
But damn if we don't pull ourselves up and get back to work. We're tougher than anything life throws at us. We overcome adversity.
John Leguizamo is right. Being bad ass is our superpower.
---
On The Impact of NGL Collective
"NGL Collective is a company that I helped to create and grow with the intention of having an impact on the Latinx media and entertainment landscape and providing opportunities for our community to change its narrative. My hope is that NGL will go down as being remembered as groundbreakers and pioneers in creating a path for the multitude of Latinx talent hungry to be seen." —John Leguizamo