As leadership qualities go, intelligence is overrated. I am often reminded (by my wife, who was born in Mexico and went on to become a Montessori teacher and language therapist) that the ability to explain things so that others understand them is the real gift.
I got a gift recently. It's not every day that one storyteller gets the chance to interview another. And it's really out of the ordinary when the storyteller fielding the questions is, at his day job, the leader of a global technology company.
The reason that stereotypes endure over time is that there is often a shot glass full of truth in them—usually the uncomfortable kind—and the stereotype of tech leaders is that they are, for all their talents, not especially good communicators. They are known to be intensely focused on the task at hand, but perhaps not worldly; not especially curious, rather more task-oriented and solutions-driven; and not artistic or creative, but more often linear in their thinking. They know a lot, but, since they live in their own heads, they can't explain much.
Antonio Neri is a pleasant surprise. The fifty-two-year-old president and CEO of Hewlett-Packard Enterprise (HPE) is an exception to every one of those rules.
In a stimulating and wide-ranging conversation, Neri shared with me his life story, insights, management style, and world view.
"I was born in Argentina, a son of two immigrants—two Sicilian immigrants—that moved there in the late '50s," he said. "But the reality is that I grew up between Argentina and Italy since my parents went back and forth between the two countries."
I was curious about the similarities between the two countries—and the differences. I asked him to reflect upon that.
As to the similarities, Neri said, there is plenty that unites the two worlds. "For a time, there were millions of Italians living in Argentina," he said. "The two cultures are very well aligned in terms of lifestyle and whatnot."
And as for the differences, he acknowledged, there are ways to tell Italians and Argentinians apart.
"I would say the Italians obviously have a higher sense of appreciation for life and appreciation for long-term future," he noted. "Argentinians tend to live more by the day in many ways, but they still try to enjoy life. Italians are way more ambitious than Argentinians. But I would say that both countries love each other because there is big connection between the two."
It's fitting that the first Hispanic president and CEO in the history of HPE should have enjoyed such an international upbringing. Neri is the epitome of a global citizen. As evidence of that, he speaks four languages: Dutch, English, Spanish, and Italian.
"We grew up as an Italian family—in Argentina," he recalled. "My family never took anything for granted, and we all worked hard. Those were the values of my dad, who passed away. My mom is still alive. Because of that, and because of my curiosity, I started my career early on."
At thirteen, Neri was an apprentice at a military base. By fifteen, he was studying and working at the same time. He worked his way through high school in a shipyard, repairing radar and sonar for Argentina's Navy which would, in 1982, become embroiled in a territorial skirmish with Great Britain known as the Falklands War.
The tech leader has a lot to say about many things, and he says it with an engaging cadence that lures in the listener. He knows how to weave a good yarn.
"One of the things I think I do pretty well is tell stories—and deliver the story in a way that people can connect to," he said.
For example, he said, it's one thing to say that a computer system has the ability to process large amounts of data in the blink of an eye. People may not care about that. It's another to explain that, by doing so, that system could lead more quickly to a cure for Alzheimer's. People will care about that.
Neri draws pictures. Literally. He sketches and paints, and—when he's not running a massive global company—he teaches classes in both.
"I love art," he said. "It's the balance of the brain in many ways. The core principle is that we should never stop learning, maintaining a high sense of curiosity, developing hands-on experience always. I'm a very analytical person who has an eye for design, and creativity is a part of my aspiration."
For Neri, business, technology, and art are not separate and competing with one another. They are all weaved together.
"When you are an apprentice, you're learning and working at the same time," he said. "That's not just theory but also being pragmatic and practical about things. Those have always been the principles I follow, and it has become ingrained in everything I do. I never stop learning, that's for sure. The day I stop learning or have less desire for curiosity I will stop working because physically I will not be motivated."
I believe a company's CEO should be at least as interesting as the company and its products. At this point in our talk, I'm thinking: so far, so good.
Neri and Hewlett-Packard discovered one another in 1995. Having left Argentina for Europe a few years earlier, he took a job in Amsterdam as a call center agent for Hewlett-Packard, where he provided support to customers who called in with questions or problems.
As the years passed, Neri stayed at Hewlett-Packard and snagged one promotion after another. In 1997, he relocated to Boise, Idaho, to serve as global director of the company's division of imaging and printing services. In 2004, it was off to Houston where he worked for Hewlett-Packard's PC services business. In 2011, he took over technology services.
In 2015, after a couple of decades of climbing up through the ranks, Neri was well positioned when Hewlett-Packard split in two. Suddenly, there was Hewlett-Packard Enterprise (HPE) and HP Inc.
He was quickly named executive vice president and general manager of HPE's business division, known as Enterprise Group, where he focused his efforts on research, marketing strategy, and product development. He also wanted to increase the company's diversity—with regard to gender, race, and ethnicity.
And in 2018, Neri became the company's president and CEO, succeeding Meg Whitman, who founded eBay and ran unsuccessfully for California governor.
"One of the things I think I do pretty well is tell stories—and deliver the story in a way that people can connect to."
Since taking the helm, he has earned kudos for championing innovation, increasing efficiency, spearheading new technologies, and—not surprisingly—strengthening the company's international footprint.
When I asked how he navigates all his duties, priorities, and goals, Neri brought the conversation back to the one thing that should be the focus of any business.
"The number one principle is to always focus on the customer," he said. "The customer is your North Star. Never forget that. We exist because of our customers: getting through to their needs, understanding their needs, and finding out how we can address those needs in a different sort of way."
What else?
"Obviously, the second priority is all about innovation," he went on. "For us, we are a technology-driven company that delivers solutions for this new digital world we live in every day. We need the best innovation. Innovation requires creativity, requires ingenuity, and requires passion. I have always said innovation doesn't happen just in the technology side but also in the business model side."
Neri makes it a point to confront his doubts.
"I always question myself, asking, 'Will that innovation deliver the value to our customers?' and 'Will people be willing to pay for it?" he said.
I wondered aloud how he would define his business philosophy.
"Our customers and our partners—all the sale partners—play a big role," he said. "Our innovation and our culture are also very important. You need the best team around you. You can't do this by yourself and that's why having the right talent around you—and then obviously a strong bench below them that is empowered and accountable to deliver against the commitments—is what it all takes. You need a clear purpose, vision, and strategy with a set of metrics and rewards that allows you to execute against those principles. And, obviously, you have to make the right bets."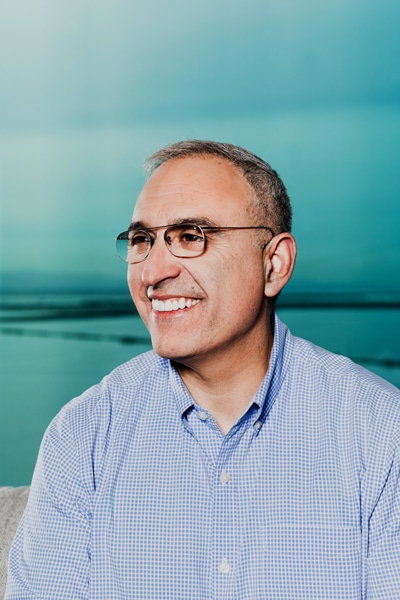 You could say that Neri's biggest bet is that he has the leadership skills to take HPE to the next level as a global powerhouse. Come to think of it, the word "leadership" comes up often in our discussion.
For instance, I asked how the head of a company decides whether to stay the course or try a new path. He responded: "At the core of that is leadership. This is all about leadership."
It's also clear that Neri is a globalist, in the best sense of the word. And he knows it. When I asked him to name his biggest strength, he didn't hesitate before firing off an answer.
"I think my biggest strength is a global view," he said. "I'm a global citizen. I was born in Argentina and I grew up between Italy and Argentina. I've lived in many countries. I work with a very diverse set of people and leaders. I understand different cultures and different needs—this is a strength. Obviously speaking four languages is another strength."
You get the sense that a person like this could work in any sector of the US economy and still be successful. Yet, Neri seems to be exactly where he is supposed to be.
"I've always been a technologist," he said. "I love technology. Technology solves customer and community problems. Our purpose as a company is to advance the way people live and work. Everything we do has to be aligned to that. Technology is good in solving those problems and delivering business outcomes."
Neri also recognizes those areas where he needs to improve his performance.
"I had to train myself to become a business leader that uses problem-solving strength and then translates that strength from a technology perspective to a business-outcome perspective," he said.
I get it. Imagine if you could apply the best principles of technology to help you run a business more efficiently. You might think that tech companies have always been run this way. You'd be wrong.
Of course, managing people is an art form of its own. Not everyone can do it effectively. And, it's been my experience that, oftentimes, really smart people make for really bad managers.
"You need to understand the psychology of people," he said. "Ultimately you get the people to do what you want by giving them a clear vision, creating excitement around that vision, creating a framework for people to operate, executing against that, and rewarding them."
Finally, I asked, what, if anything, keeps him up at night? What one thing does he find most challenging about his job?
"I've always said every business is an IT business today," he said. "We live in a digital economy. This means, obviously, that we have got to continue to accelerate our execution. That's the biggest challenge. The pace of technology innovation and business-mode innovation continues to move at lightning speed. So, for us, the biggest challenge is to accelerate, accelerate everything we do in our execution. This is where a sense of urgency matters, where focus really matters. For me, it's a challenge but I also think it's an opportunity for us. Those who can move faster will win. That's why, in a marketing campaign, we said, 'The future belongs to the fast.'"
Like an Argentinian driver racing around the track in an Italian sports car, Antonio Neri has been moving pretty fast over the last few decades. And he shows no signs of slowing down.
---
On Being an 'Insider' CEO
"In choosing a CEO, the board decided to, after almost eighteen years, go back to an insider versus an outsider. The last inside CEO was Lew Platt, who retired at the end of 2000 beginning of 2001 when Carly Fiorina came onboard. Between 2002 and early 2018 we have had outsiders. Ultimately, the board decided that we need someone who understands the technology space much more deeply and the culture of the company. And that's why they decided to go with me. Having that DNA is important. For me, it's a huge responsibility but a great honor."—Antonio Neri