"Arrimate al árbol que te de sombra." That's what Janeth Medina Larios's father told her in 2009 when she left Bakersfield, California, for Mills College, where she would be both a first-generation university student and a DACA recipient. "It translates to 'Seek the tree with the most shade,'" says Larios. "This symbolizes mentorship and sponsorship for me, and it has never failed me in my journey."
She shared the same quote with a room full of Bay Area leaders in 2013 as she accepted the Financial Women of San Francisco's annual scholarship. It didn't fail her then either: a member of Bank of the West (BOTW) leadership heard her speech and offered Larios a mentored position as an analyst in corporate security as she finished her four-plus-one, a BA and MBA. She accepted and has been with the financial institute ever since.
Larios says that while she's the first person in her family to receive a college degree, one of her biggest inspirations is her father, whose formal education ended in elementary school. He immigrated to the US as an adult—leaving behind a business in Mexico—and started his life in California picking fruits and vegetables. Today, he's foreman of hundreds of acres of farmland in the Central Valley.
"He knows everyone in the Central Valley," Larios says with a laugh. "Wherever I go, people give me oranges and grapes." It is this entrepreneurial spirit, with a special emphasis on building relationships and bringing together resources, that serves as an example to Larios.
In her six years with Bank of the West, spurred by a constant drive to learn and foster relationships, Larios has held a variety of positions. As vice president within BOTW's corporate social responsibility group, she's a part of several internal initiatives to fulfill a corporate responsibility promise.
In October 2019, she launched into a year as a community ambassador for BOTW. Assigned to Earth Island Institute (EII), a nonprofit environmental group founded by David Brower in 1982, Larios has been putting her relationship-building skills to use. "I am responsible for driving community and development strategies for EII," Larios says. "The role aligns my passion for giving back with the skill set I have developed in the last six years at the bank."
"The more you move up the ladder, the fewer people you see that look like you."
Earth Island Institute is a fiscal sponsor for over eighty projects and is a hub for grassroots campaigns dedicated to conservation, preservation, and restoration of the environment. In her work with the organization, Larios applies her professional expertise, supporting an expansion in revenue and funder bases as well as revamping donor strategies. The project has also given her the opportunity to assess her own adaptability to a change in environment.
The constraints of only having one year to work, she says, enhances her intentionality around growth: "I'm getting to connections faster and am more proactive about understanding priorities." She's also excited that the position is allowing her to develop more transferable skills.
The nonprofit world is not new to Larios. She has been on boards of several organizations, including the Financial Women of San Francisco, for the past five years. "I'm lucky to have a lens into this world," she says. When Larios discovered she loved finance, she thought going to business school would make her an asset to her family. She now helps many members of the Latinx community by developing supportive programing and, of course, developing relationships that bring people and knowledge together.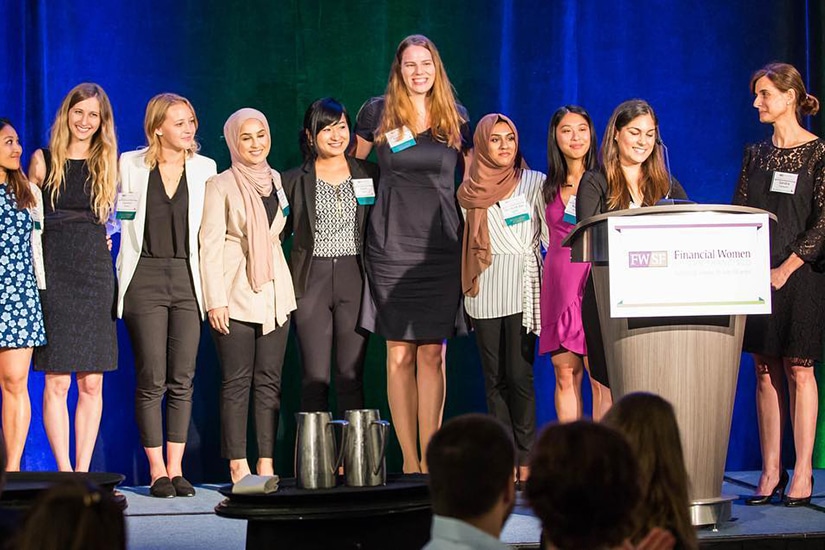 She's also a former president of Latinos in Finance, an organization with Bank of the West sponsorship that aims to diversify the employment pipeline through collective knowledge sharing and grassroots access to opportunities. "The more you move up the ladder, the fewer people you see that look like you," Larios says. She seeks to support Latinx professionals through increasing access to Latinx leaders and addressing collective concerns. "Group-led education is the fastest way to bridge gaps," she explains.
Keenly aware of how being a DACA recipient affected many of her choices, Larios now wants to give back to her community. For example, she had very little guidance when she was applying to colleges and would like to help others facing the same issue. She sees other problems to address as well, specifically around women's empowerment and the unequal allocation of philanthropic dollars.
In her corporate strategies work at BOTW, Larios has had a chance to use her skills in making connections and identifying synergies that break down barriers to business cooperation and advancement. She has also grown the bank's Hispanic resource group at a national level with the intention of promoting a positive culture. Larios helped revamp strategies for this group and developed partnerships with Latinx organizations. She reports focused and well-received leadership development trainings across the bank's entire footprint in her national chair role. She is also proud to say she brought Rosie Rios, the forty-third treasurer of the United States, to speak.
When her year as community ambassador with Earth Island Institute ends, Larios will return to a role inside BOTW. For the moment, she says, she enjoys a great deal of autonomy in her work with EII, which has not only increased her confidence but also helped her respond more proactively in any situation. Both those skills will serve her well in the future at Bank of the West, whatever her next role might entail.
---
Related Links