To many who know him today, Andres Idarraga has a story that begins in a six-by-nine cell in a Rhode Island prison. The TEDx speaker and social entrepreneur is renowned throughout academic and business circles for having attended both Brown University and Yale Law School after spending six and a half years in prison. But the story behind that journey—and the story that inspired Idarraga to establish his social impact company, Creci—starts decades ago, before Idarraga even arrived in the United States in the 1980s.
"My father crossed the Rio Grande River, undocumented, and became a textile factory worker in Massachusetts," Idarraga recalls. "When President Reagan put in place policies that legalized his status, he was so happy—he came from a very poor area in Colombia and had had little to no schooling, so he knew that this was his chance at the American Dream."
Idarraga, his brother, and his mother were soon able to join Idarraga's father in the United States. But they ended up in a small Rhode Island town that was far closer to their home in Colombia than the American life they had imagined. At the time, Idarraga explains, 35 percent of Latinos in Central Falls, Rhode Island, lived under the poverty line. The town itself at the time served as a major crossroads in the drug trade.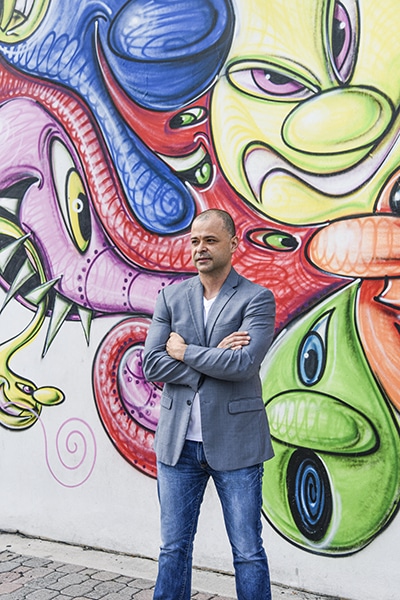 "It really cut our teeth, growing up there. And then I received a scholarship to attend a prestigious prep school and was exposed for the first time to a level of wealth I had never seen before," Idarraga says. "That opened my eyes to the reality that America is very much an unequal society."
Resentful of that inequity, Idarraga retreated into his neighborhood, dropped out of his school, and eventually resorted to dealing drugs. He was arrested when he was just twenty years old.
But Idarraga had a lot of time in prison. He had time to reflect, time to put in the studying that would within a few years propel him to the halls of Ivy League schools—and he had plenty of time to watch television shows and documentaries.
"There was a show about undocumented people crossing the border to this country," Idarraga recalls. "There was a young man who kept trying to swim across the river, but the river was strong and turbulent and he was losing strength. He got weaker and weaker, and I could almost hear him thinking, 'God, if you let me pass to the other side, I will work as hard as needed to provide a better life for myself and for my family. I will work hard to make my life into one that has meaning for myself and others.'
"And that made me think about the sacrifices my own family had made to come to this country," Idarraga continues. "It made me think about how, despite all they had sacrificed, I ended up in a maximum security prison. And I was furious at myself that I hadn't done more with my life up to that point."
Today, there are few who would argue that Idarraga hasn't brought a profound sense of meaning to both his life and the lives of others. As cofounder and CEO of Creci, a credit platform that works exclusively with businesses that empower individuals, support communities, and protect the environment, Idarraga strives to "fulfill the potential" of communities like the one he grew up in.
"My goal is to empower people of all social classes, to help them get the necessary tools to better themselves as well as their communities," he explains. "Creci works with small businesses dedicated to making a social impact, which we define as any activity that meets the United Nations' sustainable development goals for poverty alleviation, climate issues, water recycling and access, infrastructure issues, and more."
Creci's platform includes an online tool that provides a statistical breakdown of the social impact of each business it works with, Idarraga says. "Investors and potential investors want to see how their money is being put to use," he notes.
But all investing, including investments made for a good cause, come with a certain degree of risk, Idarraga says. "We try to minimize risk while driving a great return, and to do that, we have to be able to measure risk appropriately," he says. "That's why we're so excited to have formed a partnership with Provenir, a company known for its leading-edge risk assessment."
Together, Provenir and Creci's own in-house teams represent an "all-star team," Idarraga says, a team more than capable of helping him fulfill his dream of minimizing economic disparity around the globe.
"Small businesses are a lifeline for communities," Idarraga explains. "They are a safety net for inclusiveness and are a counter to all the increasing inequality we are seeing, whether that's in Colombia or Brazil or the United States.
"But after the explosion of small businesses started during the baby boomer era, the rate at which those businesses are established has been trending downward," the CEO continues. "It is my hope that by financially supporting these companies, we can not only help small businesses make an impact in local communities but also bring back the incredible economic mobility that marked that era."
---
Provenir's powerful risk decisioning platform empowers businesses to stay ahead of risk, get to market faster, and drive business growth. With powerful data tools, a low-code interface, and zero vendor reliance, you'll gain the speed, agility and flexibility to get ahead in today's competitive market. Visit Provenir.com to learn more.