It's 6 a.m. on Monday morning. Borja Manchado walks down the hall to his sons' bedroom. They are fast asleep and need to get up and get ready for school. He coaxes them out of bed—and between trying to convince his four-year-old, Pablo, to eat his breakfast and dressing his eight-year-old, Juan, and driving him to elementary school, it's chaos before the workday even begins. After dropping Pablo at preschool, Manchado heads to the Four Seasons Miami on Brickell Avenue, where he begins his day as hotel manager.
At 7:30, Manchado sneaks in from the kitchen to chat with the restaurant staff and grab a quick Cuban-style cafecito. Today is an especially busy day with 450 guests checked in. Each day, he takes a different entrance in order to make sure every nook and cranny of the 221-guestroom hotel is immaculate, like a well-operating beehive. He makes a quick sweep through the back-of-house before checking on this morning's arrivals and stopping at
his office.
By 8:30, the department heads trickle into the conference hall for the morning briefing. Manchado polls them to get a snapshot of how the weekend went and briefs them on the week ahead. There's going to be a conference all week and an outdoor banquet facing the lush palm grove on-site.
By 9:00, the rest of the employees arrive. Manchado speaks individually with various members of the team, from housekeeping to security, ensuring they are motivated and ready for the week ahead. The hotel is in charge of the entire building, which is the tallest in the state of Florida. "Basically, we are the guardians of the building," Manchado says. "Even though there are other tenants in the 64-story tower, we manage it entirely."
At 10:30, Manchado is inspecting a premier one-bedroom suite for a VIP guest. He adds an extra mini bar and sets the temperature at the requested 22 degrees Celsius. "We are really meticulous to make sure we personalize the guest experience," he says.
He takes a peek out the window for a few seconds. The room overlooks other reflective high-rises and sailboats floating on the rolling waves of Biscayne Bay. It's times like these that Manchado gets to reconnect with himself before heading to the lobby to meet guests.
Some of the guests have already checked in using a new mobile check-in feature for the recently launched Four Season Mobile App. Manchado makes sure these rooms are ready to go so that the guests can go straight to their rooms. He also personally greets VIP clients before doing a walk-through of each floor.
While locals that live and work in the neighborhood are filtering in for lunch at the hotel restaurant EDGE Steak & Bar, Manchado takes some time for himself at the hotel's 50,000-square-foot fitness facility, an Equinox, which is open to the public. He normally runs for 30 minutes on the treadmill. Other guests like to take some of the 100 weekly classes—options ranging from Zumba to Tabata.
Recharged and energized, Manchado zips down to the restaurant for a farm-to-table creation from Chef Aaron Brooks. Here, locals mingle with guests and business leaders for a diverse dining experience. Brooks specializes in modern steakhouse fare, with dishes like crisp mahi-mahi fish and chips and a seven-ounce butcher's cut filet. "The restaurant team has accomplished a lot," Manchado says. "They invest a lot of time and effort searching for the right products, making connections with the best seafood producers and partnering with local fruit and vegetable suppliers. Chef sources the best products, enhances the flavors, and creates high quality and approachable cuisine. That, combined with being on the seventh floor of the hotel, makes for a great dining experience." Manchado tries to go to one of the two restaurants at least a few times a week. Other days, he's eating chef-created meals in the staff dining room.
After lunch, Manchado strolls around the perimeter to make sure the two pools look pristine and inviting. When he first started in January 2015, Manchado was living in the hotel and would take advantage of the pool. "I would do laps before starting my day," he says.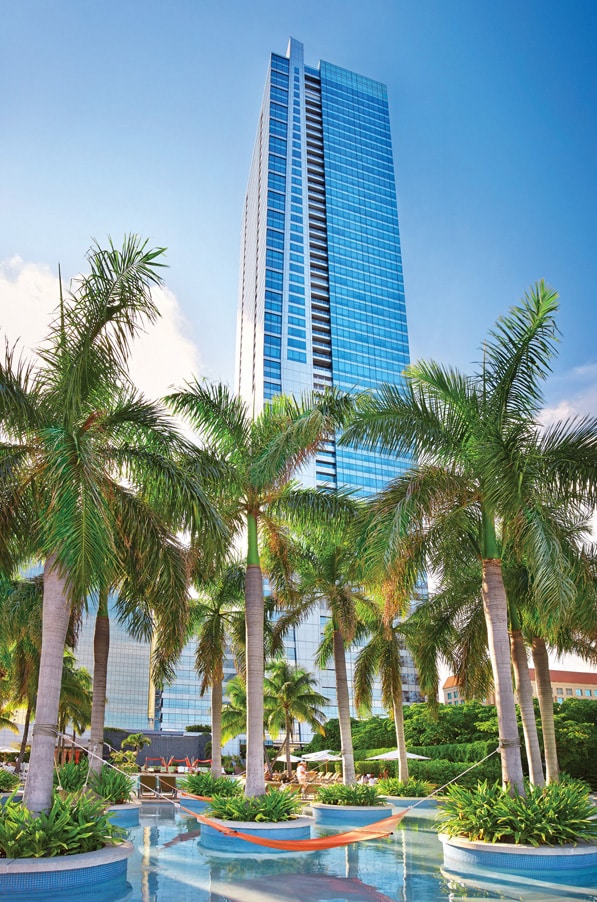 "It was the favorite part of  my morning. Palm trees were all around as I glided through the water, then I'd look up and see the amazing Four Seasons Tower shimmering in the morning sunlight."
It's about 3 p.m. now, and Manchado stops at the 450-capacity outdoor banquet area. There's a networking event happening that evening, and staffers are setting up pop-up bars. The venue has also been popular lately for weddings and reunions. From there, he heads to the ballroom before a weekly meeting with the engineering director to go over the maintenance of the 84 residential units at the hotel.
Manchado speaks individually with each department head in operations in weekly meetings. Today, it's the purchasing director. Manchado listens to her for new-product pitches that will aid the guest experience. The latest addition is an in-house Tesla automobile available on weekdays to take business guests to Brickell meeting destinations—or anywhere within a five-mile radius.
At 6:30 p.m., Manchado heads down to the EDGE Terrace for a happy hour cocktail with some of the guests. The sun disappears from the horizon and lowers into the bay. After a long day's work, Manchado heads to his car, turns on the local radio station, and drives home. "It goes from classic jazz to Latin. It's always my call to go home."
Manchado pulls into his driveway at 8:30 p.m. He creaks open his sons' bedroom door to say goodnight. "When they go to sleep, it's very peaceful," he says. "It's my time to catch up with my wife. I also try to catch up with the news, do some reading if I'm in the middle of a nice book, or maybe read some Spanish news on my iPad. I always look at my email to make sure that things are fine at the hotel and to prepare for the next day."
It's 11:00 p.m. The lights are out, and Manchado rests up for another tomorrow.