"Education is the one thing they can't take away," say many of the wise Latinos who still carry the wounds of economic breakdown and authoritarianism. At the start of this year, when I wrote this letter, hundreds of thousands of Americans were laid off from their jobs and my LinkedIn feed filled with "open to work" posts, and I could just hear our tios and abuelitas telling their affected loved ones, "at least you have a college degree."
Much of my own education as a Latina was about the degrees, the awards, and "catching up" to my peers. I've worn my education as a protective armor and proof that I earned my seat at the table.
But this fear-based approach downplays the risks of putting all of our eggs in the basket of traditional education: the crippling student loan debt, the opportunity cost of not working, the sunk costs of career changes, and the technological advances making more and more careers less profitable or altogether obsolete.
This is not to diminish the role of education in Latino prosperity, or to advise against pursuing an education. It is simply a reminder that education is not fool-proof. That it is not the degrees that keep us safe, but rather our ability to learn new things, constantly.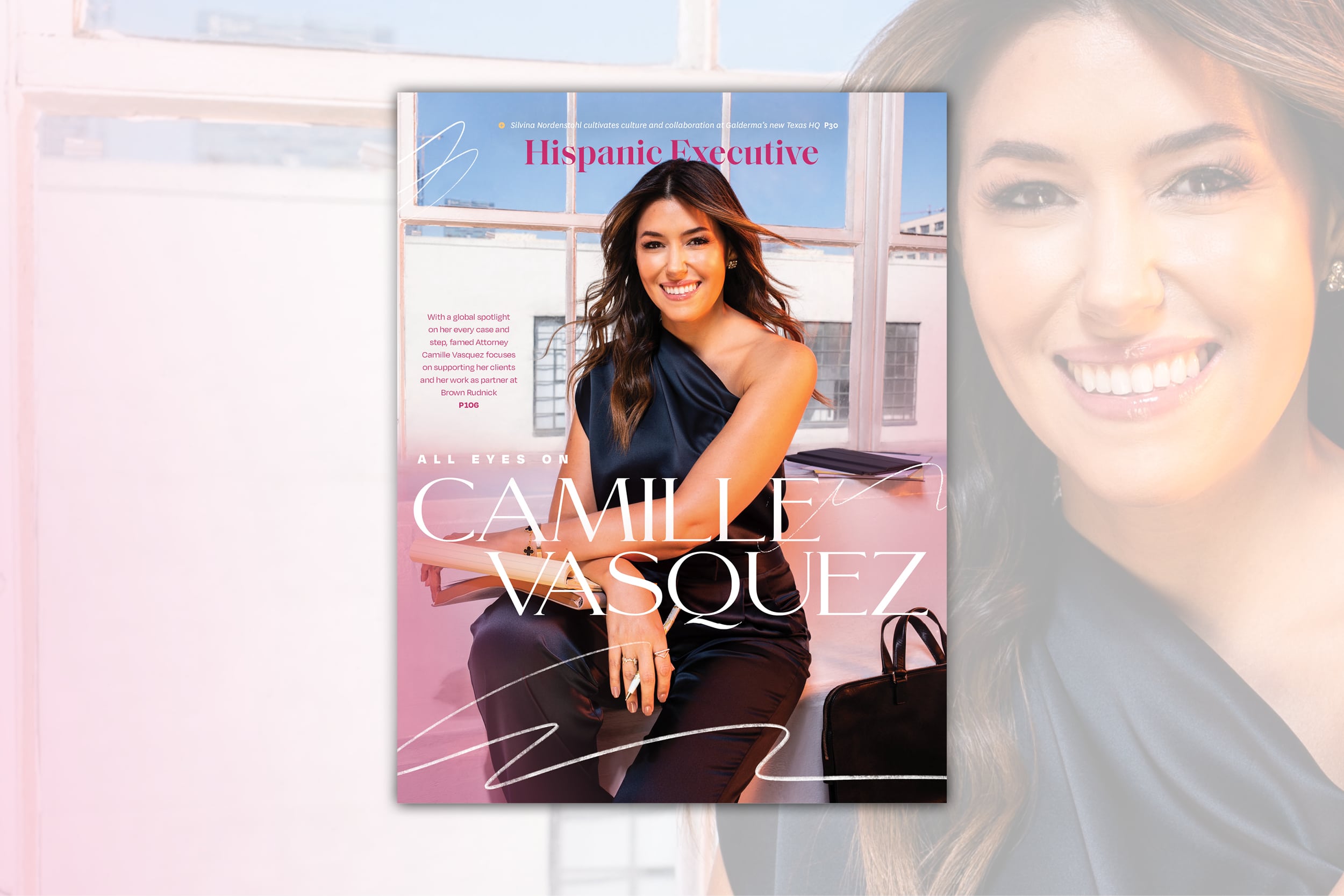 In the Lifelong Learning issue, we invite you to reflect with us on the true value of an education and to reimagine its future. Matthew Whitworth-Howe from L'Oréal USA Professional shines a light on the first collegiate degree program for beauty professionals and challenges the stigma that beauty is a less noble vocation.
After finding himself with an overwhelming $100,000 dollars in student loan debt, Chipper Founder and CEO Tony Aguilar launched a loan management application to help graduates manage and "chip away" at their debt.
And, as chief legal counsel at UC Riverside Lorena Peñaloza reminds us that universities are microcosms of America and that advocating for policies that opens doors for more Latino and Chicano students and administrators at these institutions can have ripple effects on society at large.
And this brings me to our cover star: Brown Rudnick Partner Camille Vasquez, one of the most recognizable Latina attorneys as of late. While she touches on her unexpected fame after her impressive litigation in the viral Depp v. Heard trial, Vasquez also opens up about moving back home with her parents after college and the financial constraints that marked the early days of her career.
Yes, she is comfortable in the global spotlight today, but she is not the Harvard or Yale graduate the media comes to expect when they meet an outstanding Latina. In her own words, she tells us, "I was able to accomplish something on a national stage when people might have not thought of me as the first choice for the job."
Her ability and willingness to learn new things is most evident in her being a "student of style and communication" who studies and emulates others and which, no doubt, helped her land her latest gig (at the time of this writing at the start of 2023) as legal analyst for NBC News.
And her ascent is an excellent case study in how our education may get us the job, but it's up to us to seize the opportunity and spin it into gold. It's why I'm personally excited to see the world, not just America, embrace a Latina in all her glory. For who she is on and off the courtroom. For being not just educated but also interesting.
So, I propose an update to the old adage, one for the modern era that we can pass down in our own families: the one thing they can't take away is our ability to learn something new.
---
---