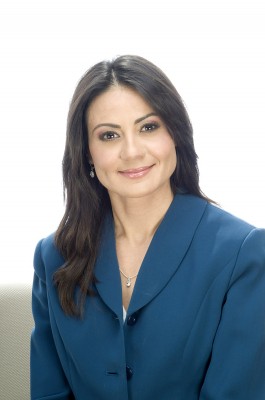 How did you two first meet?
Freyre: After working in private practice for over 20 years, I came to Nielsen in 2005, right in the middle of an intense controversy regarding the company's rollout of electronic measurement to local markets. Susan Whiting was Nielsen's CEO at the time, and she in fact was one of my greatest mentors. One day, she called me up and told me that they needed me, and I didn't think twice. I was part of the government-affairs team that was constantly traveling to Washington and preparing our presentations to Congress. It was on that team that Monica and I began working together. It was interesting because at the time, we were the only two [Latinas] on Nielsen's senior management team.
Can you explain the importance of a mentoring relationship within your profession?
Gil: It's critical, no matter what point you are in your career, to have someone to help you navigate through corporate circles. But, more importantly, someone who will lead by example, teach you to give from your heart, and earn what you seek, who will be honest about their success and failures, who will inspire you, who knows how to be humble, and who will tell you the truth even when it's hard.
Executive Timelines
The career of Monica Gil

2001  
Serves as advisor and personal assistant to then-candidate for Los Angeles mayor, Antonio Villaraigosa
2004
Accepts position of senior vice president at political advertising firm Greer, Margolis, Mitchell and Burns 
2008
Earns promotion to senior vice president of public and government affairs for Nielsen

The career of Angelina Mariana Freyre
1981  
Establishes an American law program at the Université de Paris
1995
Accepts position at Coudert Brothers LLP law firm
2011
Receives a presidential appointment as SVP and general counsel of The Export-Import Bank of the United States
Freyre: If you don't have role models, you don't know how to behave. If you have a role model, you will know how to do things.
Is it important to find a mentor of the same gender?
Freyre: Having a role model of the same gender is extremely important. Gender still matters and women mentoring other women is essential. Mentoring is about having respect for one another both personally and professionally. As far as finding a mentor of the same heritage, I also think this is very important. We have to watch out for our own. It's the only way we will get ahead and change the diversity equation. Yet, at the same time, you must know how to operate in the greater society and know the dynamics of other people and their differing backgrounds. Ultimately, there is nothing more important than competence.
Gil: There is no better time to be a Latino than right now. The face of America is changing. Working with one another and sharing our collective insights is so important.
The relationship you have forged together in both your professional and personal worlds is one to be admired. Tell me a little bit about how it has impacted your career and private life.
Gil: Angela "Manana" Freyre has been instrumental at so many levels. She is phenomenal and has changed the course of my career in ways that I never even knew were possible … Angela has demonstrated how to help another person in need and reminds me that I am the architect of my own destiny. She has reenergized me at moments when I saw things in one dimension. There are those people in your career that you remember, but sponsors and in my case, Angela is someone who will be part of my growth and my life always.