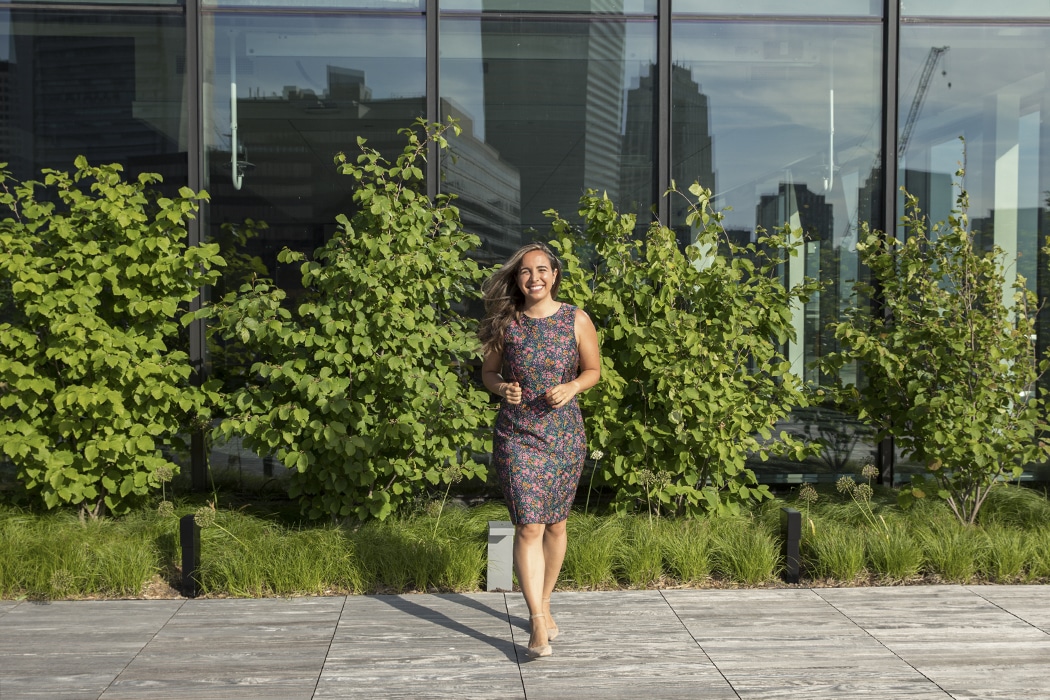 Andrea Clavijo spent 2020 innovating a new approach to company-wide policies for one of the most respected and recognizable brands around: GE (General Electric). The words she writes, strategies she develops, and efforts her team leads impact the global conglomerate's 205,000 employees as well as countless other people around the world.
Clavijo currently serves as senior compliance counsel and deputy human rights leader, a role she earned after just four years with the company. But she never set out to emerge as a rising star in corporate compliance. Clavijo's is a story about never settling. About admitting when things aren't working. About the relentless pursuit of happiness.
Born to Venezuelan parents in South Carolina, Clavijo moved to Florida at age two. She grew up watching Today and dreaming of visiting the show's Rockefeller Plaza set. When it came time to pick a college major, Clavijo chose journalism. She wanted to become the next Katie Couric.
In her final year of studies at the University of Florida, Clavijo found herself in a First Amendment and media law class taught by a former journalist and practicing lawyer. Clavijo, whose only exposure to the law had come from what she saw on TV, had an epiphany. "I realized I could use my love of journalism and media in other career paths," she explains. "Suddenly, more options were opened for me." Upon graduation, Clavijo decided to pursue her JD at Boston College Law School.
Back at home, Clavijo's father was also going through a major change: formerly a successful pharmacist, he hung up his lab coat and became a licensed FIFA soccer agent. Watching this made a lasting impact on Clavijo. "My dad prioritized happiness and fulfillment over earning a paycheck. He encouraged me to do what I love," she says.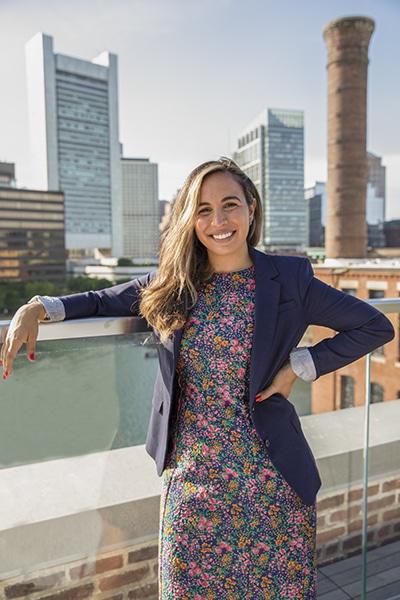 Clavijo's father knew that happy people perform better, and that a rewarding career usually follows a person who finds his or her true passion. That lesson stayed in Clavijo's mind as she was placed with National Grid in an internship for diverse law students. As the only legal intern at one of the world's largest utilities, she was exposed to attorneys working in different areas. She used the opportunity to figure out where lawyers seemed the most fulfilled.
As Clavijo observed her colleagues and conducted informal interviews, what she discovered surprised her. Most of National Grid's lawyers enjoyed their work. They liked collaborating with experts, digging deep on issues, and serving the needs of just one client. That's when Clavijo knew she wanted to be an in-house attorney—but she needed to reconcile that with her love for media.
Clavijo spent a summer in the nation's capital working for an international telecommunications consulting firm, which helped her realize she could leverage her Spanish language skills and work on a global scale. "Each experience showed me what I wanted to seek out in the next, and slowly but surely I was putting myself on the right path that made sense for me," she says.
In 2016, Clavijo saw a posting for the Heineman Compliance Fellowship at General Electric. As she read the details, she felt like the position was custom-made just for her. The employer wanted someone with international experience to develop training, communications, and compliance materials. She applied and got the job.
As she stepped into the role, Clavijo focused on mastering compliance. Two weeks into the position, she was traveling to Europe and assisting in compliance investigations, all before she had received the results from her bar exam. Upon completion of the one-year fellowship, Clavijo transitioned into a full-time role on the Corporate Compliance team, where she focused on supporting global compliance operations, external reporting, and policies.
However, as Clavijo reviewed GE's compliance policies, she noticed a problem. They were dense, full of legalese, and difficult to understand. The rookie employee approached veteran leaders with a major pitch: to overhaul and improve these impactful documents.
Clavijo partnered with internal subject matter experts and embarked on an eighteen-month journey to streamline policies related to privacy, intellectual property, antitrust, and other critical areas. She worked to make sure each document told a story the average employee could understand, working directly with non-legal/compliance employees to get their take on policy drafts, running focus groups that spanned all GE businesses and regions. Her team also used readability statistics to keep progress in check and reduce the grade-level reading score of each document, an approach that included replacing long paragraphs with digestible bullet points (without sacrificing the intent of the policy).
Now GE has nineteen clear and concise policies its employees can comfortably read, understand, and follow. Less than a year later, Clavijo packaged condensed versions of those policies and other integrity expectations into the most important compliance document at GE, the code of conduct known as The Spirit & The Letter.
One of the nineteen policy areas Clavijo helped streamline was human rights, which she took a keen interest in. Today, she works as the company's deputy human rights leader: she focuses on the development, expansion, strategy, and execution of GE's human rights program. That includes making sure GE and its vendors and partners respect the human rights of its global workforce and the communities they serve in the 170-plus countries where GE operates. Currently, she's partnering with industry leaders and nonprofit organizations to learn about how modern day slavery has evolved in the world and about its impact on the organization. "I feel accountable to the people I work with and the communities we serve, so we are making sure to stay vigilant," she says.
Life may have turned out a bit differently than Clavijo had planned. She's not hosting a daily talk show or occupying the anchor desk at a major news network. She found her own path, and that's brought joy and fulfillment. "I followed my dad's lead and prioritized happiness," she says. "And when you do that, there are no regrets."