Rodrigo Sierra's multifaceted background is serving the American Medical Association well at a critical time for US health care
Rodrigo Sierra's big break came early, when the 28-year-old California native was working in an administrative position at ABC News in New York. "I just happened to be in Puerto Rico for the convention of the National Association of Hispanic Journalists, and while I was there, a cannon on the USS Iowa, a Navy battleship, exploded, killing 46 sailors," recalls Sierra, now chief communications and marketing officer for the American Medical Association. "ABC called me and said, 'You're a reporter now. Get over to that Naval base and tell us what's going on.'"
Sierra rented a car and drove across the island at 1 a.m. to find that he was the first reporter on the scene. "I went to the guard shack and announced, 'Here I am to cover this story!'" he recalls. When the guards threw Sierra off the property, he made his way to a phone booth at the bottom of the hill and called ABC News. They asked him to describe what he saw, to which he replied, "Nothing. It's 3 a.m. on a cloudy night, and it's pitch dark. All I know is there are some helicopters flying around, because I can hear them."
That was good enough. ABC put Sierra on the radio, and he spoke about what he had heard. The next morning, when hundreds of reporters from networks all over the world had arrived, Sierra learned what he'd heard the night before were the bodies of the dead soldiers being flown onto the island from the ship. "Somehow, with no experience, I'd actually broken national news," he says.
That day, Sierra—who was responsible for developing engagements with ABC-affiliated radio stations across the country—started calling his contacts and asking if they wanted to hear him speak about the disaster. WGN in Chicago bit, and Sierra found himself on its morning drive program for 10 minutes. When the station chief called Sierra a few months later to offer him a job, "I told him the extent of my experience was what he'd heard in the 10-minute call I'd done for his station," Sierra says. "But it was an opportunity my colleagues at ABC told me I couldn't turn down. WGN was, and still is, one of the 10 premiere radio stations in the country."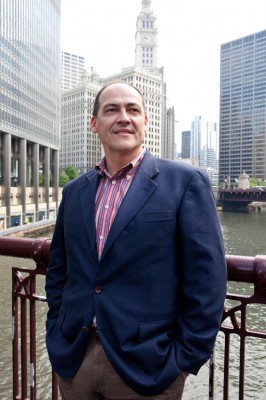 Sierra thought he'd be in Chicago for one or two years; he's now been there 22, during which time he earned a bachelor's degree in philosophy with a minor in Latin-American studies from Northwestern University, a master's degree in business administration from Kellogg School of Management, and worked several jobs in the private and public sector. His first job after WGN News—where he worked for eight years—was as manager of public relations at Peoples Gas, where the "progression to corporate communications … seemed natural," he says. The second was as deputy press secretary for then-Mayor Richard M. Daley, which Sierra says was the second pivotal moment of his career.
"I called a friend to discuss the opportunity, [and] she told me something that resonates with me to this day," Sierra says. "She said, 'You've worked in media, and you've worked in corporate communications. If this were any other mayor in any other city, I'd probably tell you to stay where you are and work your way up in corporate. But it's Mayor Daley in Chicago. Few people will get the opportunity to run his press office and see the things that go on in a major urban city.' So I took her advice, and she was absolutely right. For good or for bad, one thing is for sure: Mayor Daley was passionate about this city and the path that was necessary to move it forward. Being there and seeing how he was able to bring people and communities and large organizations together to make government work to create opportunities was an incredible experience."
Sierra stayed with the Chicago City Hall office for two years, after which he returned to Peoples Gas as vice president of communications, a multifaceted position that allowed him to merge his skills, working in marketing, public relations, corporate giving, and government affairs. In 2010, two years after the company merged, Sierra moved to Johnson Publishing, where he created the structure for its communications department. A year later, Chicago Mayor Rahm Emanuel appointed Sierra to a volunteer position on the board of the Chicago Public School system, and he took some time to think about what he wanted to do next professionally.
"I have four sons who attended public school, and through them, I saw how difficult it is for children who aren't as fortunate as I believe mine were—children who don't have two parents who graduated from college, who work and get them in the right schools, who hound them about their homework," he says. That got him thinking about making a difference and, ultimately, drew him to a position in which he felt he could.
A former colleague at Chicago City Hall referred him to the American Medical Association (AMA). The job, says Sierra, was appealing because it allowed him to meld all of the facets of communications he'd developed to that point, and to do it in an industry that was changing dramatically. "It was an incredibly important time for health care in this nation, and the AMA's new CEO had an aggressive relevant strategy for repositioning the organization," Sierra says. "It was a strategy that resonated with me, given that I'd worked in media, in the private sector, and in the public sector. I saw working at the AMA as an opportunity to bring all the pieces of my background together in a powerful way around a critical issue at a historic time for health care in the United States."
Check out all of Hispanic Executive's 2013 Top 10 Líderes here.